We've Got Cookie Sign: Beyond Atlantis (S13E3)
2022-05-26
We've got a new host! I've seen Emily on both of the live tours she's been the host on, and I love the energy her and her bots brought to their debut - there's a big "theater kid" energy to this cast that just works.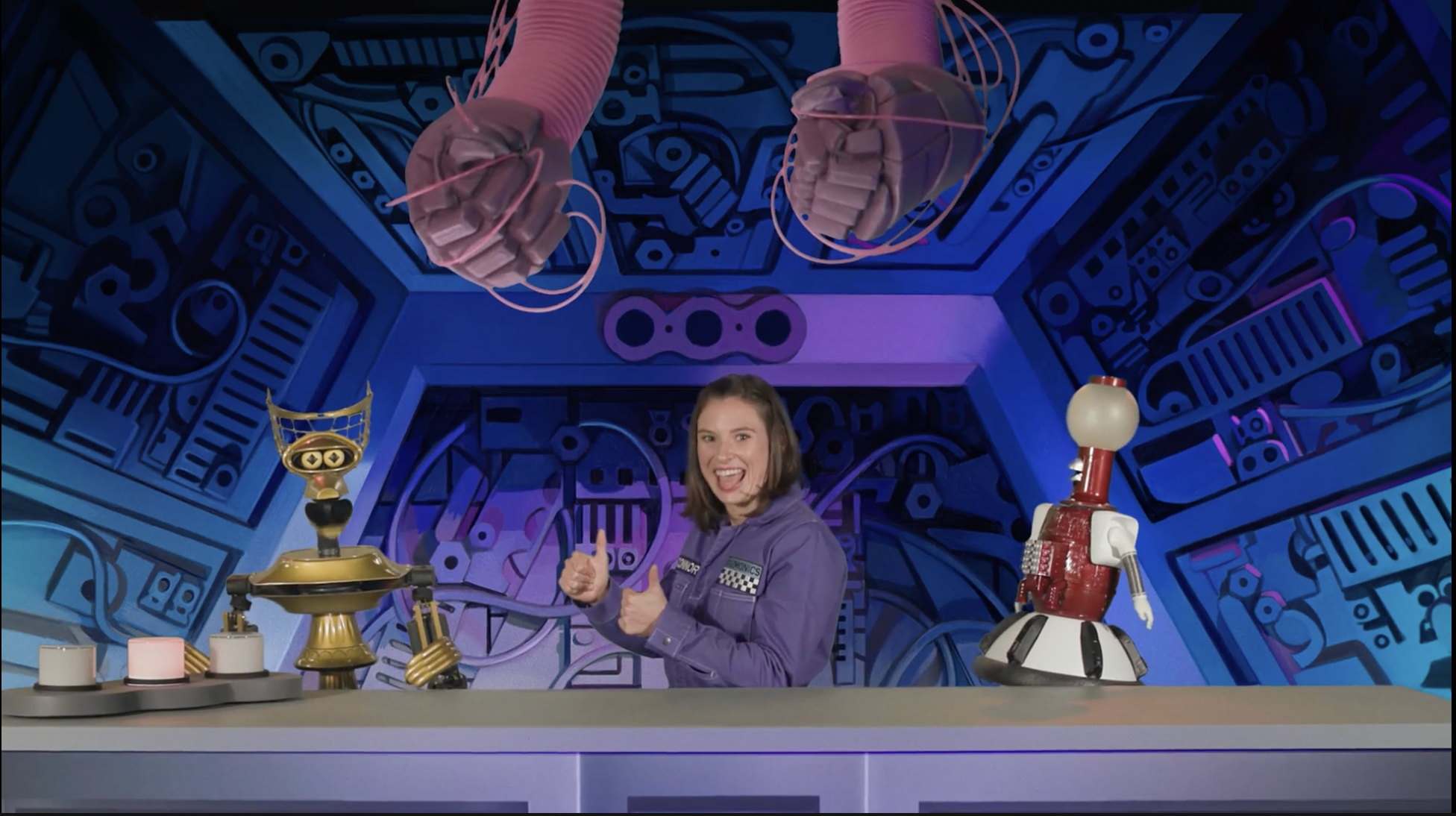 And oh, what a movie to debut with. Beyond Atlantis definitely has a beginning, middle, and end, but I'd have a hard time defining what the exact point of the plot is. If nothing else, we got some primo host segments - "Mothercrabber" immediately rocketed to the list of all-time great MST3k songs.
During my first watch, all the talk of pearls made me think of pearl sugar, and pearl sugar made me think of cardamom buns: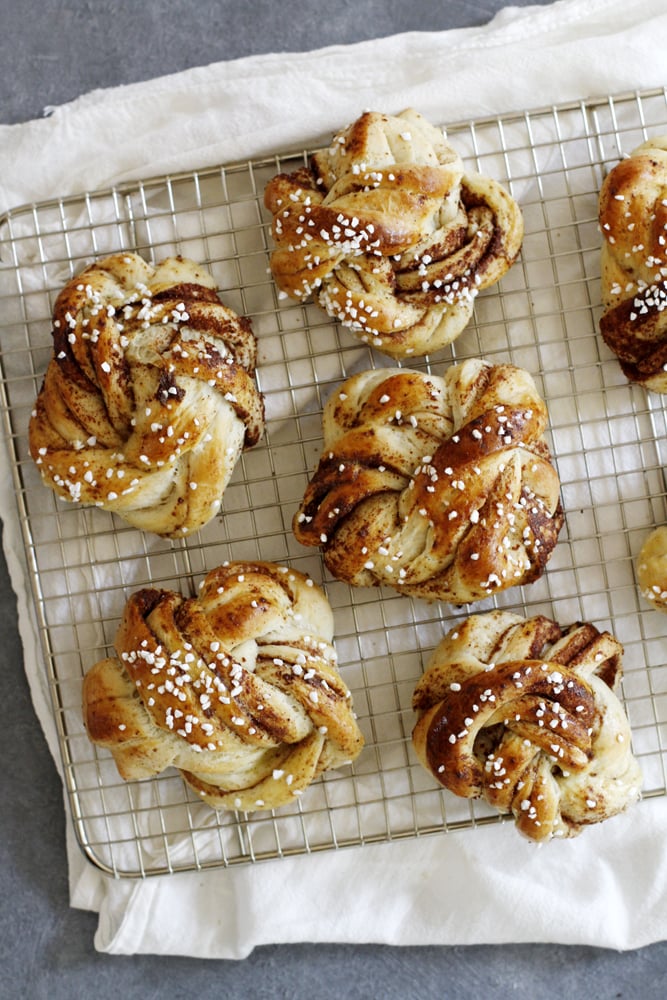 I love them, but they're just fussy enough in the shaping process (I usually just make one big bun) to want to go a different direction.
I also looked into Filipinx sweets to see if anything from the movie's filming location could provide inspiration. I almost did a polvoron, but those are Spanish as much as Filipinx (thanks, colonialism!), though that angle could also have tied in nicely with this movie's white-people-tamper-with-another-culture-for-profit vibe.
And then it hit me: what if I mashed up all of these things into one tasty bite? And that's how we got this month's Cardamom Pearls: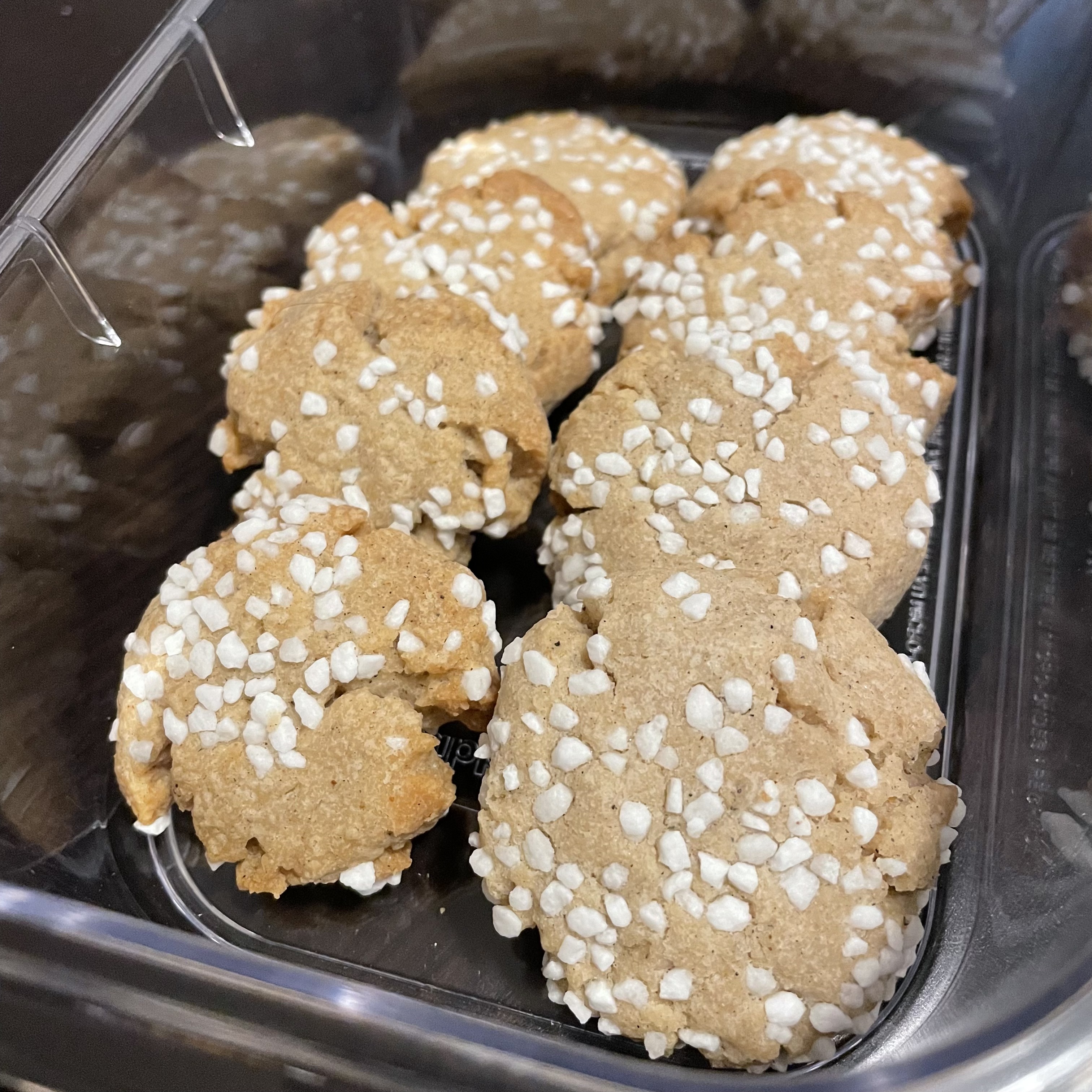 These are a riff on a sugar cookie from Dorie Greenspan that's rolled in pearl sugar, but with the added additions of cardamom (because cardamom buns) and toasting the flour for additional depth of flavor (like you do with polvoron). Once these cool, they've got a nice crunch that would be perfect with a cup of tea.
First up: toasting the flour: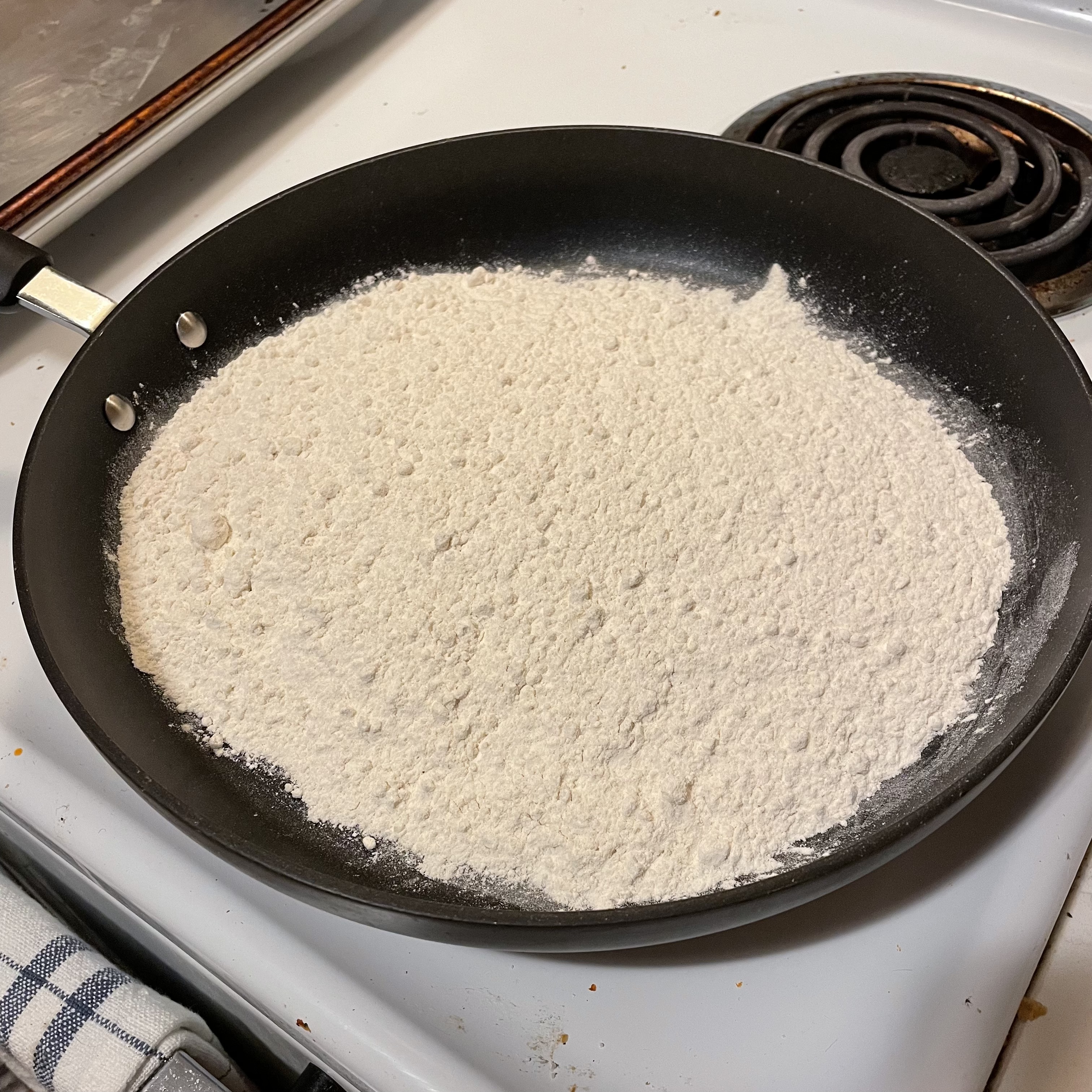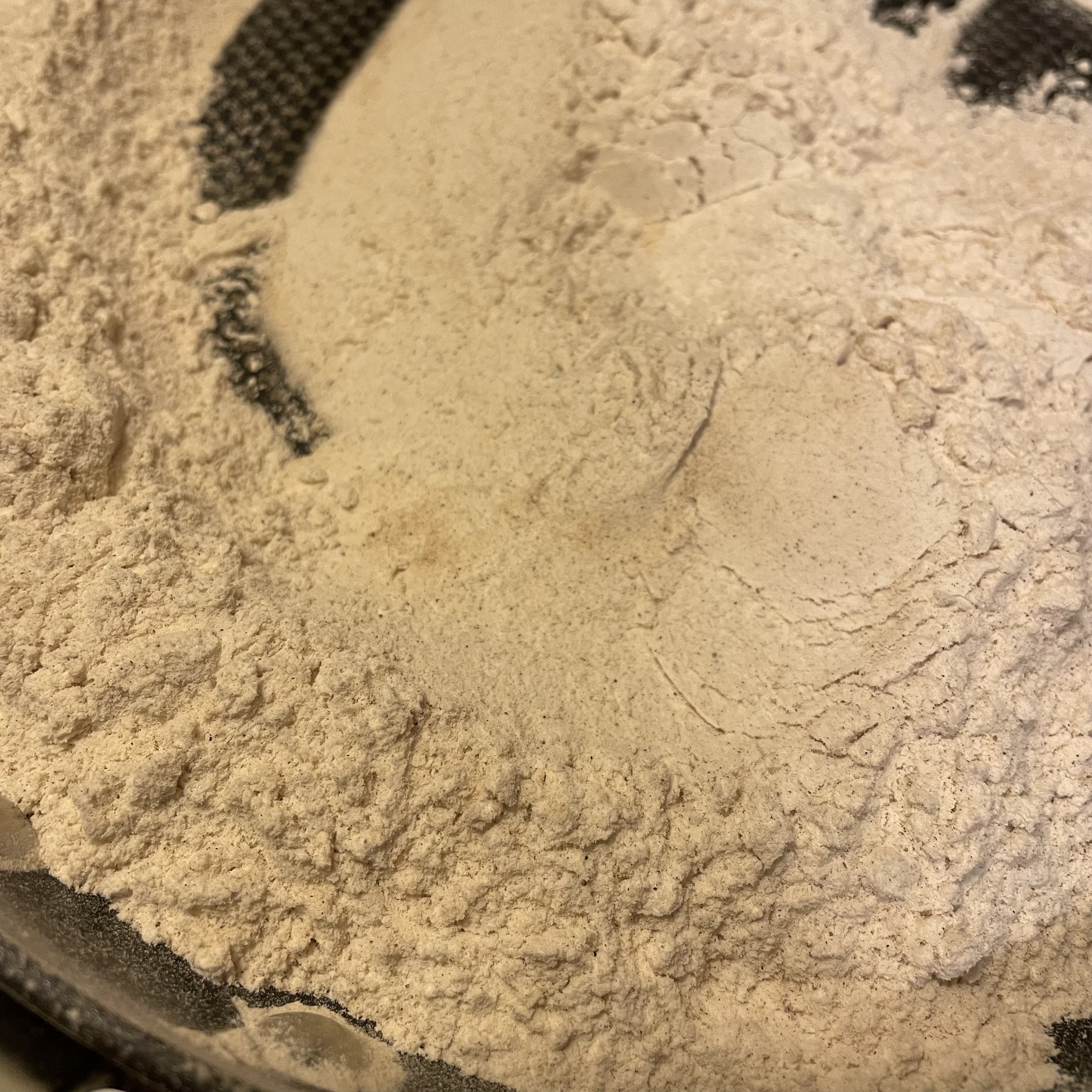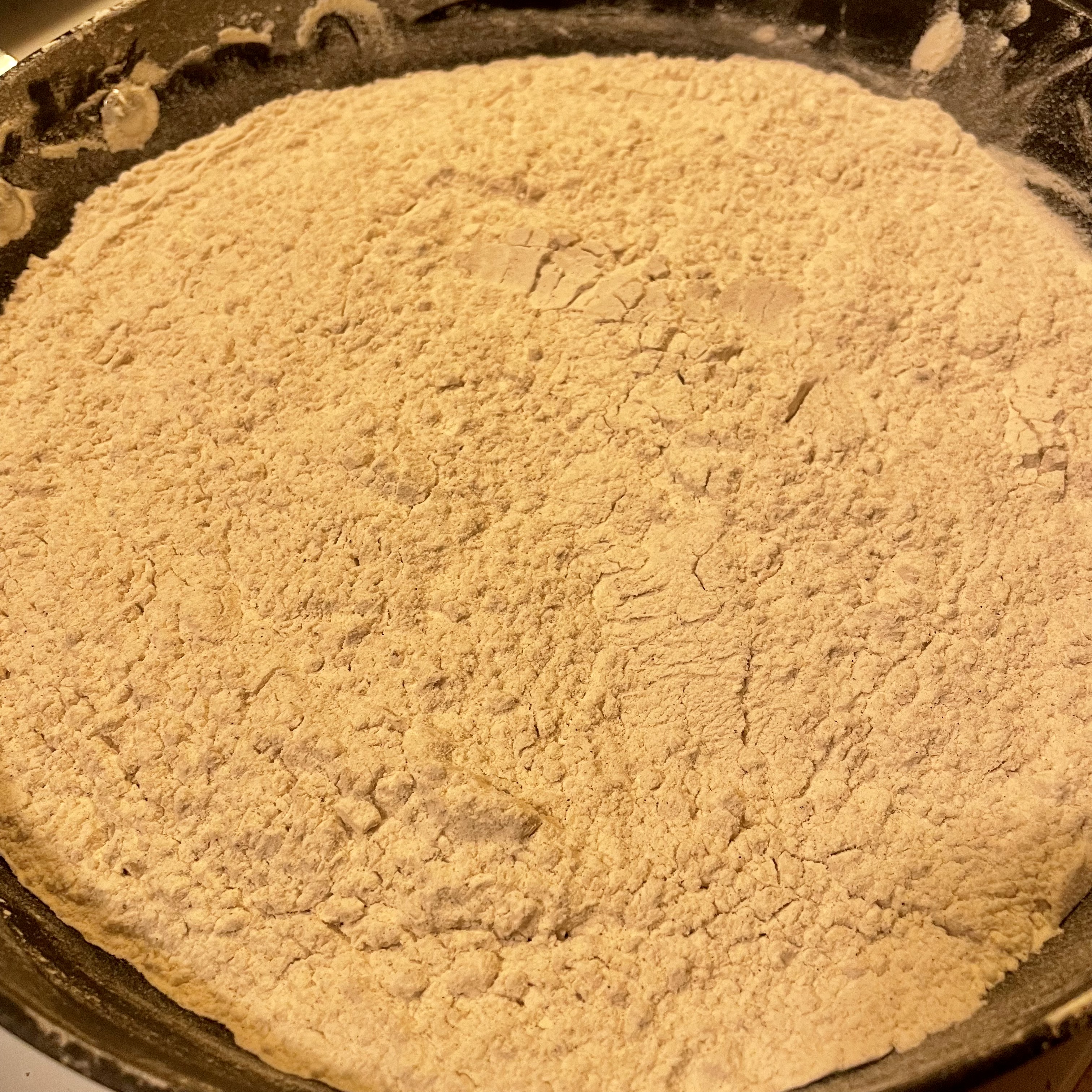 Over medium heat, you're going to put your flour in a wide skillet and gently stir it until the flour looks like the beach from the movie - nice and toasty. Once this is done, stir in the cardamom and set aside to cool for 5-10 minutes.
While that's cooling, the sugar and butter get creamed together, then an egg white and vanilla is added.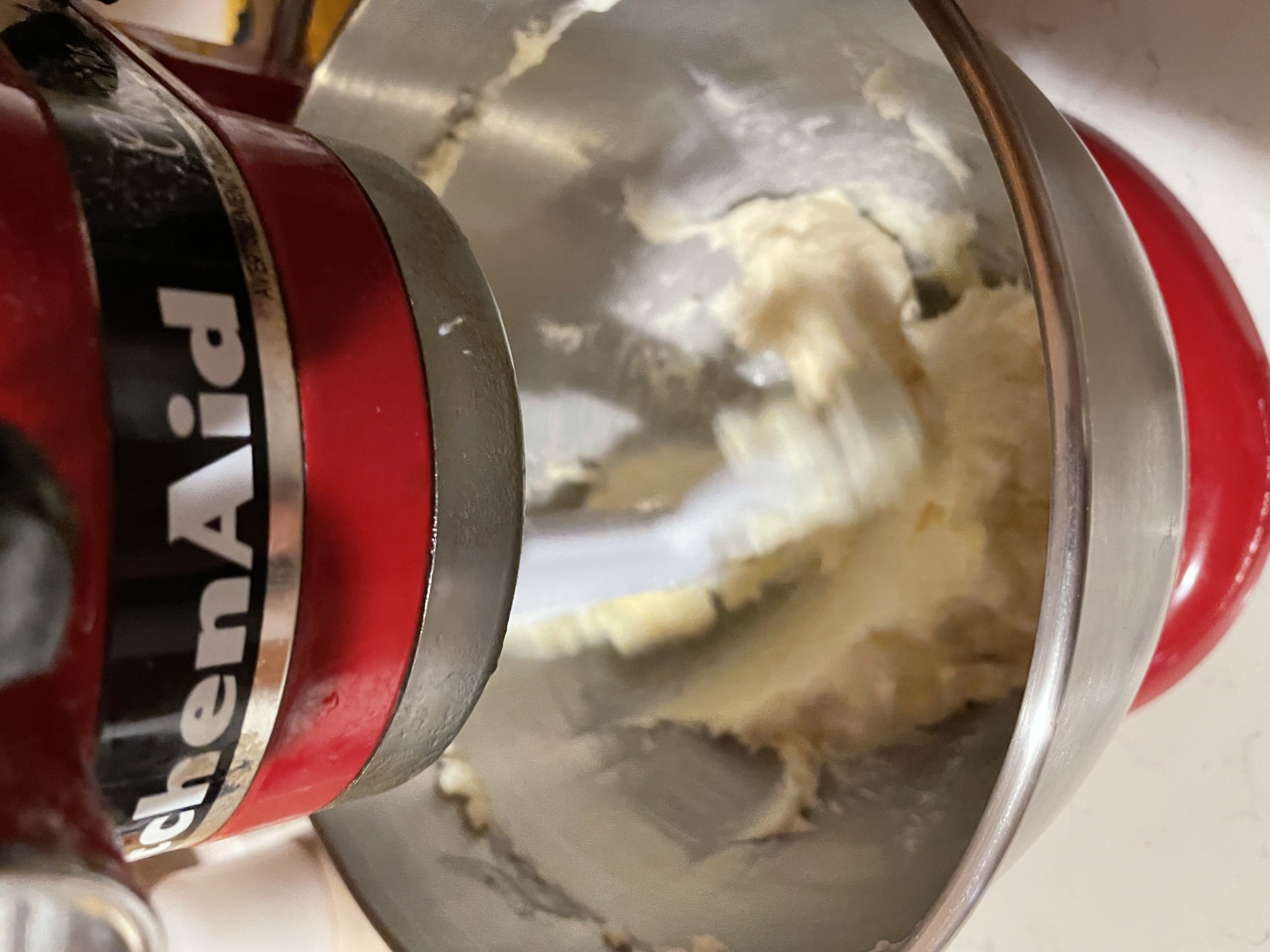 Finally, the cooled flour/cardamom are added in 3 batches, just until combined.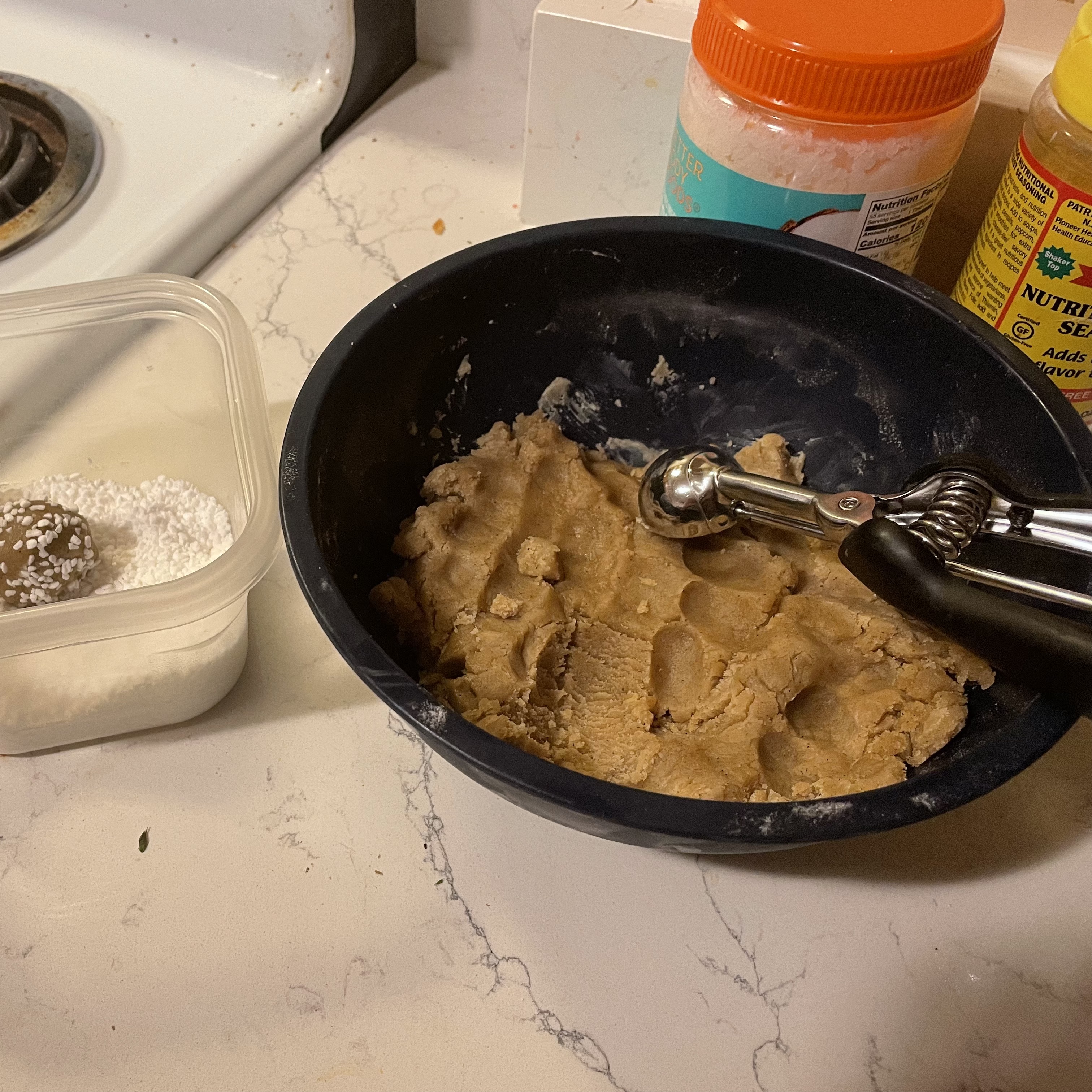 Once that's done, I used a smaller cookie scoop (though you could use a heaping teaspoon or two) to make balls of dough, then rolled each dough ball in pearl sugar to encrust it, placing the cookies about an inch apart on a parchment-lined cookie sheet.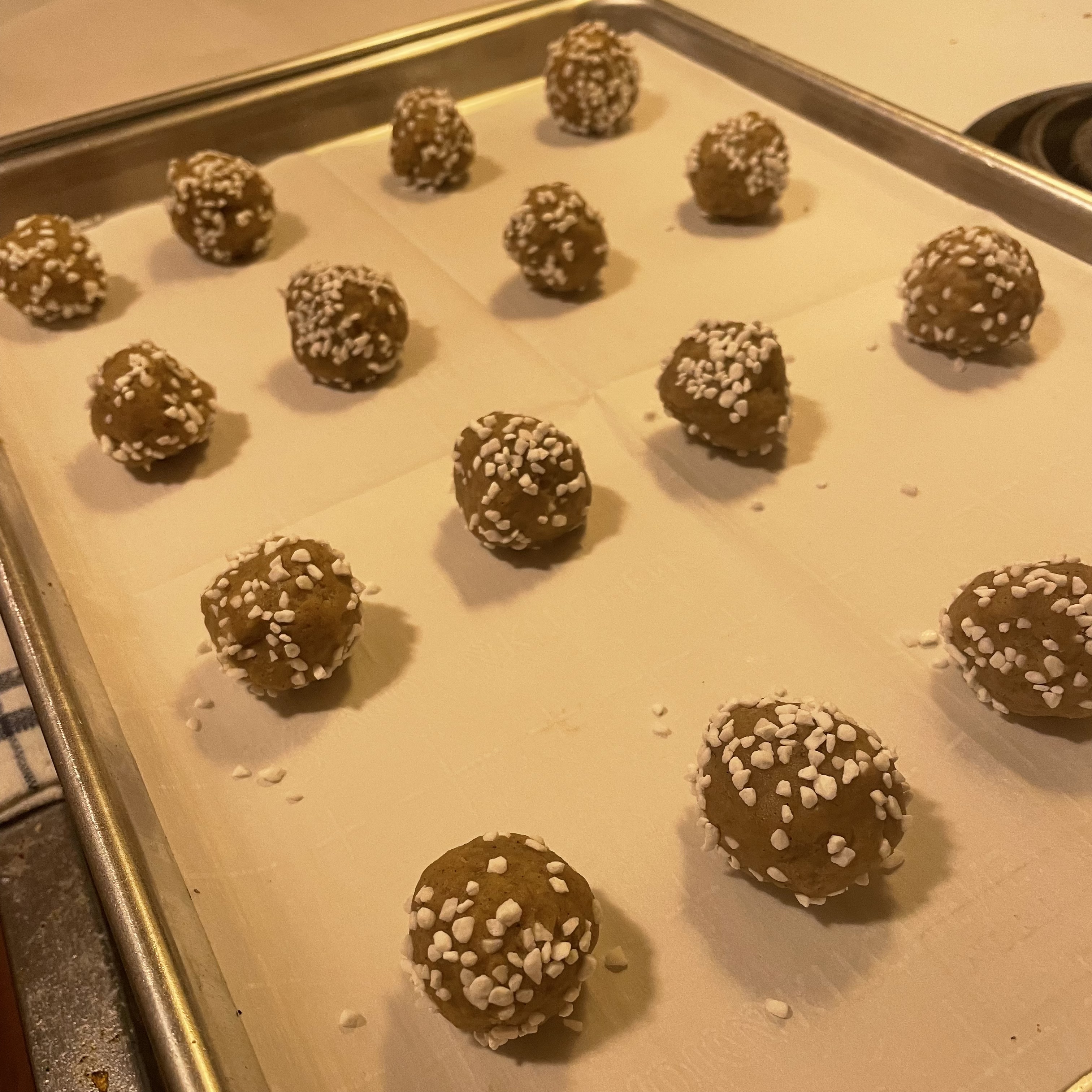 Before getting baked, the cookies get a quick press from a plastic wrap-lined jar.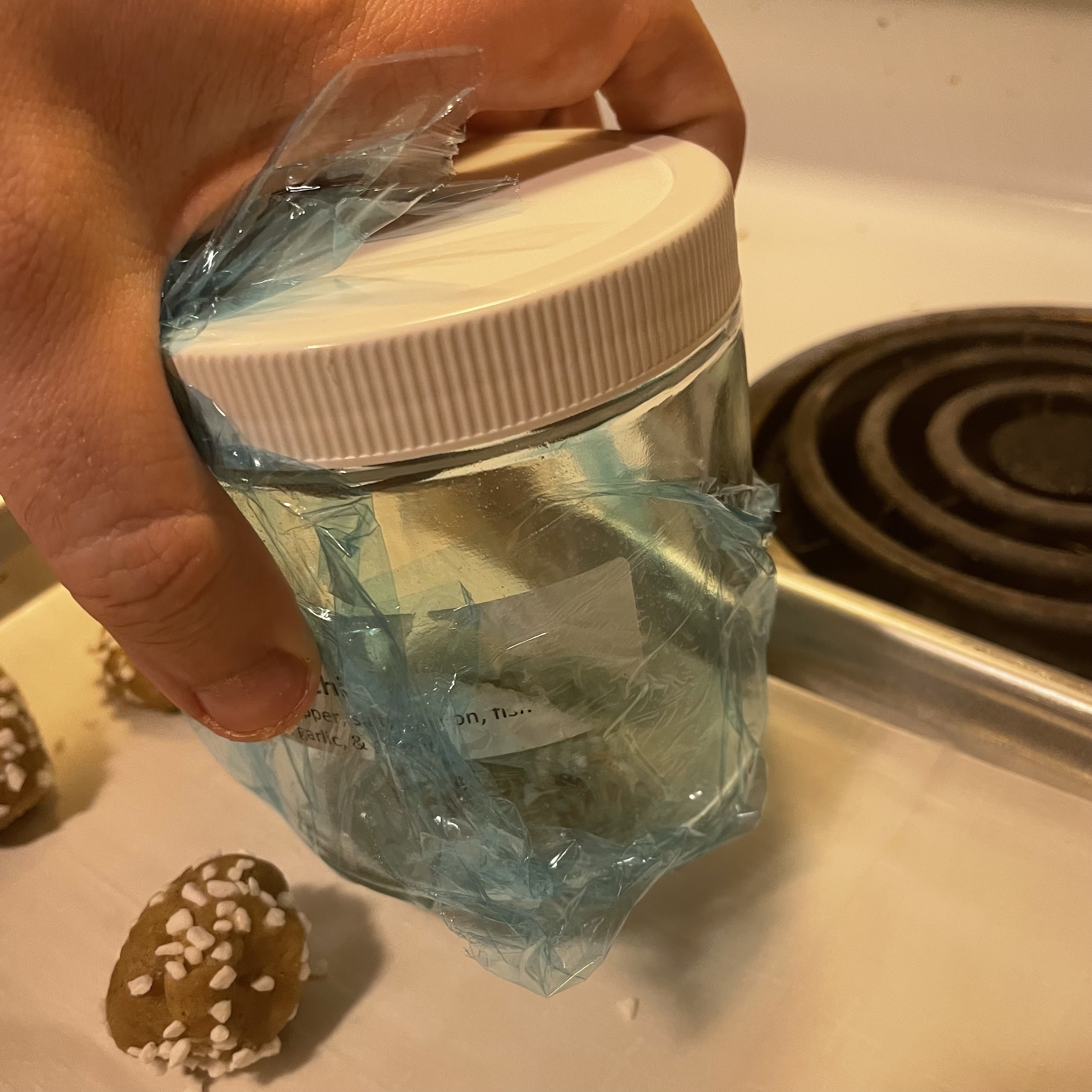 These then go into a 350 degree oven for 20 minutes, rotating the batches halfway through.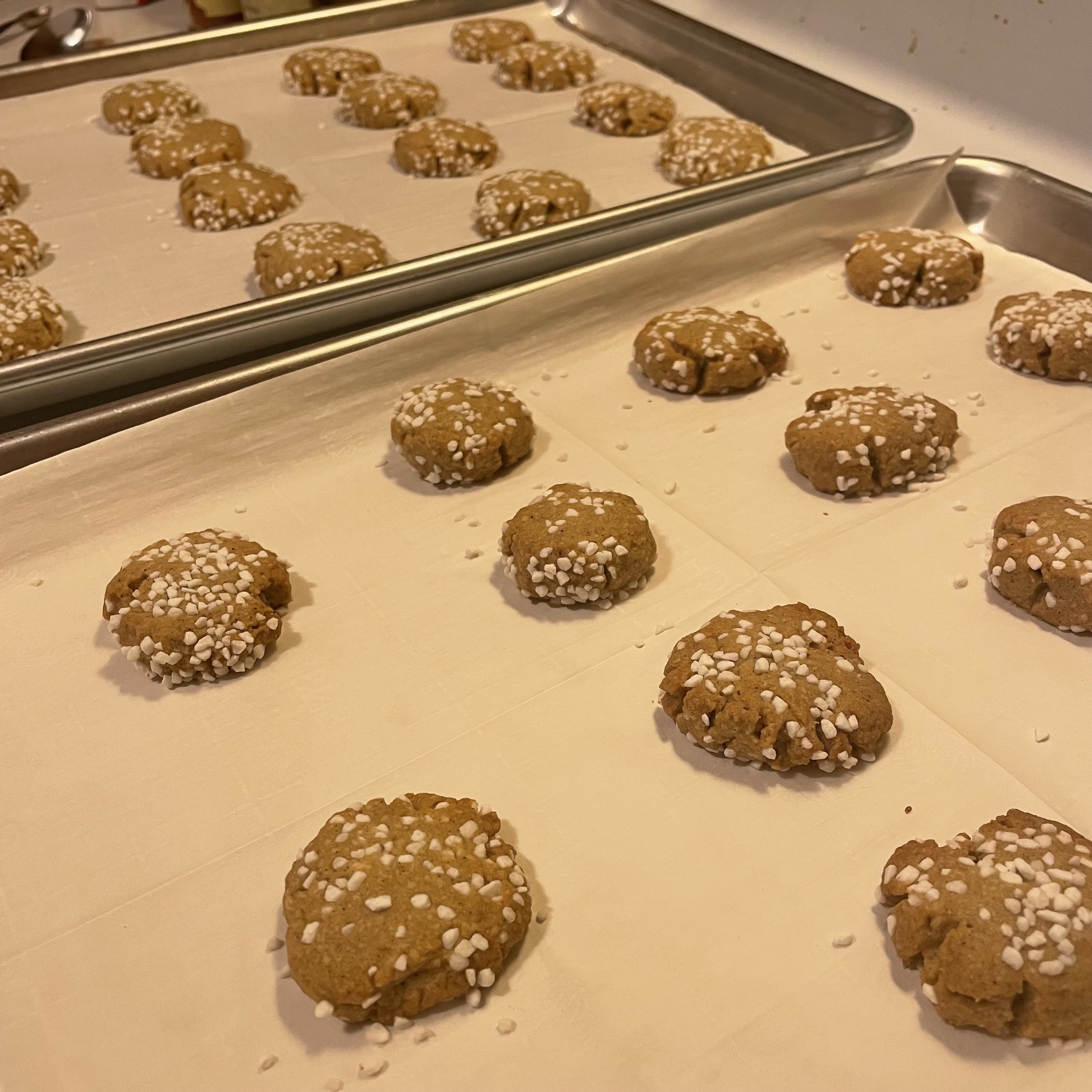 And there we go! No need to fight over these pearls with East Eddie.
Next time: Munchie approaches.
---
Cardamom Pearls
Ingredients
2 tsp cardamom
2 1/4 cups (270g) all-purpose flour
1 cup (184g) Swedish pearl sugar
16 tablespoons (227g, 2 sticks) unsalted butter, cut into chunks, at room temperature
2/3 cup (131g) granulated sugar
1/2 teaspoon fine sea salt
1 large egg white, at room temperature
1 teaspoon vanilla extract
Instructions
Preheat the oven to 350°F, and line two baking sheets with parchment.
Put the pearl sugar in a small bowl. Wrap the base of a flat-bottomed jar or glass in plastic wrap.
Place your largest skillet over medium-high heat for a few minutes. Add flour and stir gently for 5-10 minutes, until the flour is lightly toasted. Stir in the cardamom and set aside to cool.
In a large mixing bowl, beat the butter, sugar, and salt together at medium speed until smooth and creamy, about 3 minutes. Mix in the egg white, followed by the vanilla.
Add the flour in three additions, beating only until it's almost incorporated each time before adding more. Scrape down the sides and bottom of the bowl as you go.
Scoop the dough by the heaping teaspoon and roll into balls. Roll each ball in pearl sugar and place on the baking sheet, 1" apart.
Gently press each cookie down with the plastic-wrapped jar to flatten slightly.
Bake for 18 to 20 minutes, or until the cookies are golden brown around the edges and on the bottom. Remove from the oven and cool on the pan for 5 minutes before transferring to a rack to finish cooling completely.