We've Got Cookie Sign: Munchie (S13E4)
2022-06-10
Folks? I think this one did psychic damage.
I am apparently cursed (or possibly blessed?) to be experiencing the Munchies family of Quality Film Products in reverse order, having watched 1994's Munchie Strikes Back at my local bad movie night, Trash Night, in early 2019. At this rate, I'm scheduled to watch Munchies in 3 years. I typically do a re-watch of the episode a few days after the premiere for recipe purposes, but didn't immediately jump back into watching Munchie, largely because it felt like I was still watching Munchie the first time around. This one hit hard, y'all.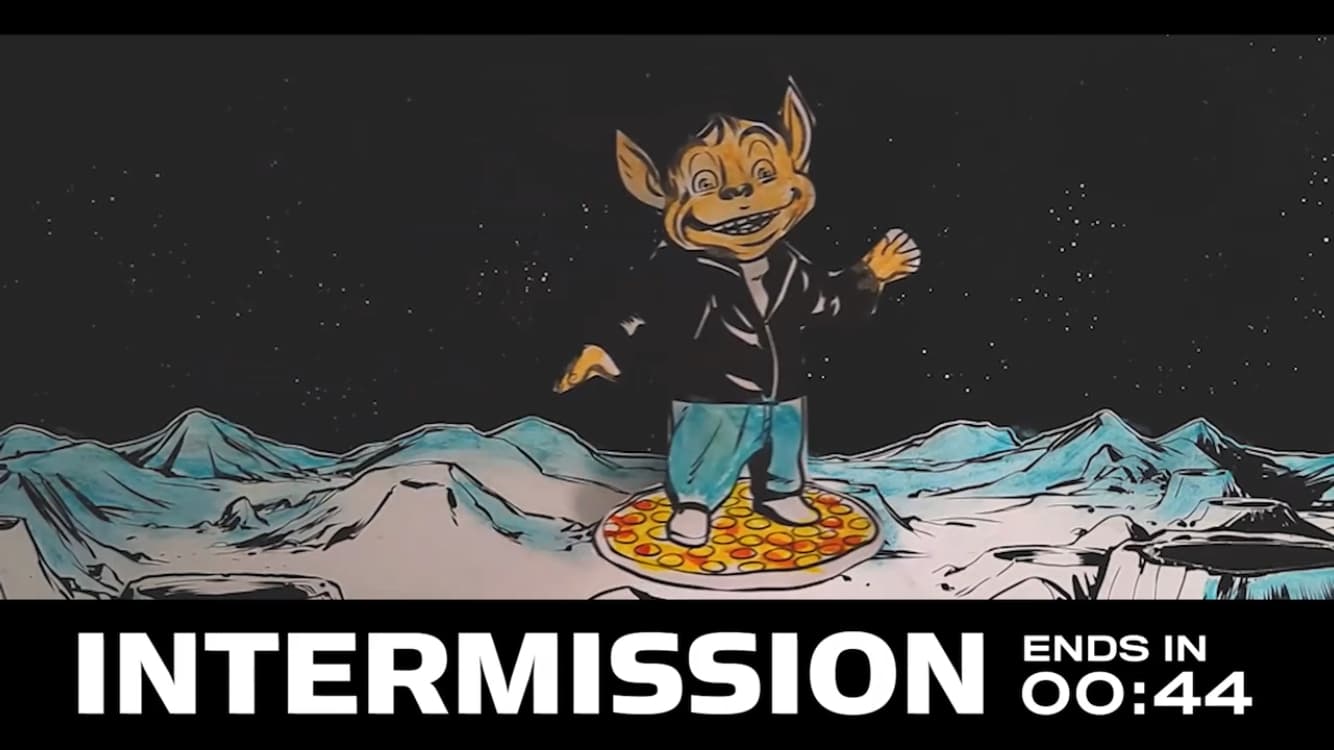 This is the rare episode that I had an if-all-else-fails idea for before watching things. Munchie felt like it would lend itself well to a sort of kitchen-sink 420-esque all-of-the-junk-foods-at-once kind of snacky thing, and it also felt like a nice time to trot out a bar, as I'm Midwestern (Minnesotan, even) and we have a big Bar Culture for things like this, don't-cha-know. So I wanted to do a blondie with a bunch of munchies mixed in, with some beer just for kicks.
And then it hit me, mid-movie, the first time through: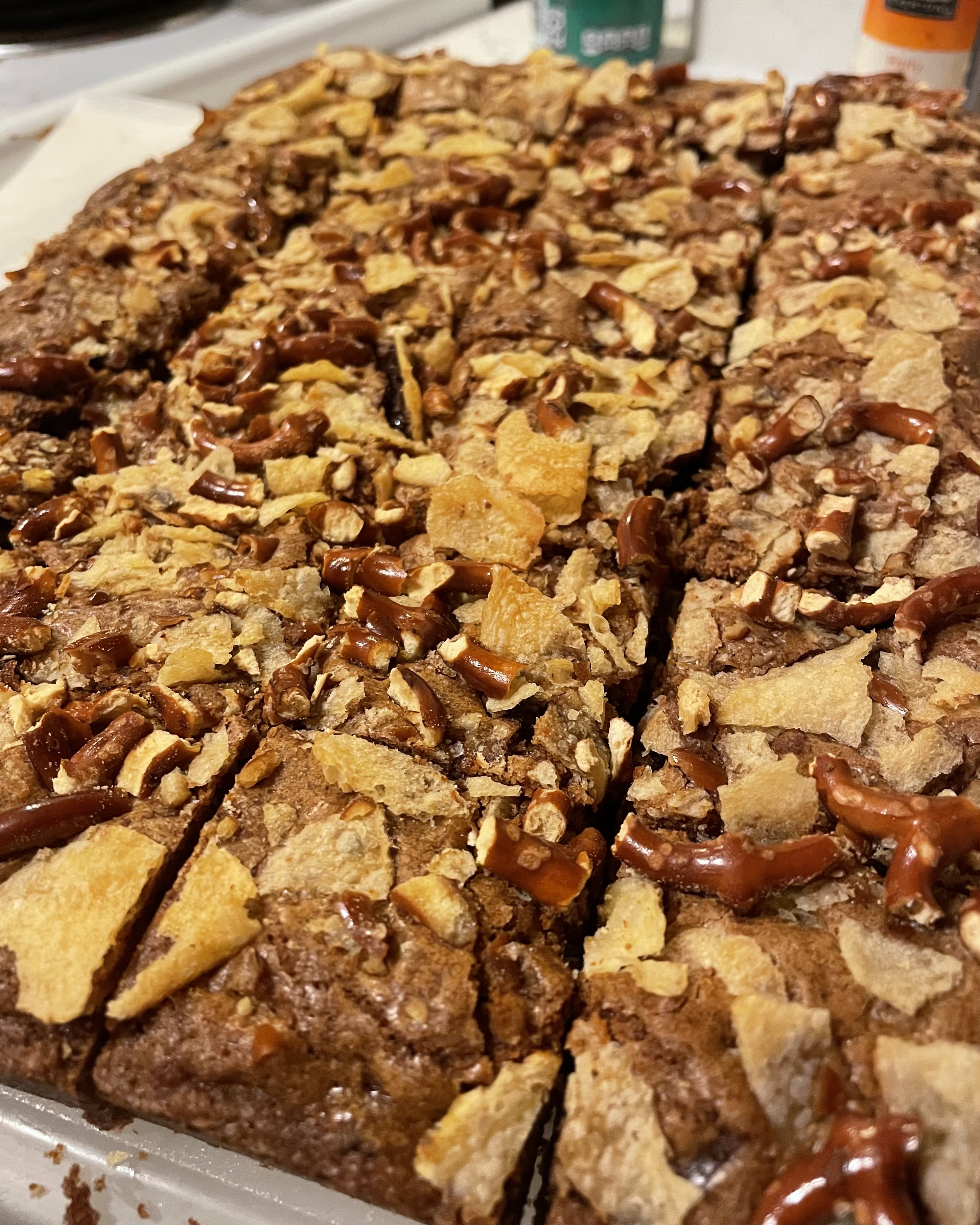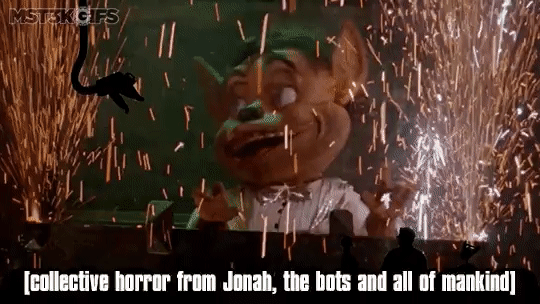 These are the same color as ᴹᵘⁿᶜʰᶦᵉ'ˢ ᵗᵉʳʳᶦᵇˡᵉ ᶠˡᵉˢʰ.
His ₕᵢdₑₒᵤₛ ₜaᵤₚₑ ₑₓₜₑᵣᵢₒᵣ.
So for that, I'm sorry. I tried to make something nice, but apparently this movie's really sunken in deep.
Enough spiraling over the terrible puppet in this movie, let's talk about how to make these delicious bars ᵗʰᵉ ᵉˣᵃᶜᵗ ˢʰᵃᵈᵉ ᵒᶠ ᵗʰᶦˢ ᶜᵘʳˢᵉ́ᵈ ʳᵒᶜᵏᵃᶠᶦʳᵉ ᵉˣᵖˡᵒˢᶦᵒⁿ ʳᵉʲᵉᶜᵗ
Focus, Ben. F O C U S.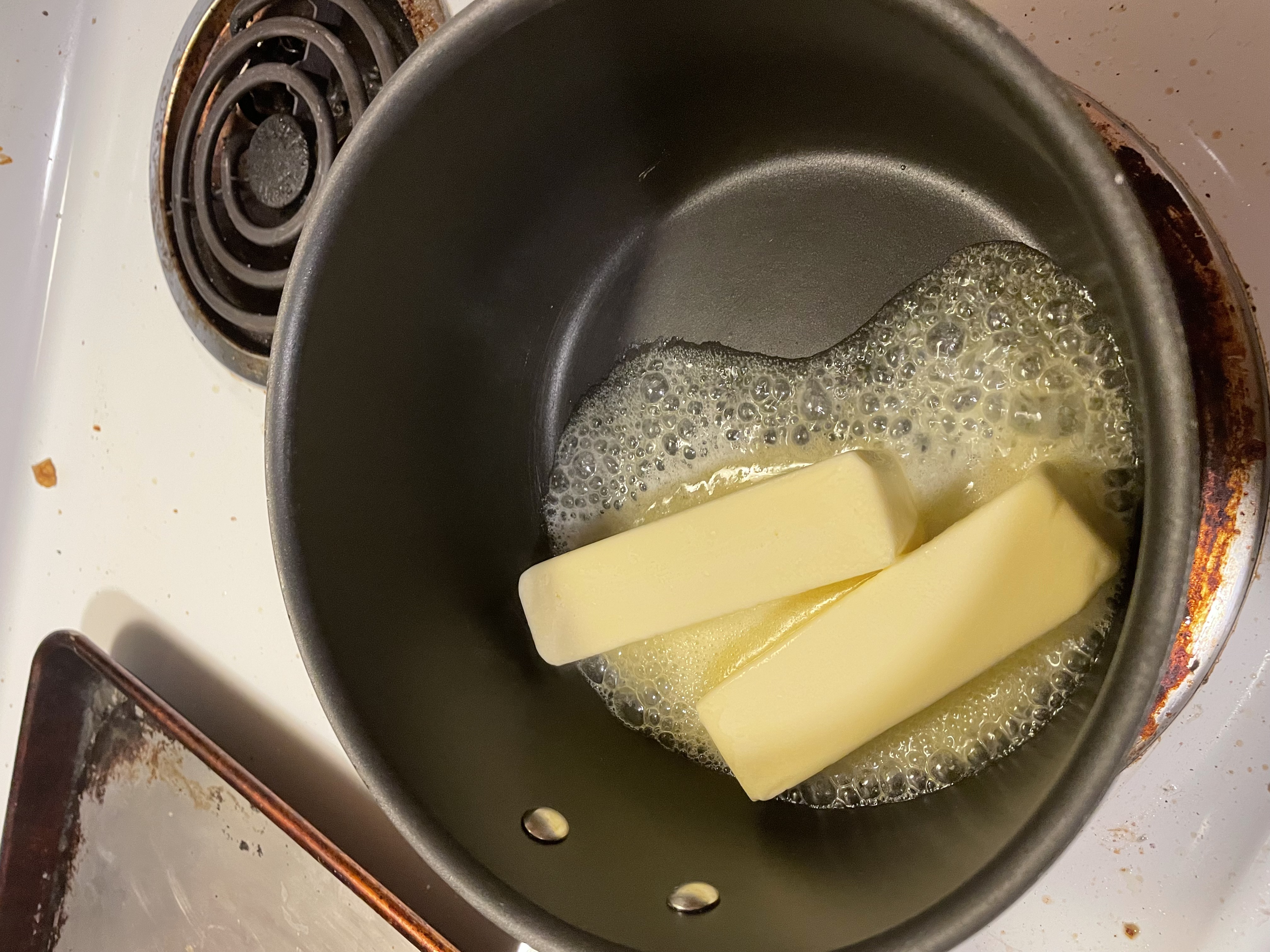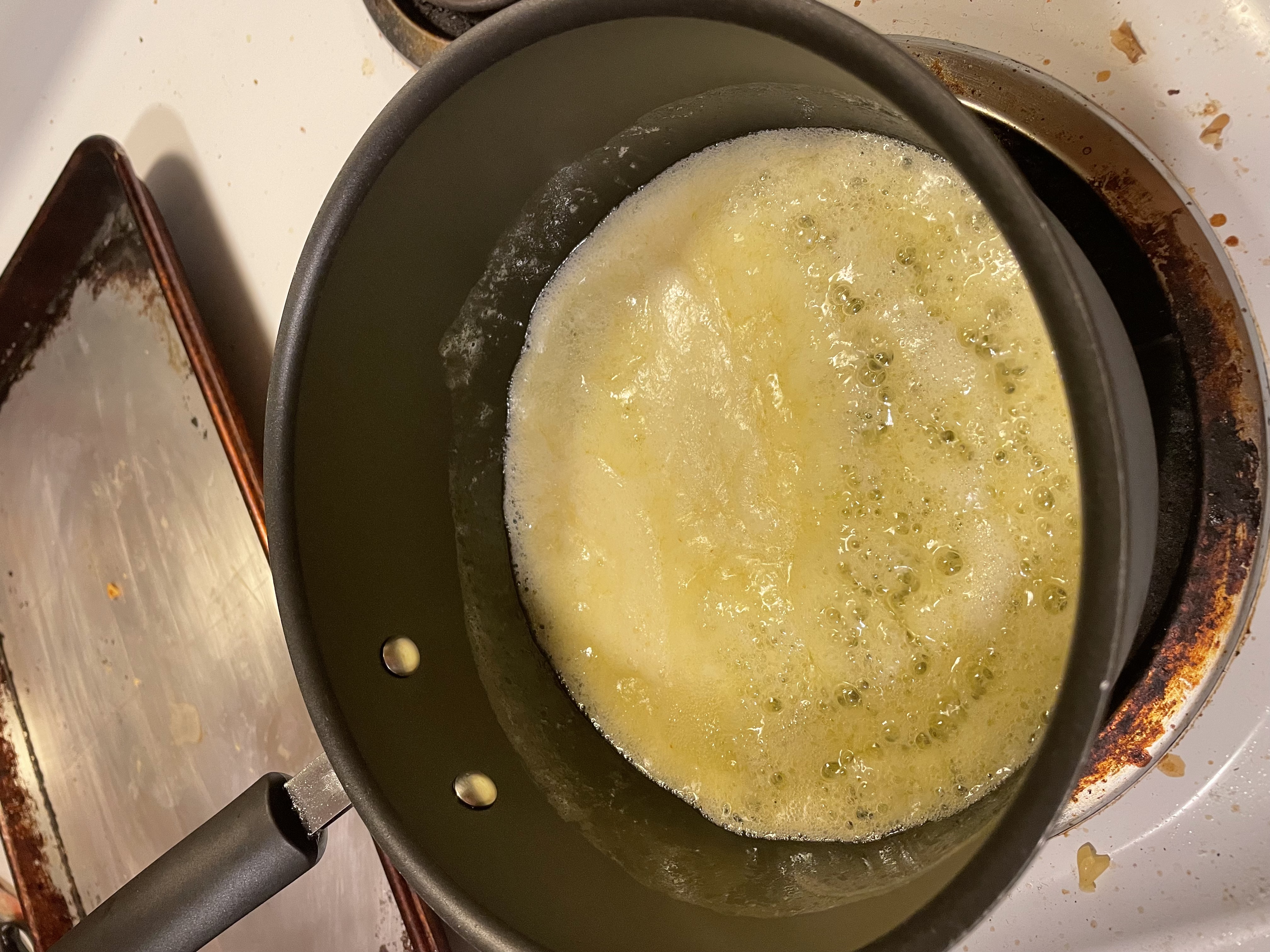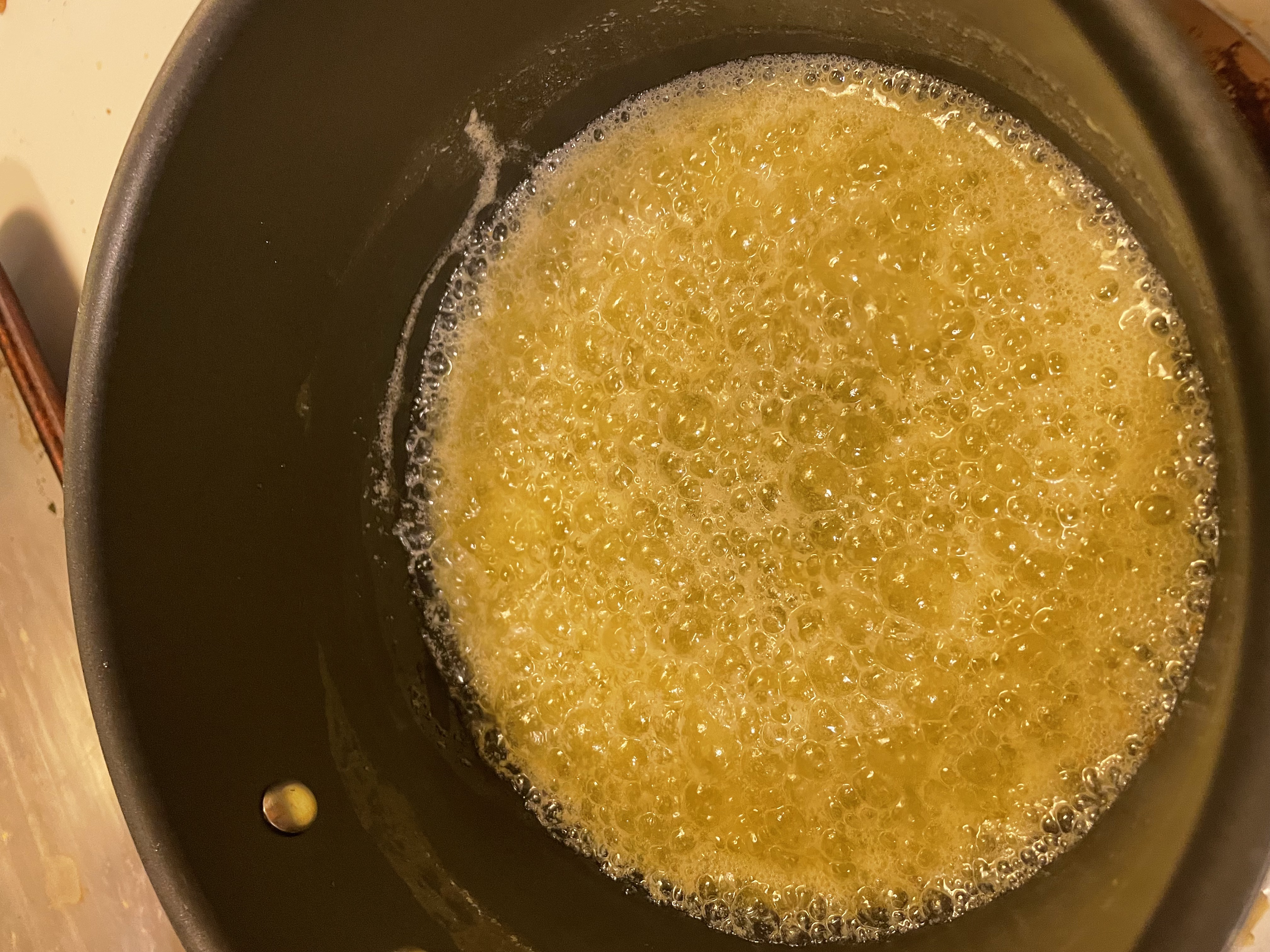 We're going to start by making two sticks worth of browned butter. In a saucepan over medium heat, melt two sticks of butter and keep them over the heat, swirling occasionally. Your butter's going to get super foamy, then that foam will turn to larger bubbles, then dissipate as the water evaporates from the butter and starts to become brown, about 4ish minutes.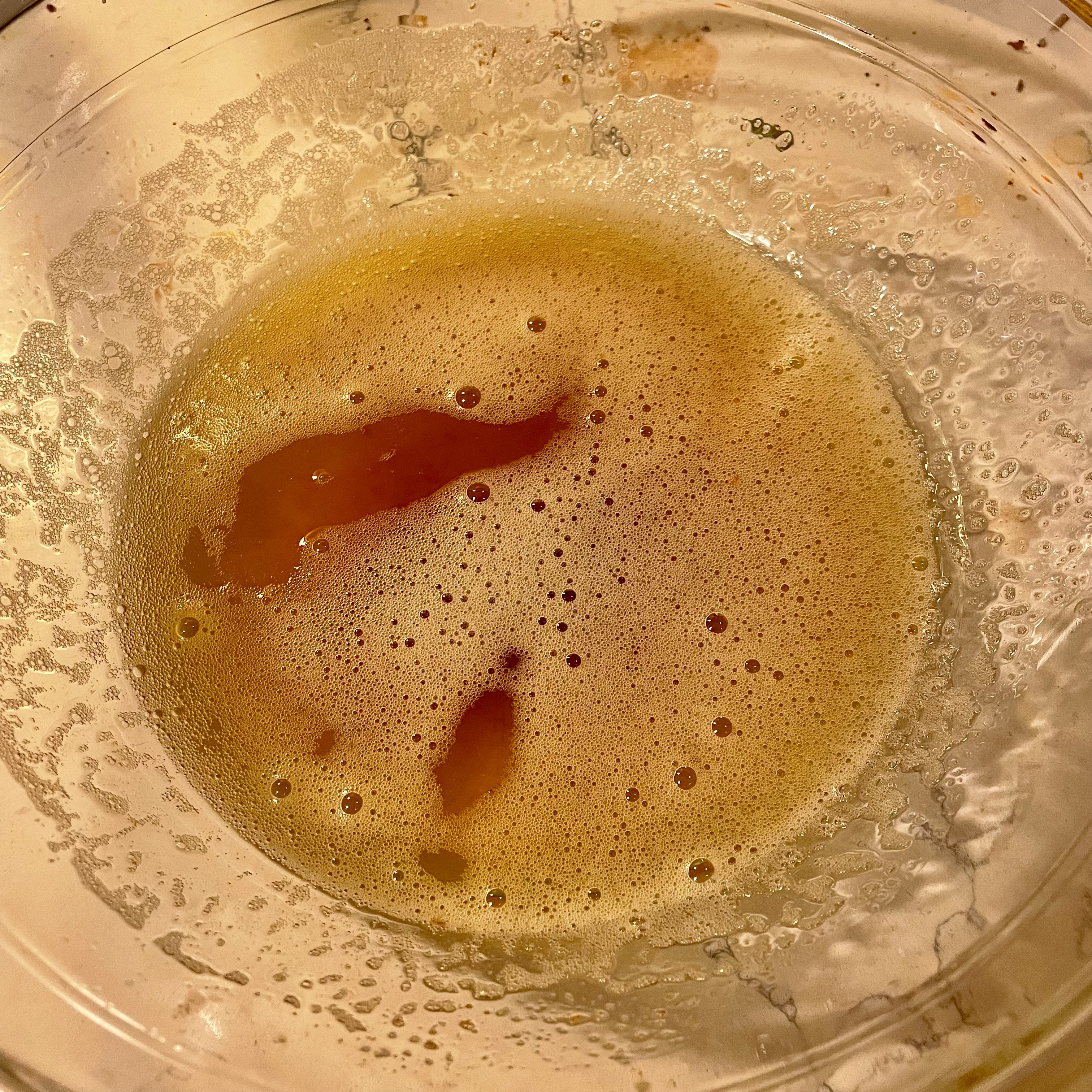 When it smells nutty and you're seeing a consistent light brown color, take the pan off the heat and pour the butter into a large mixing bowl, using a spatula to get all that golden-brown goodness. Set that aside for 20 minutes to cool off.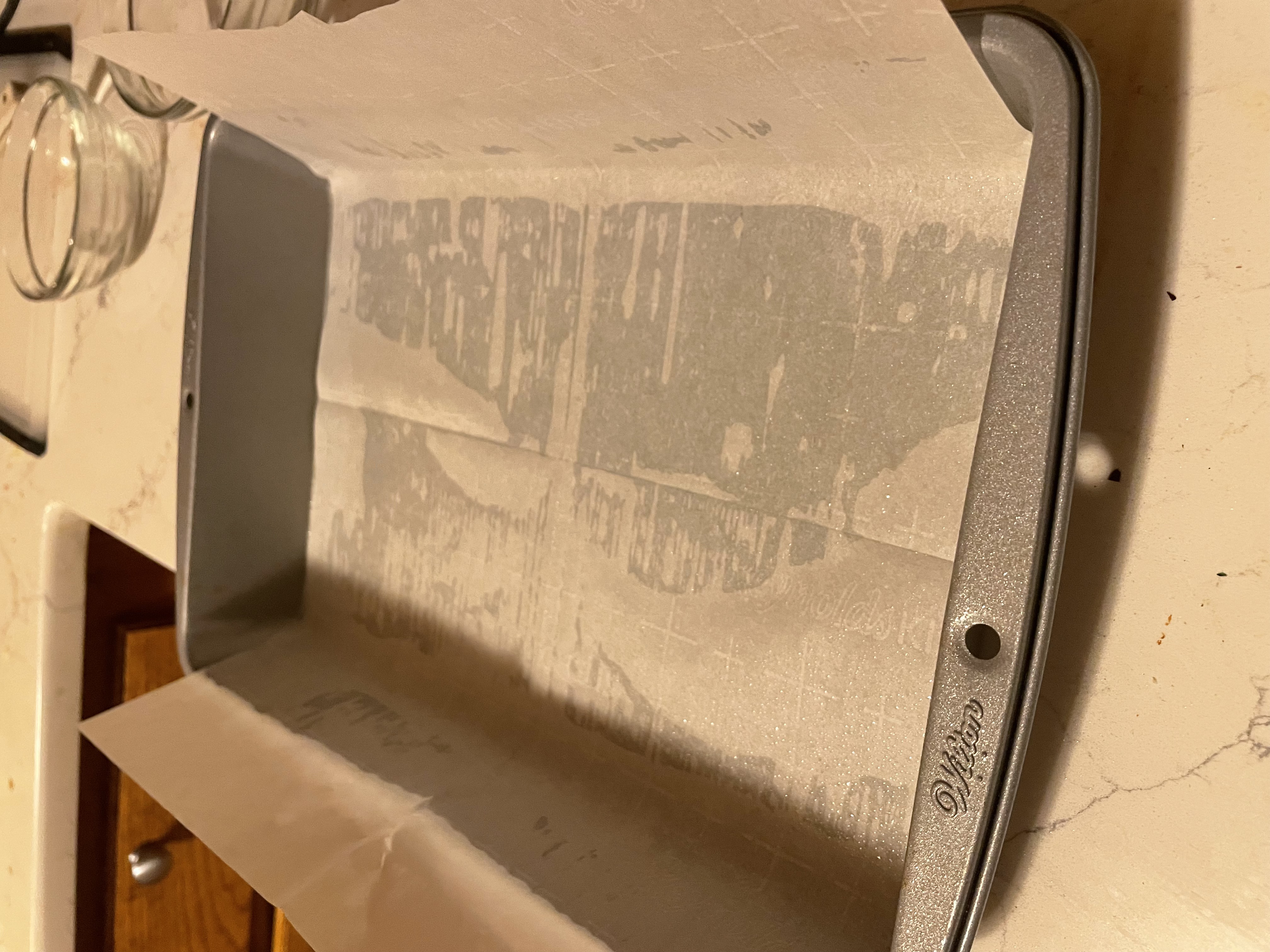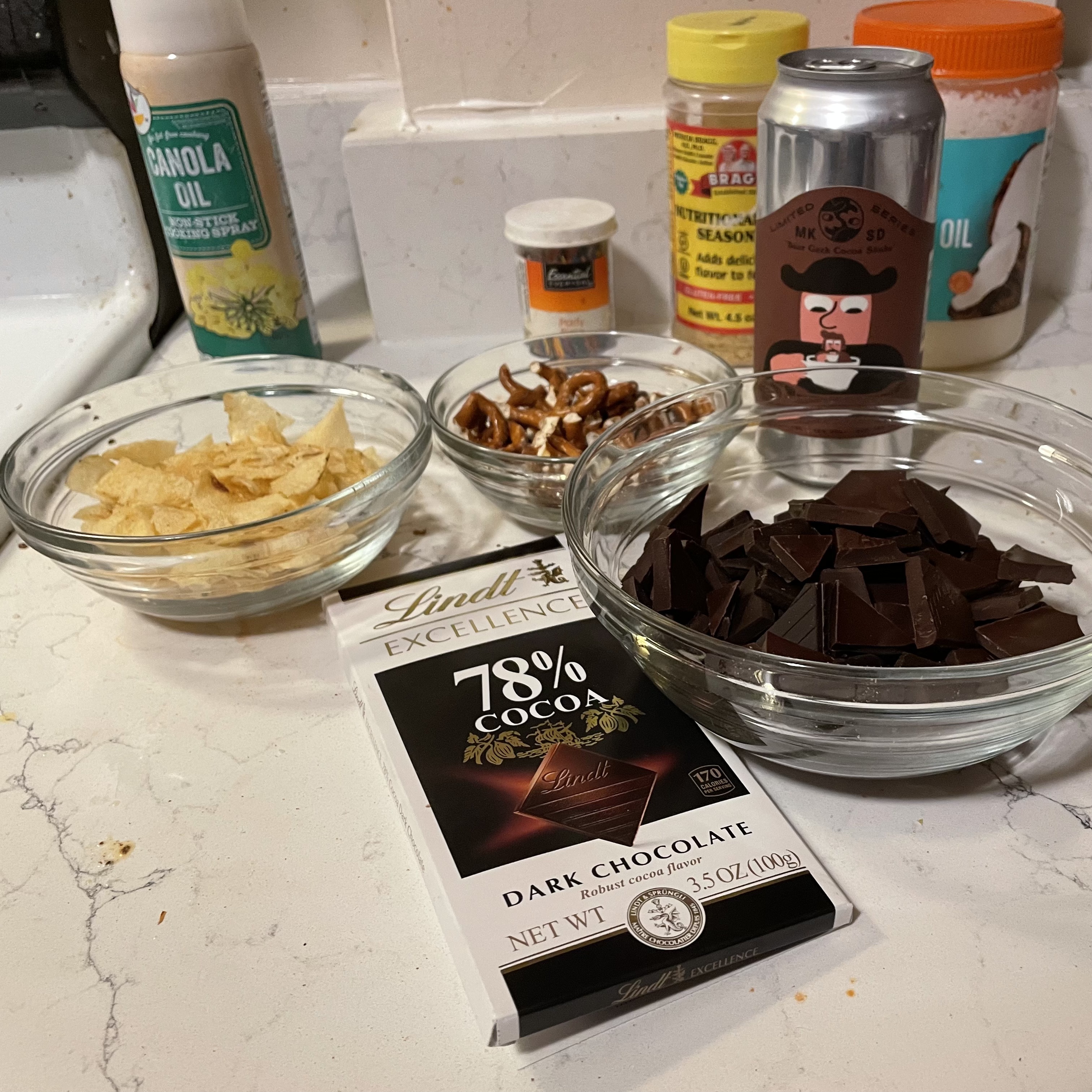 While that's cooling, it's a perfect time to get your baking pan prepped and get all of our mix-ins in order. Spray a 9x13 pan with cooking spray, then add some parchment paper with an overhang for easy removal after baking. Add a spritz more of cooking spray to the parchment and set that aside.
For our mix-ins on these blondies, we're going to take ~3/4 cup of crushed mini pretzels, the same amount of lightly crushed kettle chips (I like the "low-fat" ones here, since that generally means they're less oily), and 8 oz. of semi-sweet (or bittersweet or, in my case, 78% dark) chocolate that's been broken up or chopped up.
side note: My secret for baking chocolate is to check your local CVS for when they have the Lindt bars (or, even better, Tony's Chocolonely bars) on 2-for-1 special and stock up.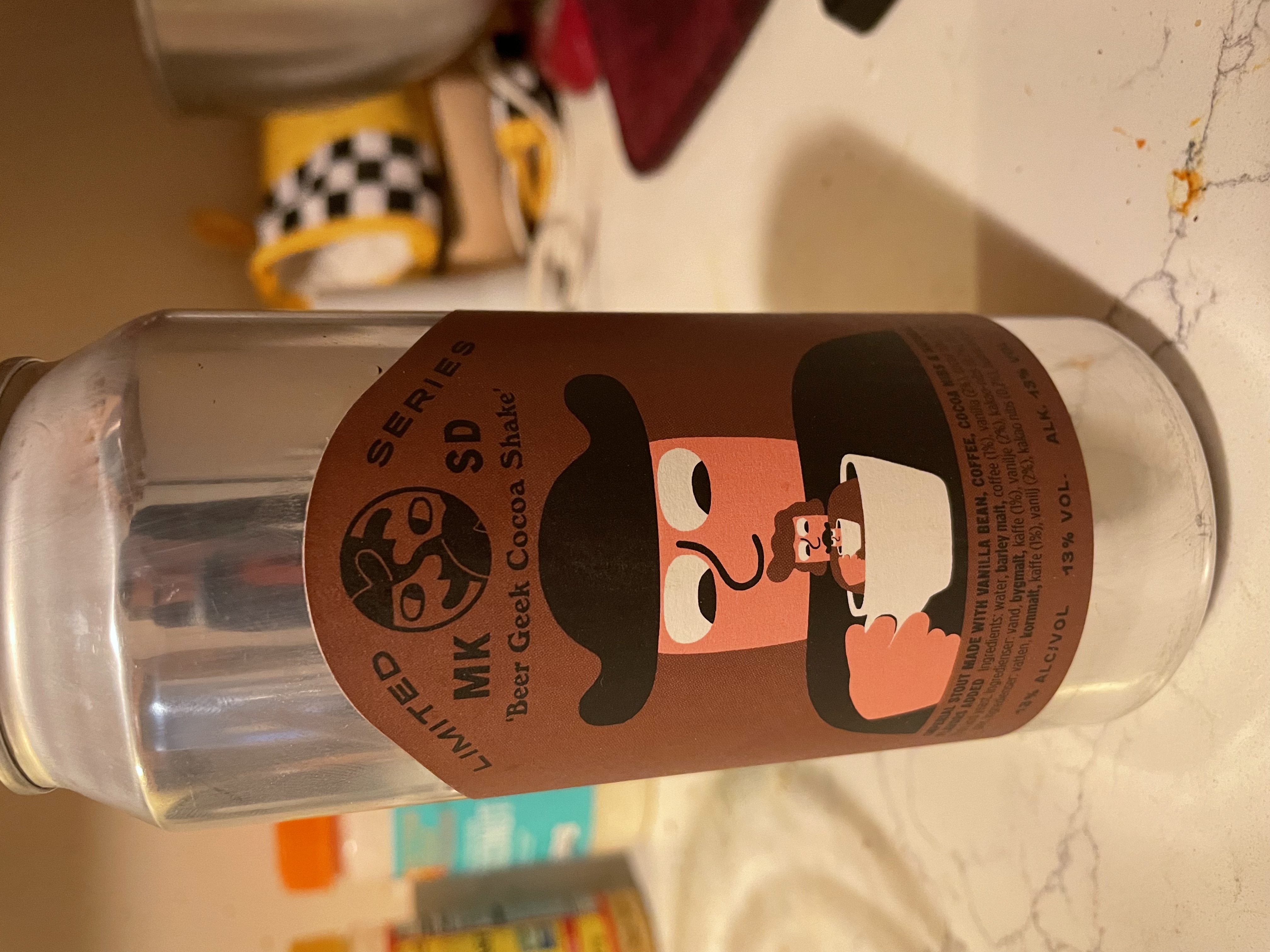 The base note complimenting all of this is some dark beer, which adds a nice malt-y flavor at the base of everything else. I'm getting fancy here and using a really nice imperial stout from Mikkeller with chocolate and coffee flavors in the mix (just to really push these bars over the top), but any kind of dark, dry stout (or other dark beer variety) will play nice here.
The main thing you don't want here is something too hoppy - that's going to add a bitter note that won't play as well with everything else going on. You're only going to need half a cup on the beer, so there's plenty left over to drink to forget the terrible spectre you just watched for 80 minutes of fAmIlY eNtErTaInMeNt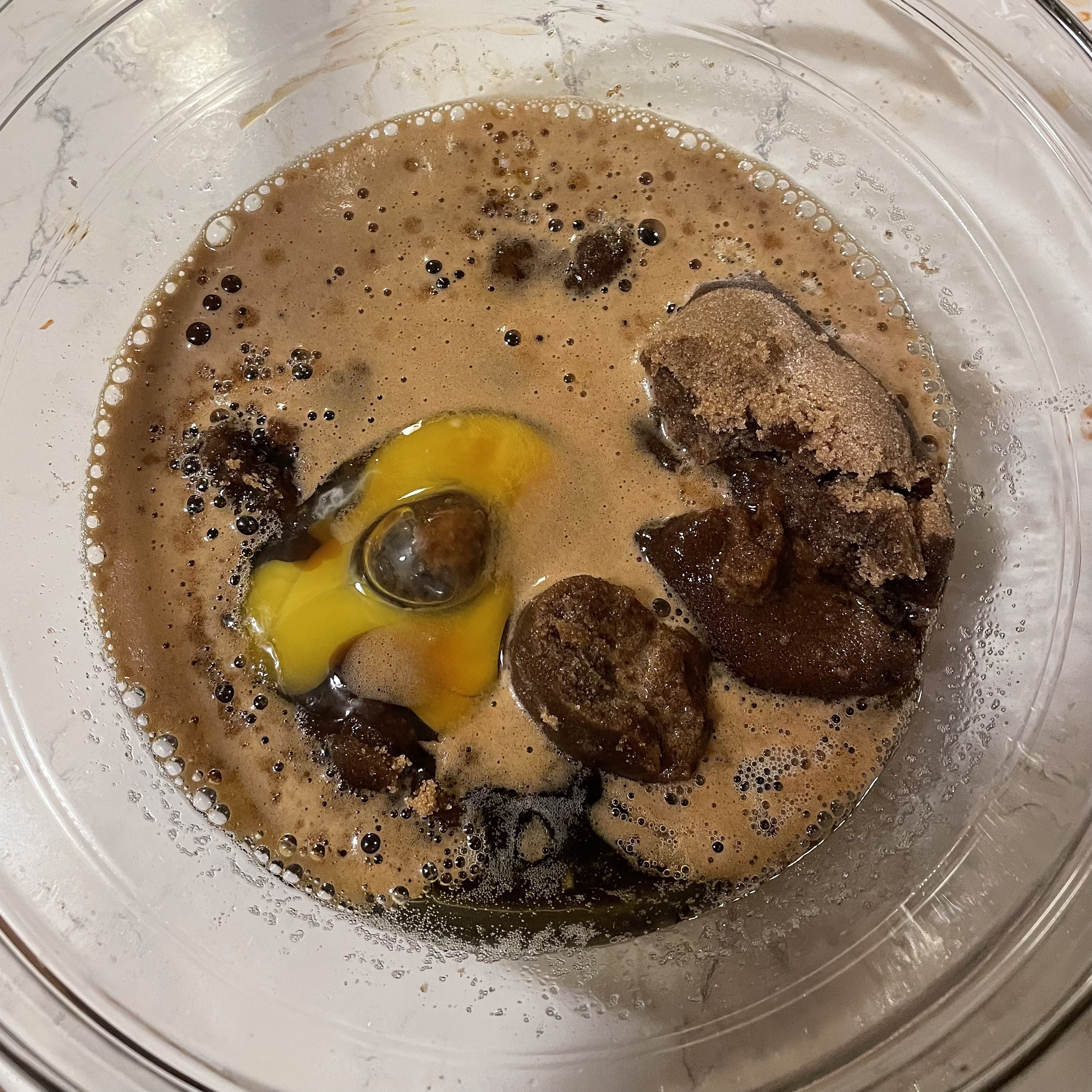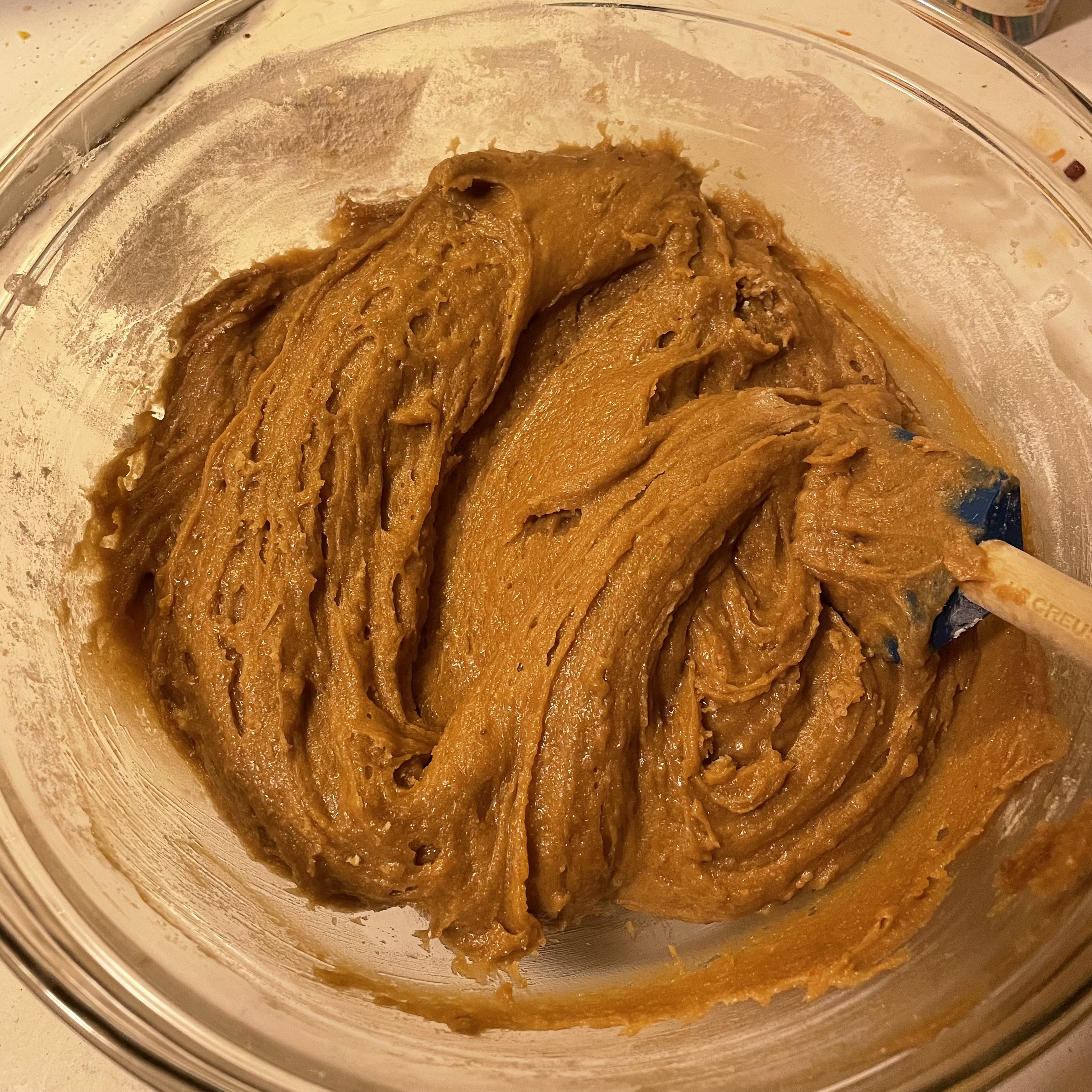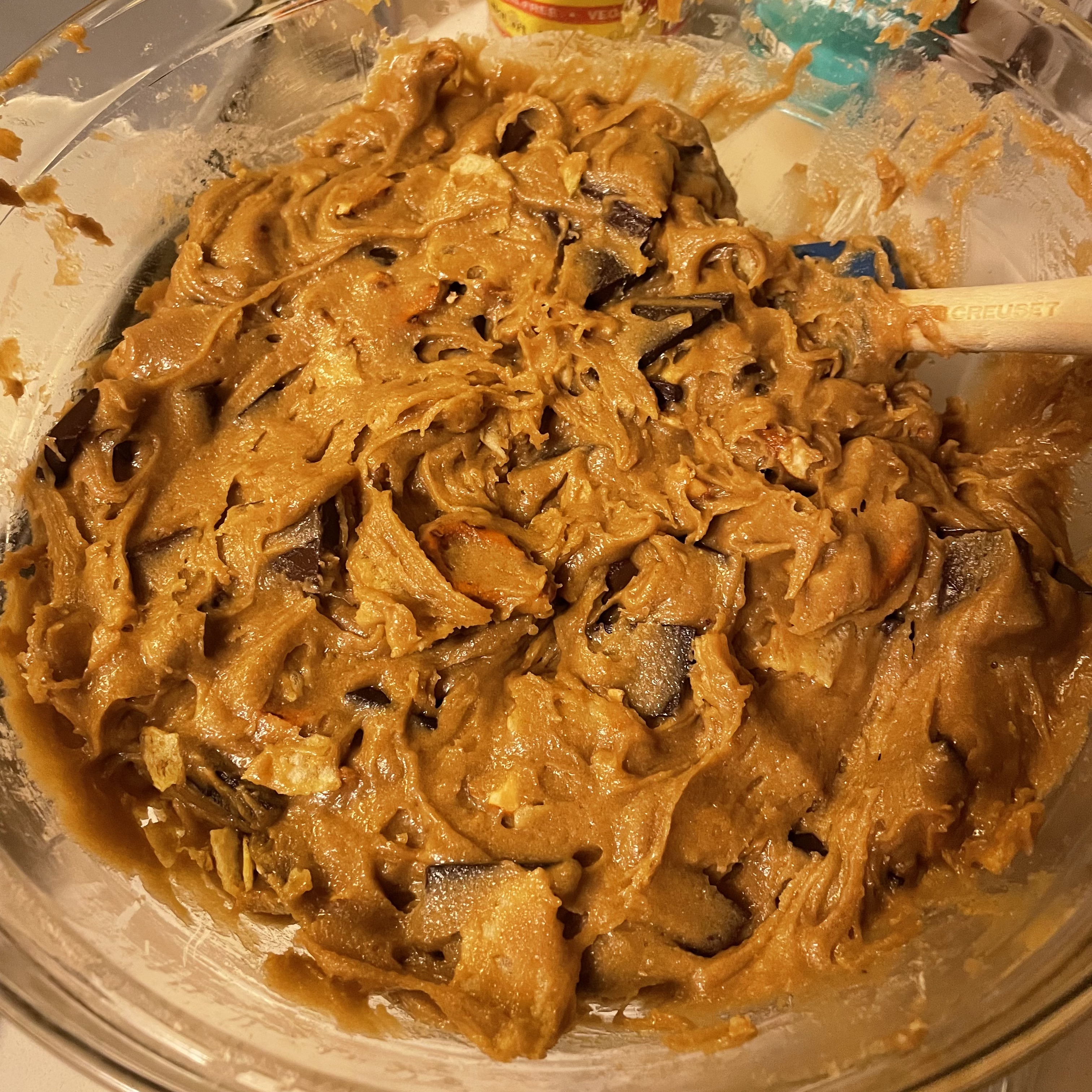 To the cooled browned butter, add brown sugar, granulated sugar, two eggs, vanilla, and the beer. Whisk this for a few minutes until fully combined, then add three cups of flour, baking soda, and salt, mixing with a spatula until everything comes together. Once that's looking nice and smooth, mix in the chocolate, chips, and pretzels, saving a handful of each aside for adding along the top.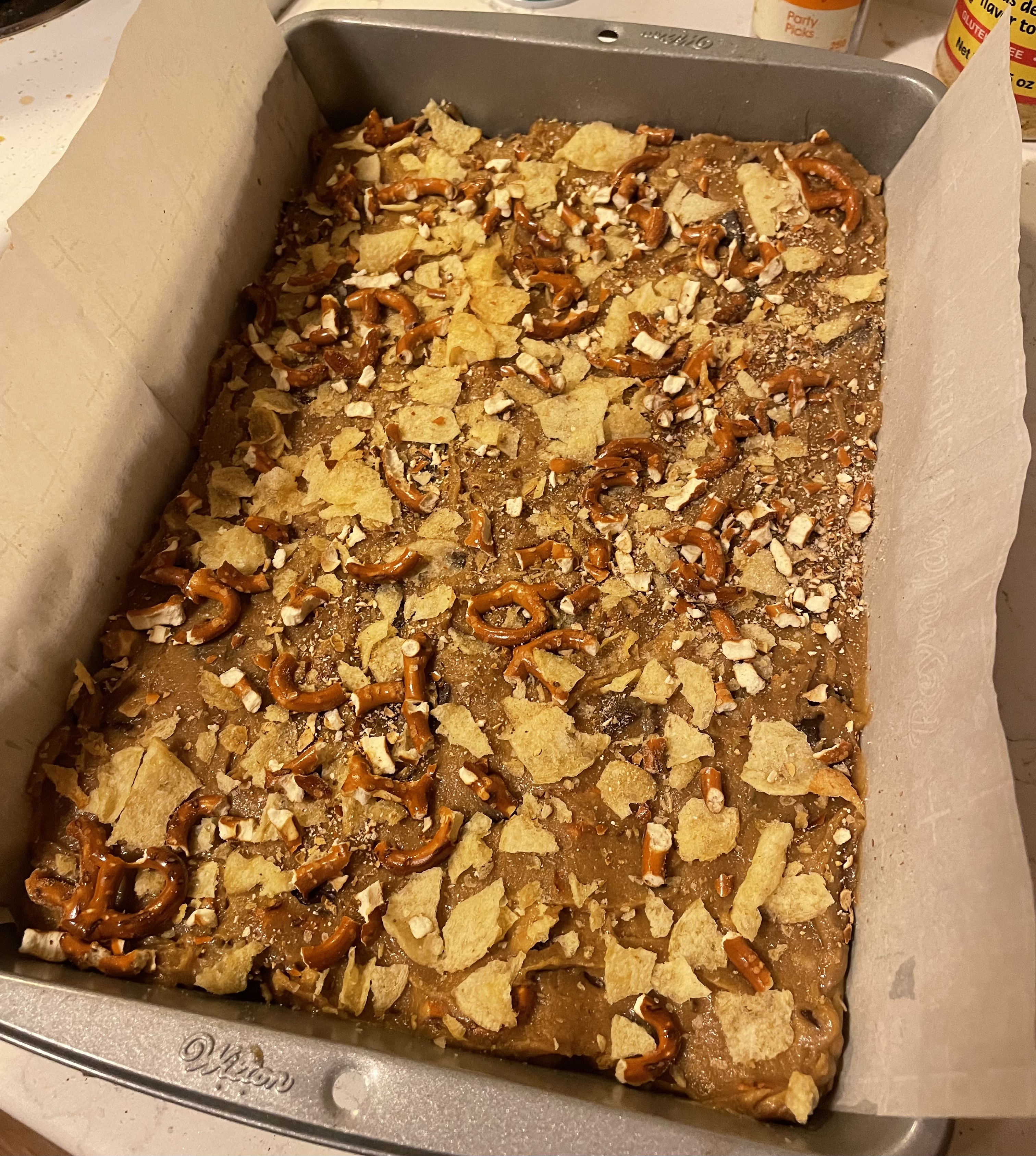 Everything gets added to the prepared pan and smoothed out with an offset spatula doing your best to not think about all of Dom DeLuise's stream-of-conscious ramblings. Place those last handfuls of chips/pretzels on top, lightly press them into the dough, and bake for 42-48 minutes at 325 F.
While this bakes, stare at the ceiling in your apartment and wonder what Loni Anderson was doing in this film. Did she notice that Andrew Stevens kind of had a Burt Reynolds-ish look in this movie?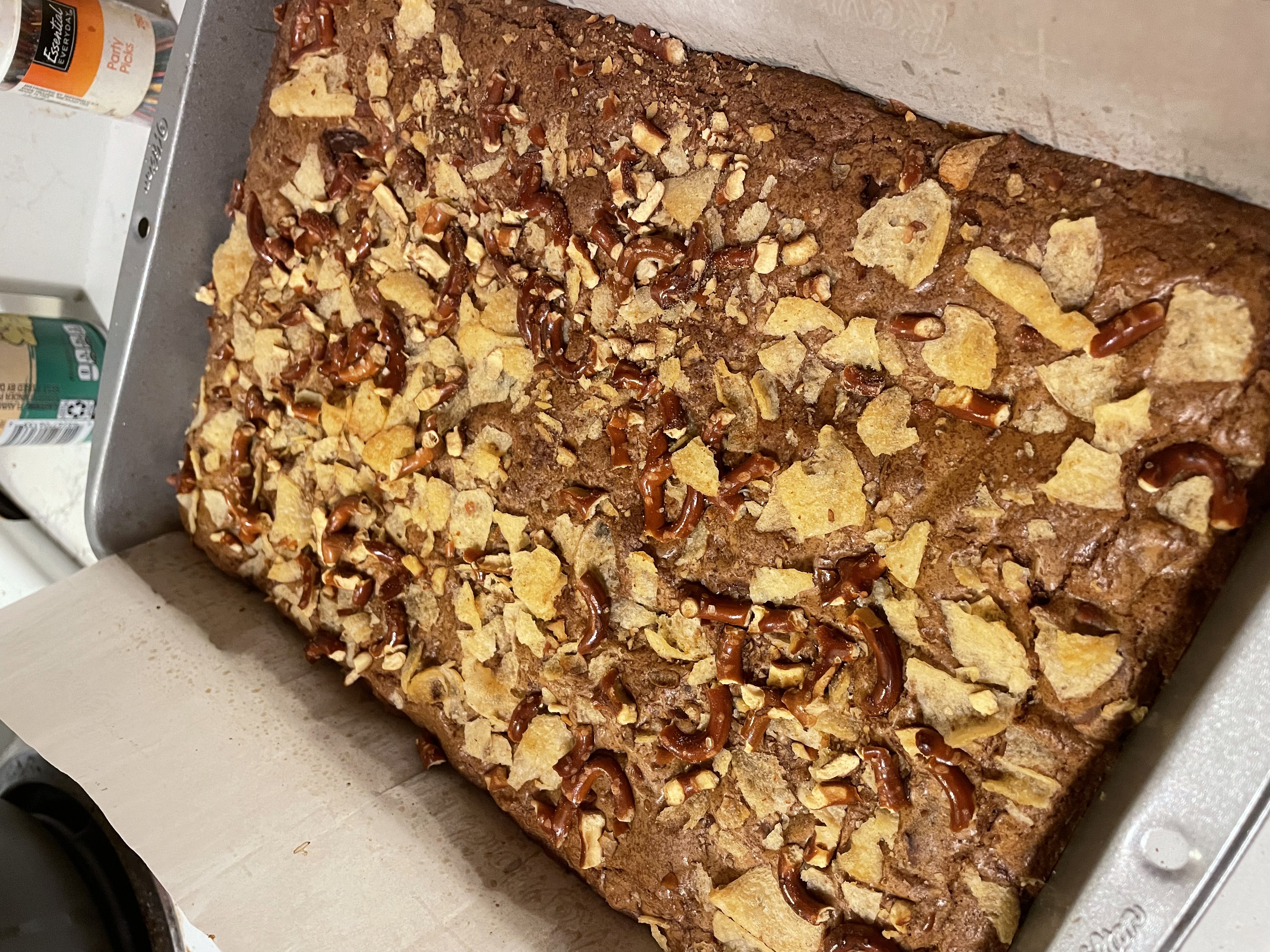 When these come out of the oven, it's important to bang the pan against your counter a few times to deflate what's going on on top. Leave in the pan to cool for at least 2 hours (the base is just set,and you want the bars to finish their out-of-oven baking and get a little more set in the middle), then cut into 24 squares.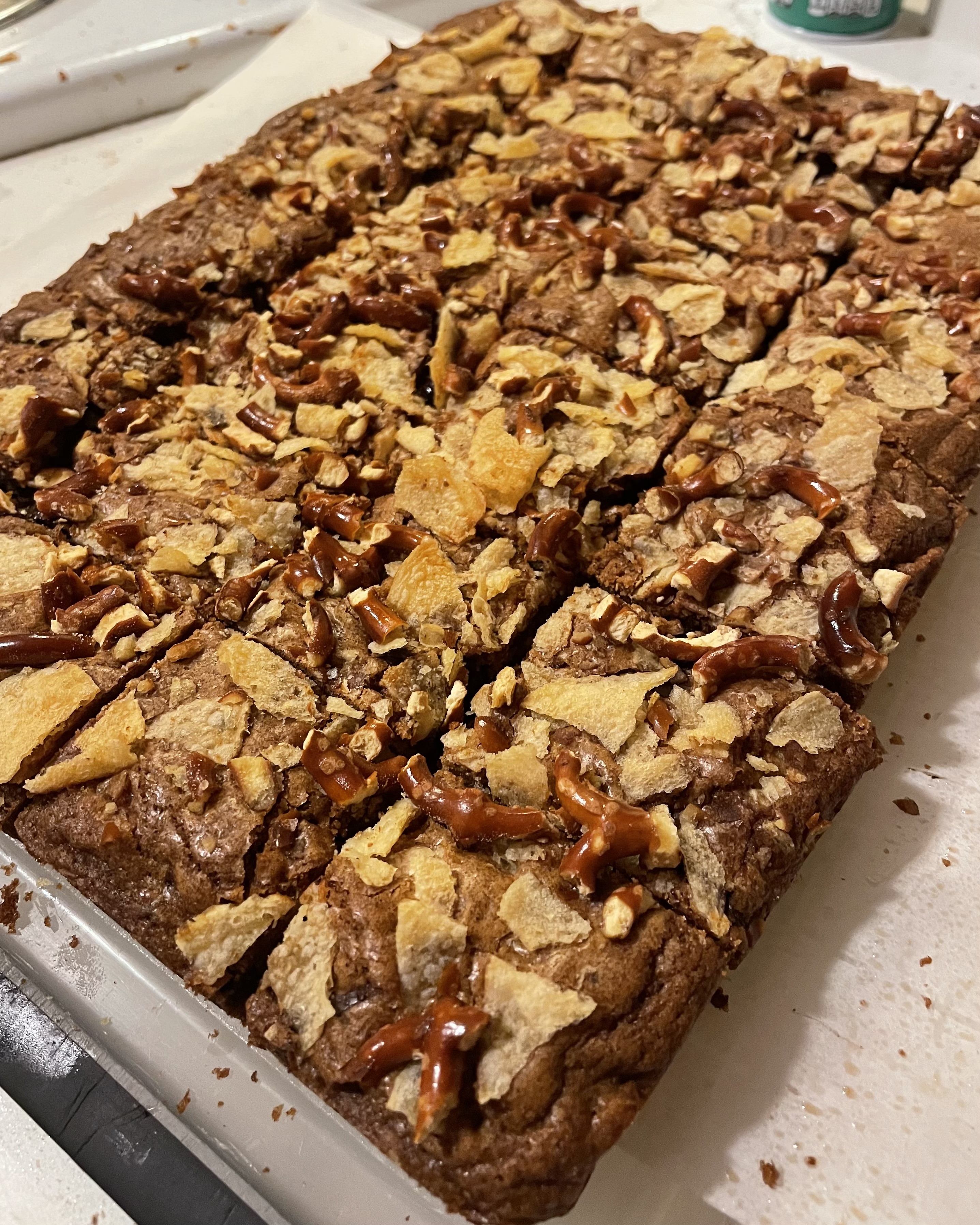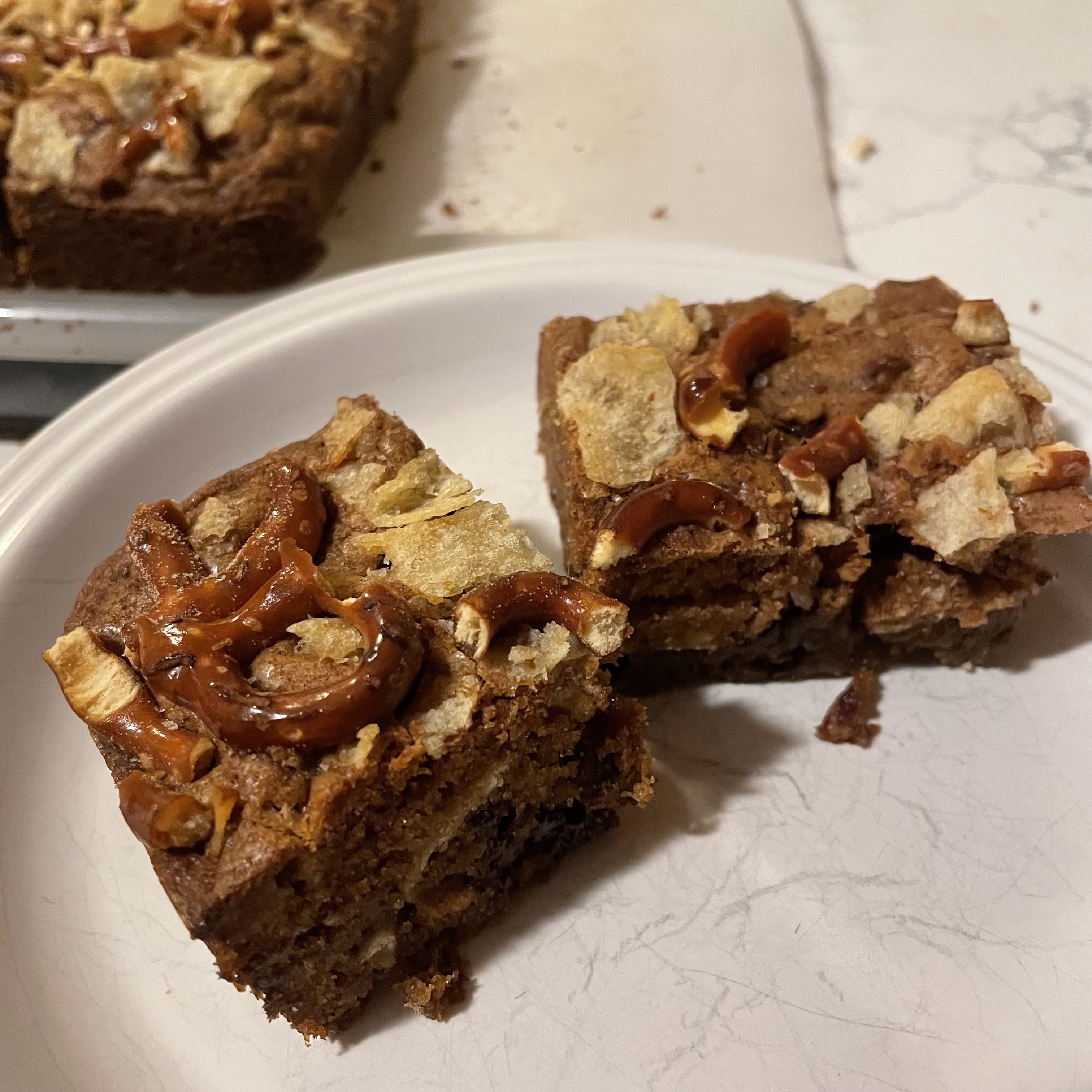 And there you go! We've transformed a traumatizing film experience into a tasty treat ᵗʰᵃᵗ'ˢ ᵗʰᵉ ˢᵃᵐᵉ ᶜᵒˡᵒʳ ᵃˢ ᵗʰᵉ ᵗᵉʳʳᶦᵇˡᵉ ᶠᵒᵃᵐ ʳᵘᵇᵇᵉʳ ᵇᵃʳᵉˡʸ ʳᵉᵐᵃᶦⁿᶦⁿᵍ ʷʳᵃᵖᵖᵉᵈ ᵃʳᵒᵘⁿᵈ ᶦᵗˢ ᵃⁿᶦᵐᵃᵗʳᵒⁿᶦᶜ ˢᵏᵉˡᵉᵗᵒⁿ.
Much like Dom DeLuise's character in this movie, these are over the top, a little salty, and a concerning shade of ecru. You're welcome?
Next Time: Doctor Mordrid.
---
Gotta Be Munchies!
riffing on the Pretzels & Stout Cookie Bars from Jesse Szewczyk's Cookies: The New Classics
Ingredients
2 sticks (16 tablespoons/226 grams) unsalted butter
2 cups (400 grams) packed light brown sugar
1/4 cup (50 grams) granulated sugar
2 large eggs, room temperature
1 tsp vanilla extract
1/2 cup (118 ml) dry stout beer, such as Guinness, or another dark, not-too-hoppy beer
3 cups spooned and leveled all-purpose flour (384 grams)
3/4 tsp baking soda
1 tsp kosher salt
8 oz. (227 grams) semisweet or bittersweet (or dark) chocolate, roughly chopped (about 1 1/2 cups)
3/4 cup salted mini pretzels, crushed into small, irregular pieces (plus an extra handful for the top)
3/4 cup kettle-style potato chips, crushed into irregular pieces (plus an extra handful for the top)
Instructions
1.In a saucepan over medium heat, melt the butter. Continue cooking, stirring and swirling the pan to prevent the milk solids from burning, until the butter foams and then darkens in color slightly and is very fragrant, 3-4 minutes. Immediately transfer the butter to a large heatproof bowl and let cool for 20 minutes, until warm but no longer hot. 2.Arrange a rack in the middle of the oven and preheat to 325 F. Grease a 9x13-inch baking pan (ideally metal, since you're going to be banging this on the counter after baking) with cooking spray. Line with parchment paper, leaving an overhang so it's easy to remove the bars from the pan. Lightly coat the parchment with some cooking spray.
Add the brown sugar, granulated sugar, eggs, vanilla, and beer to the bowl of melted butter. Whisk until smooth, 1-2 minutes. Add the flour, baking soda, and kosher salt, stirring with a rubber spatula until a smooth batter forms. Stir in the chocolate, pretzels, and potato chips.
Transfer to the prepared pan and spread into an even layer using an offset spatula. Add a final handful of crushed pretzels and chips to the top, pressing in lightly. Bake for 42 to 48 minutes, until the top is lightly browned, the edges are set, and a toothpick inserted into the center comes out with only a few moist crumbs. (Avoid inserting into a pocket of melted chocolate)
Remove the pan from the oven and immediately bang it on the counter to deflate the cookie base slightly.
The cookie base will be very gooey when it comes out of the oven, but will firm up once cooled, so set aside for at least 2 hours before slicing the base into a 6x4 grid to make 24 bars.