It's Crazy It's (Birthday) Party: Making the Käärijätorttu
2023-06-12
Y'all? I haven't done a baking project that's felt like a flex in a while. This was a F L E X.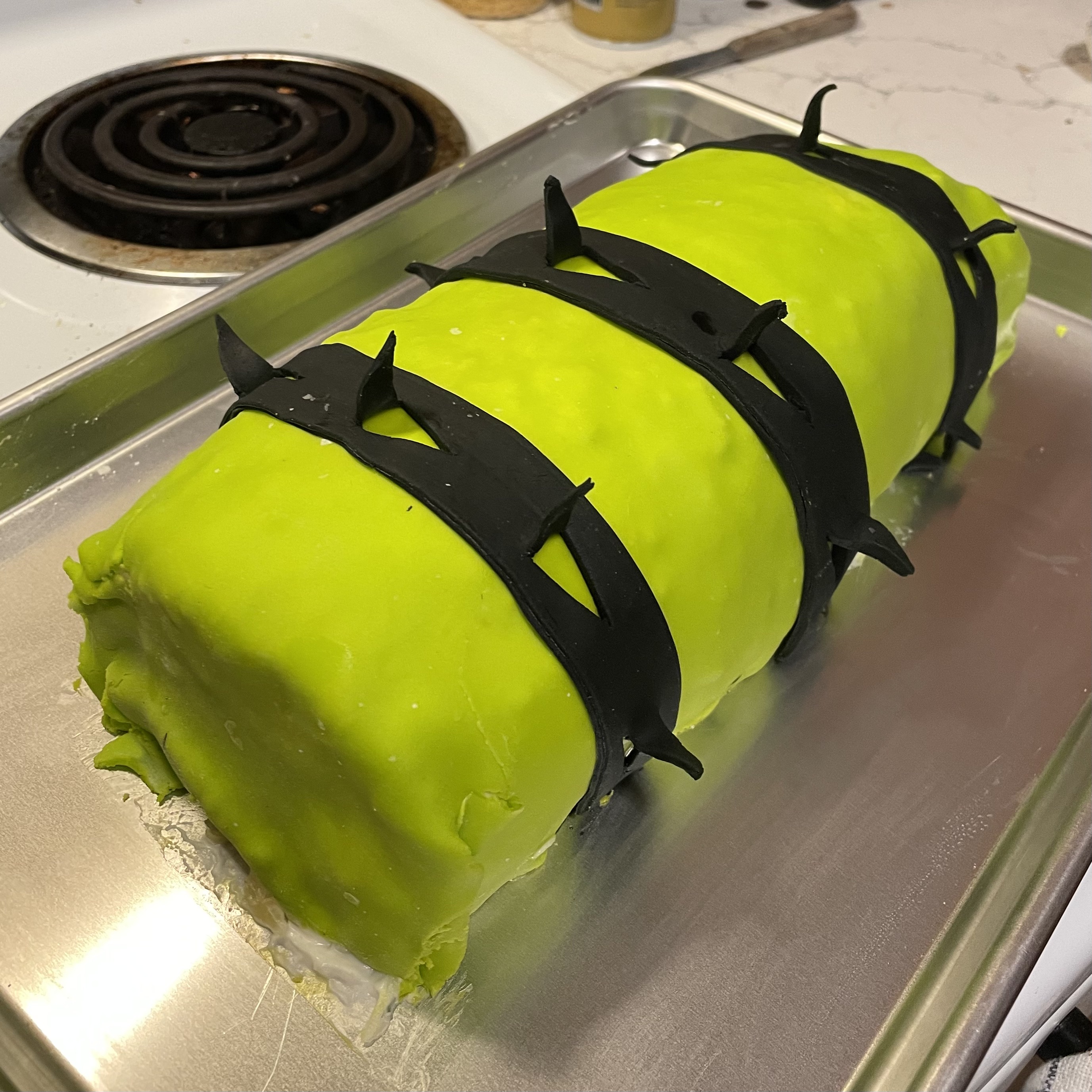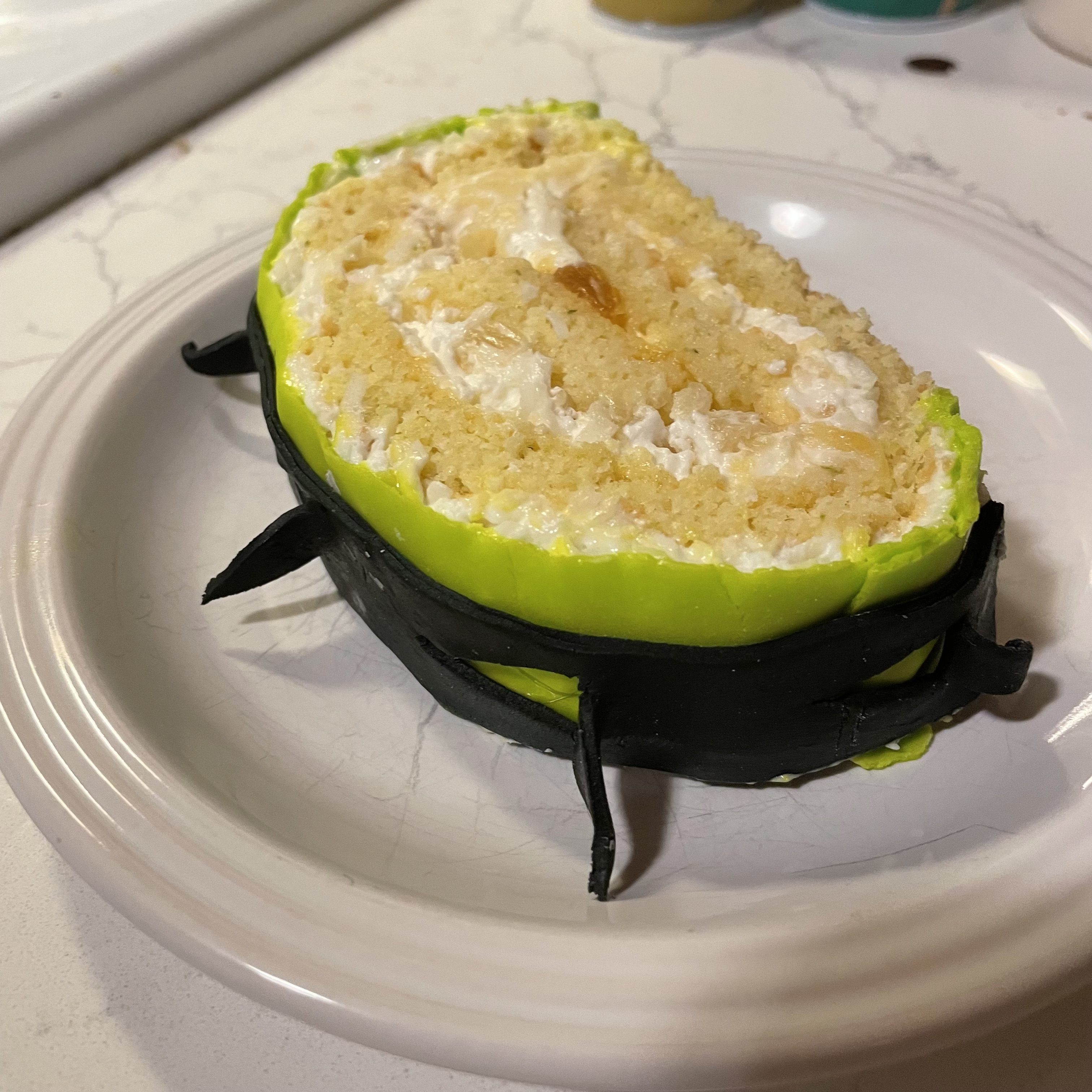 Finland's been going wild for their Eurovision entry since it got selected in February, and I've had my eye on this Käärijätorttu since it debuted on the Yhteishvä website in March. With a Birthday That Ends in a Five or a Zero happening this year, it felt like a big project was in order, and this was a chance to play with some new skills like Fondant Stuff.
I don't particularly care for fondant. It's too sweet! But I was willing to put up with it to celebrate "Cha Cha Cha" and another lap around the sun.
Since this recipe was in Finnish, there were a few things I needed to decipher:
what is a dl
what is meant by "vanilla curd"
Since I bake entirely by weight anyways, converting dls to grams was super easy, and "vanilla curd" is probably pastry cream. A friend of a friend who made this for that friend's Eurovision party passed on their notes, and specifically noted that:
they used instant vanilla pudding instead of pastry cream
they wanted the final product to have more piña colada flavor than it did, and they would have added some coconut extract to the cake and/or pineapple curd/preserves when assembling everything.
I took that second note and thought about what I wanted out of something piña colada-flavored, and made a few modifications of my own to the original recipe:
I wanted the filling to be super tropical, so I added the suggested preserves layer (my megamart had a pineapple/passion fruit preserve, so I grabbed that), and a teaspoon of coconut extract to the batter and filling.
I also had a hunch the fondant was going to push things sweet and I like fruit-y desserts to be tart (my standard birthday cake is a key lime cheesecake), so instead of vanilla pudding, I used an equivalent amount of cream cheese for a little tangy balance (though I still had pudding on hand in case things went south with this swap).
My local megamart had every Bob's Red Mill alternate flour except potato flour. A few google searches in the baking aisle revealed that yes, you can just grind up some instant potatoes for the same effect. If you have the time, though, order some potato flour online.
Y'all? I don't normally modify a recipe until after I make it according to the instructions for the first time. This turned out perfectly. A flex.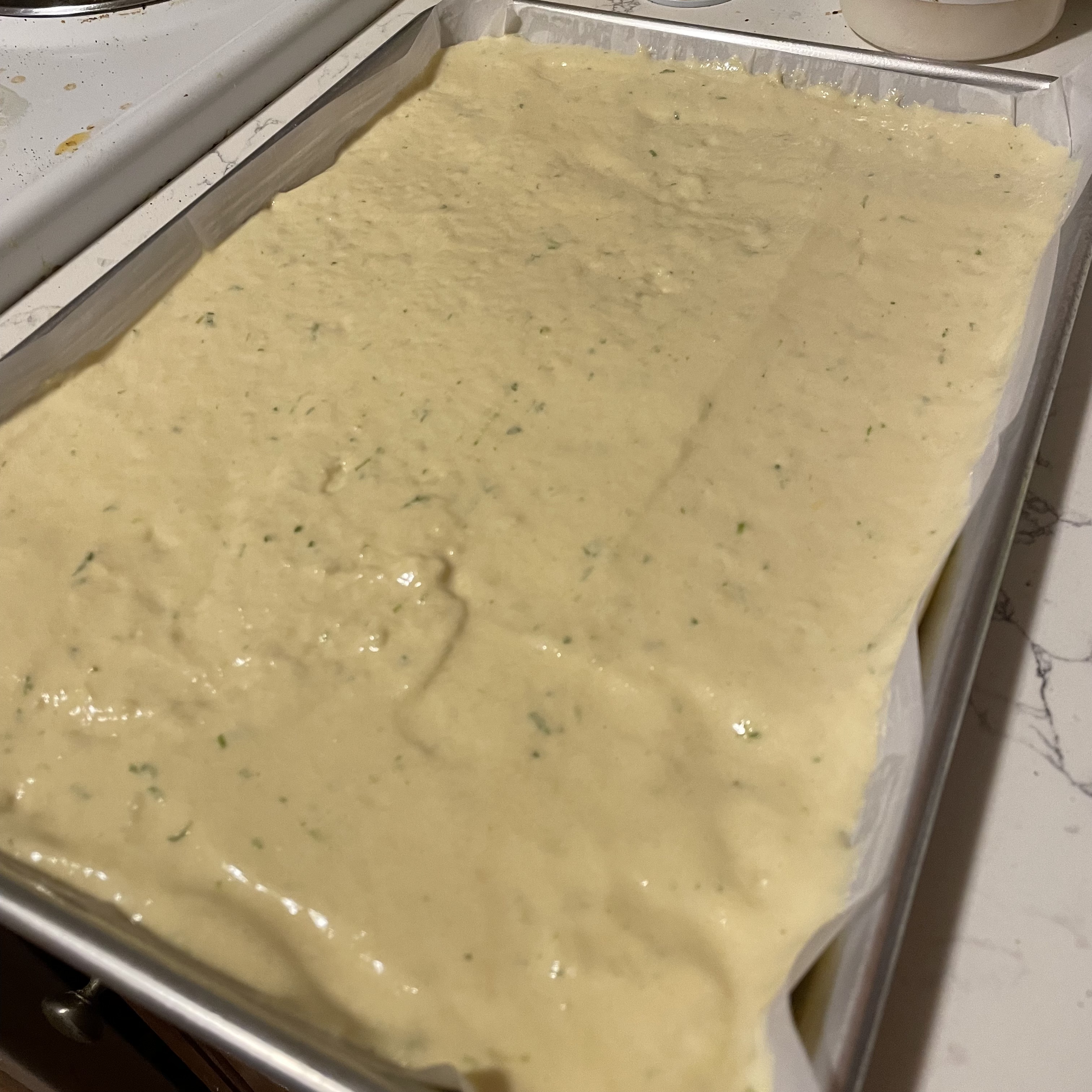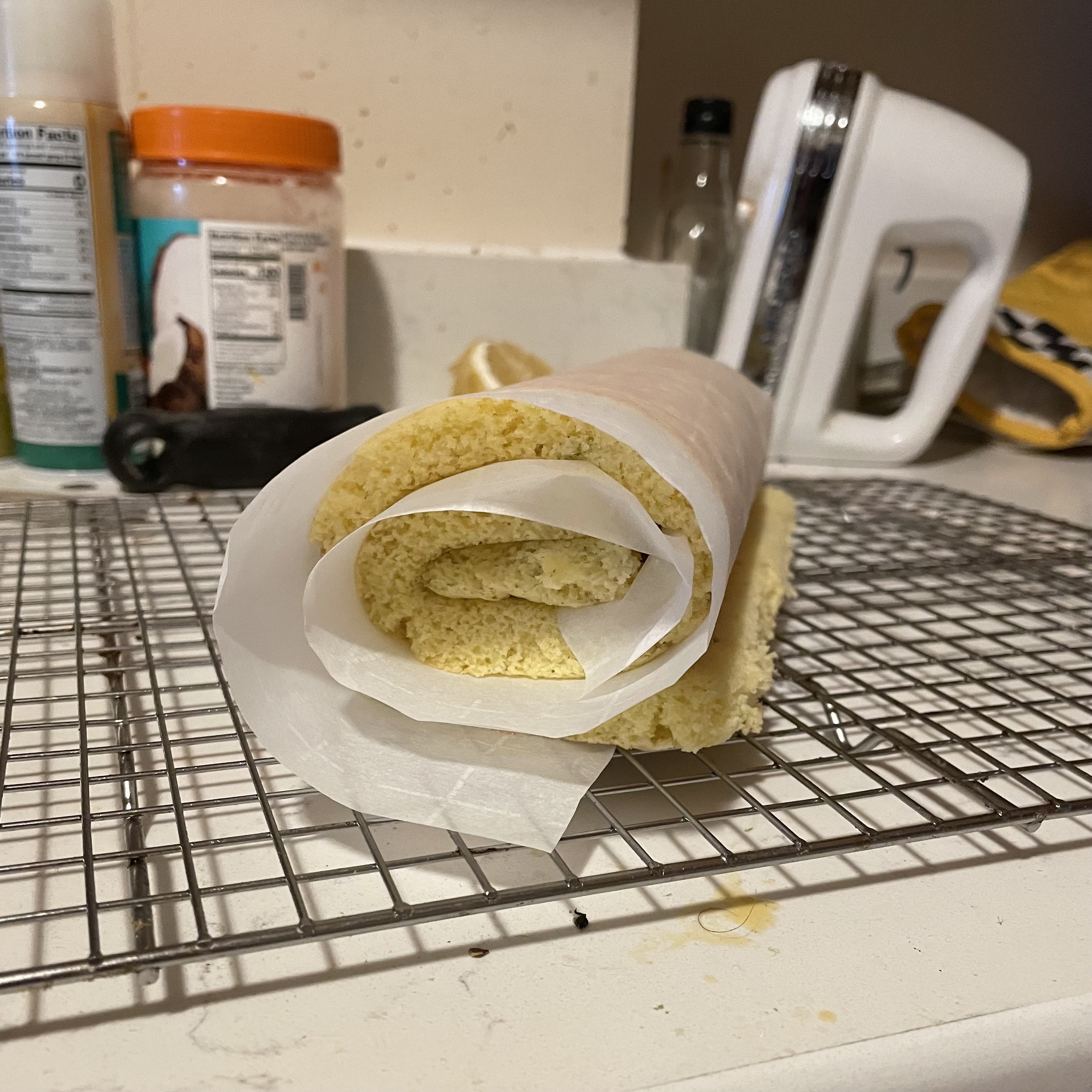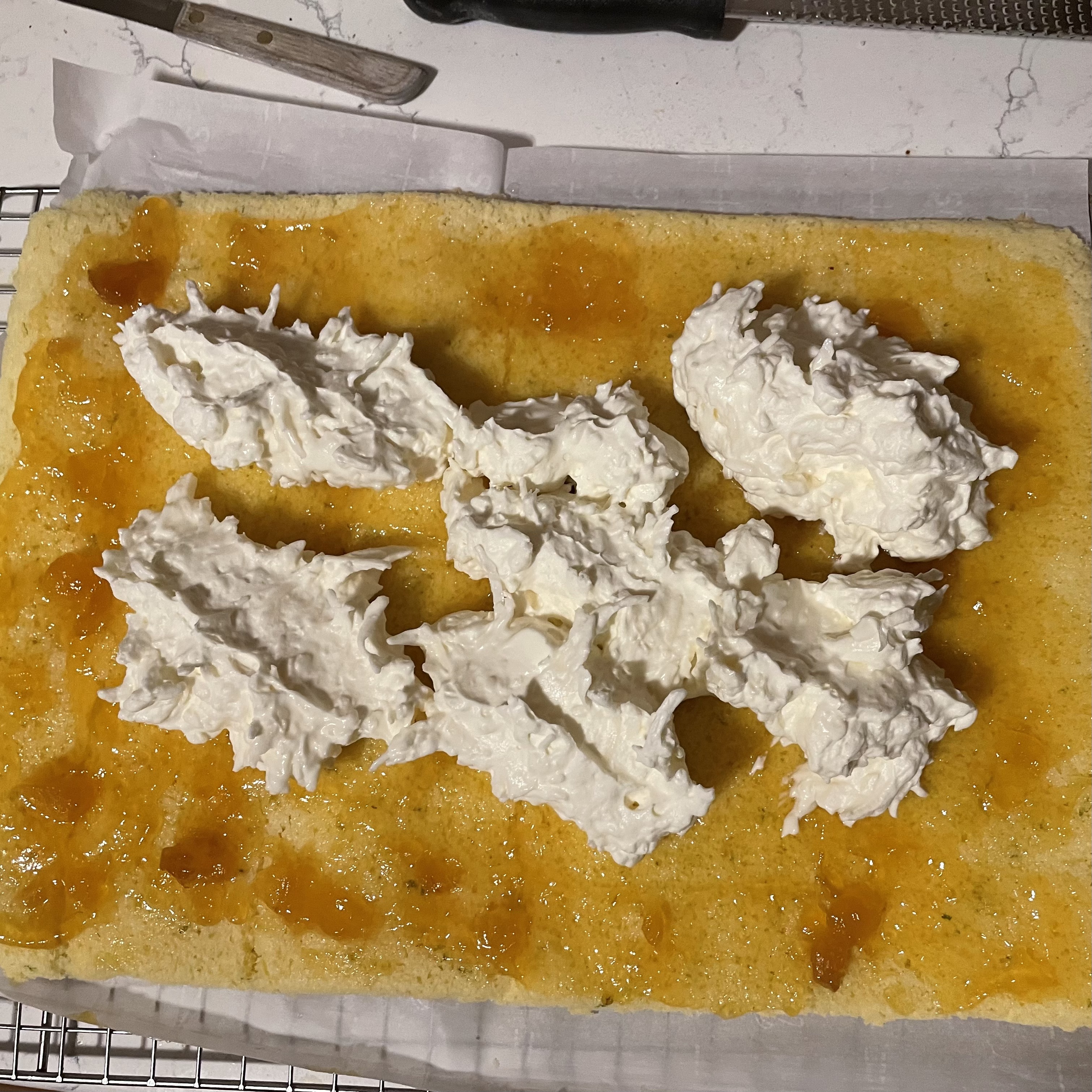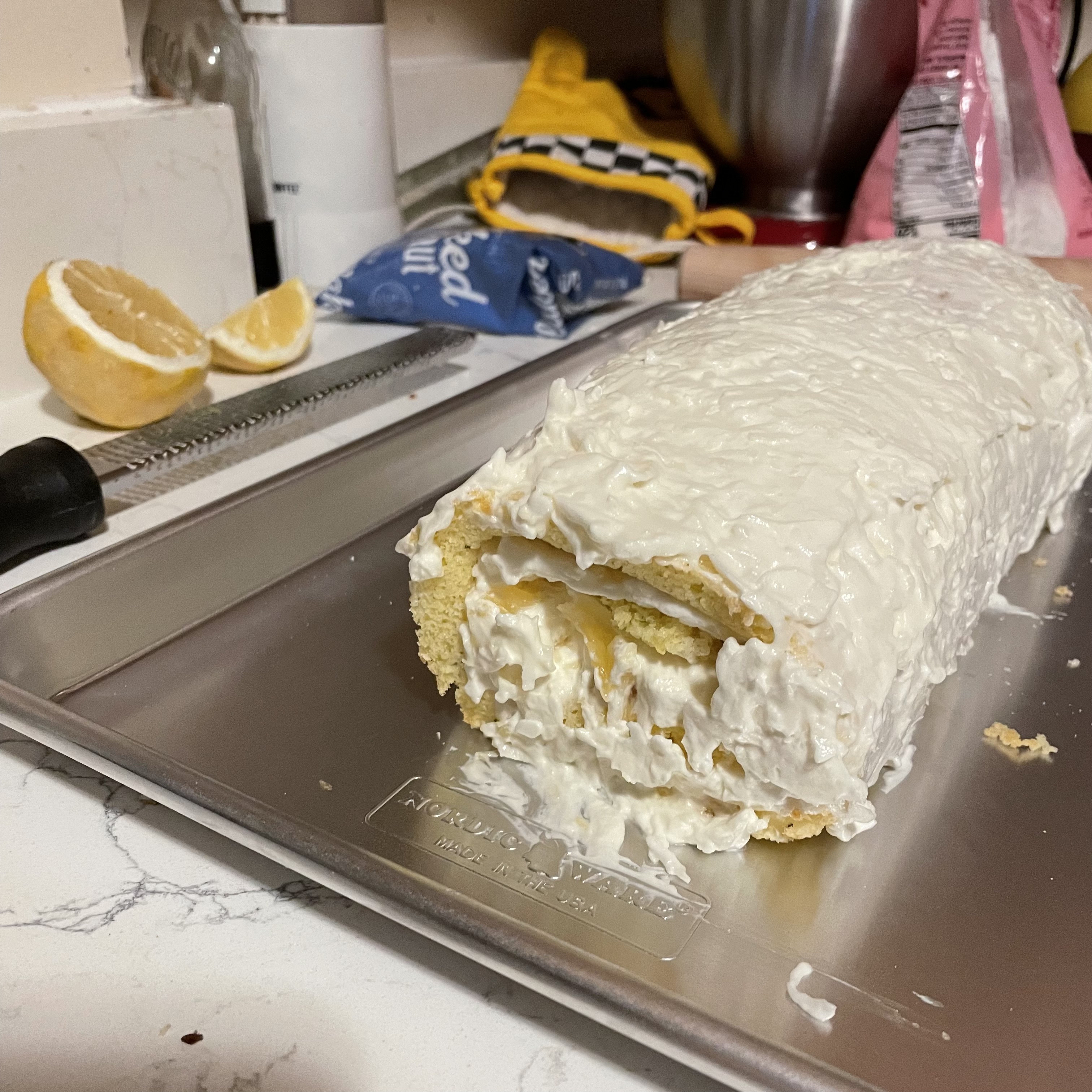 Since I was taking the time to translate and iron out any kinks from the recipe, it only felt fair to put that online where other non-Finnish-speaking people could find it/hopefully get the same success. Consider it my birthday gift to you.
Käärijätorttu (Käärijä Swiss Roll Cake)
From yhteishvä.fi, with modifications suggested by @pageshewey
Ingredients
For the Cake
4 eggs, at room temperature
150 grams sugar
75 grams all-purpose flour
75 grams potato flour OR instant potato flakes
1 teaspoon baking powder
1 lime
1 tsp coconut extract
1 Tbsp sugar, for rolling
For the Filling
230 grams crushed pineapple in juice (1 large can)
200 grams heavy whipping cream
200 grams prepared instant vanilla pudding or softened cream cheese
200 grams coconut flakes
2 Tbsp sugar
Pineapple preserves/pineapple curd
For Decorating
250 grams bright green fondant (2 packages)
80 grams black fondant (from 1 package)
Instructions
Heat the oven to 400 degrees Fahrenheit. Beat the room temperature eggs and sugar with an electric mixer for 5 minutes into a fluffy light foam. This should be light yellow in color and roughly double in volume
If using instant potato flakes, blitz these in a food processor until a fine powder, sifting occasionally to get everything processed until you have 75g of flour. Mix the dry ingredients together.
Wash the lime. Grate the peel and squeeze the juice. Sift the flour mixture into the egg-sugar foam and add the lime juice, zest, and coconut extract. Carefully fold dough with a spatula until it is evenly mixed and no dry flour remains.
Spread the dough on baking paper on a jelly roll pan. Bake in the oven for 8–10 minutes.
Sprinkle 1 Tbsp sugar over the hot sponge cake and place another sheet of parchment paper on top, then flip the cake over. Carefully remove the top baking paper from the cake, then tightly roll this and let it cool for a few hours.
Drain the pineapple in a colander, pressing down with a spoon, collecting the juice in a small bowl.
Whip the cream until sturdy. Mix the instant pudding or cream cheese, coconut flakes, sugar and half of the juice into the whipped cream.
When ready to roll and decorate, gently unroll the cake and moisten the top with the rest of the pineapple juice. Spread a thin layer of preserves on top of the cake, then spread 2/3 of the whipped cream mixture on top of this. Spread the crushed pineapple evenly on the surface of the whipped cream.
Re-roll the cake into a tight spiral using the baking paper, starting from the narrow side, leaving the seam side under.
Spread the rest of the filling in a thin layer on the surface of the wrapped tart.
Roll out the green fondant into a 40 cm x 25 cm sheet. If necessary, use powdered sugar to help. Roll the disc around the rolling pin and lift it onto the tart. Flatten and trim the excess fondant from the bottom edges and ends.
Roll three 25 cm long and 2.5 cm wide strips from the black sugar mass. With the tip of a sharp knife, cut V letters in the strips and lift the tips up. Sprinkle a little water on the bottom surfaces of the strips and place the strips on the surface of the cake as a decoration. Cut off the excess ends.
Store the käärijätorttu in the fridge and serve within a couple of days.