Oreo Cheesecake Cookies
2021-01-08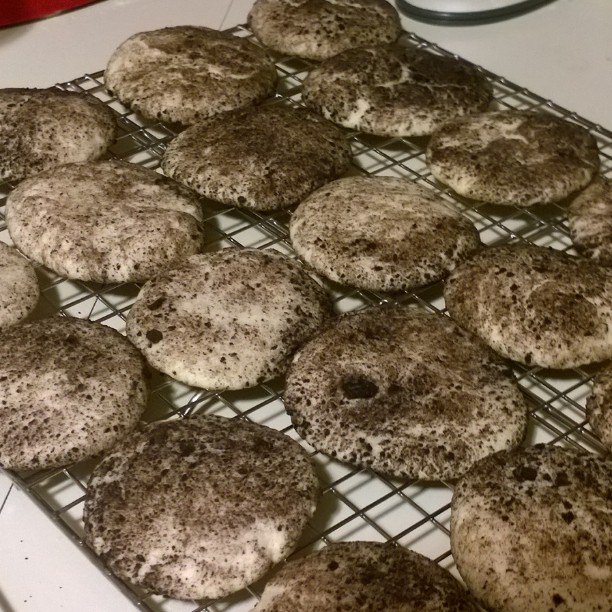 These are a riff on a Cherry Cheesecake cookie America's Test Kitchen featured in a Holiday Cookies issue. If you really want to make these fancy, pick up a few cans of pie filling like the original recipe asks for and put 2-3 in a well in the center of each cookie.
This makes about 4 dozen cookies – I've typically made a batch and a half for Hunt.
Ingredients
3 1/2 cups all purpose flour
2 teaspoons baking powder
1 teaspoon salt
2 (8 oz) packages of cream cheese, softened
2 1/2 sticks butter (20 tablespoons), softened
1 1/2 cups granulated sugar
2 large eggs
2 teaspoons vanilla extract
1 cup of Oreo crumbs
(I typically extract all the creme from half a package of oreos, then pulverize the wafers. You could also probably get those Nabisco chocolate cookies that are basically just the outsides of an Oreo, I won't tell anyone)
Steps
In a medium sized bowl, combine flour, baking powder, and salt. Set aside.
In the bowl of a mixer (or with an electric hand mixer), beat cream cheese, butter and sugar on medium-high for 2 minutes. Add eggs and vanilla and mix until just combined. Reduce mixer speed to low and slowly add flour mixture. Divide dough in half, cover with plastic wrap and refrigerate until firm, at least 2 hours.
Preheat oven to 350. Line baking sheets with parchment paper.
Roll dough into 1 1/2 inch balls, then coat completely in Oreo crumbs. Place 2 inches apart on baking sheet and gently flatten.
Bake until cookies are cracked and set, about 12-13 minutes.
Cool on baking sheets for 10 minutes, then transfer cookies to a cooling rack to cool completely.