Mystery Hunt 2022: Stuff I Wrote
2022-01-18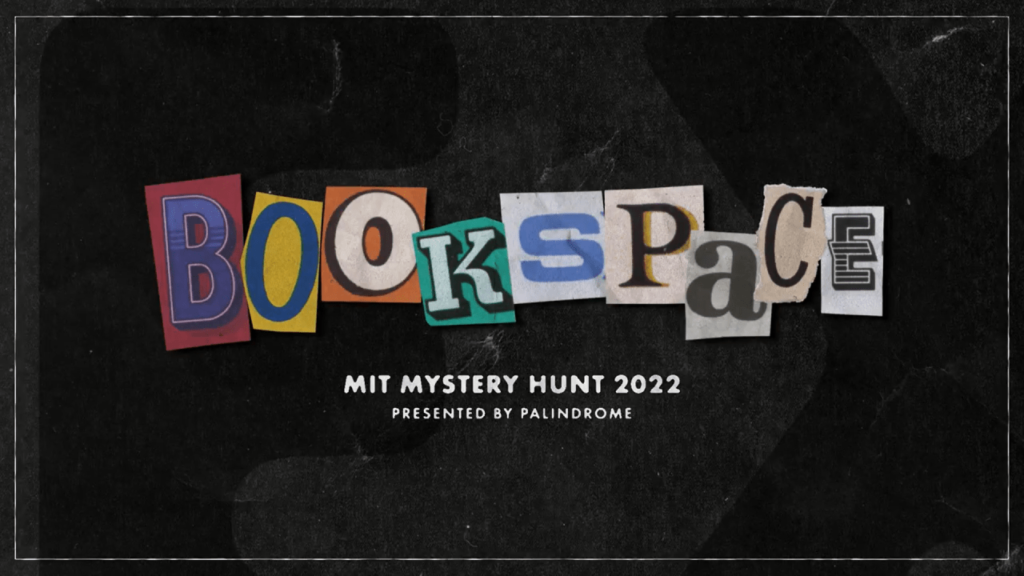 I did a lot of stuff for the 2022 Mystery Hunt. Before Palindrome won, I had realized that the growth of online puzzlehunts had meant that I didn't need to necessarily keep my ideas as just "Hunt puzzles" and could probably write something where they could appear, and had made a sense of peace with potentially never writing for an actual Hunt.
Anyways, then Palindrome won the Hunt in 2021. It was a uniquely good year for me to be able to write, and since I already didn't think I was going to get to do this and the fact I did made it feel like a gift, I threw myself into the process as though I was never going to get the chance to do it again.
One of my personal goals for the Hunt was to collaborate with as many people on Palindrome that I hadn't collaborated with before, whether as a writer, editor, or in other regards. I absolutely excelled at that goal.
Here's a list of the things I hand a hand in writing/creating for Hunt. I plan to make a few separate posts for the things I worked on as editor (because I also edited a LOT of things and want to shout out all of the awesome things my friends made), other areas in Hunt I helped out (to shout out all the behind-the-scenes stuff that isn't necessarily the most visible but needs to happen), and some thoughts on the Hunt in general.
---
Star Rats Prologue: Splinter
I had made a tweet sometime in the last year that was just this image:

I'm very grateful Mike Nothnagel reminded me of that and wanted to write a puzzle riffing on that which ended up getting used in the prologue Hunt we wrote. Here are some other behind-the-scenes images:


I've written puzzles with Jenny Gutbezahl for a few local BAPHLs, and we always manage to work in a reference to 1980's terrible Xanadu. This was where we slotted that in for Mystery Hunt now that we were both on the writing team.
A crew of us worked on this meta idea together after Shai Nir suggested it, so a bunch of our collective suggestions (including mine) made the final cut.
Jen McTeague knows I love writing parodies of the William Carlos Williams poem "This is Just to Say", and once she realized she needed some for our post-metameta "runaround" for smaller teams, reached out to have me create a puzzle around that idea. I was mentally blocked on finalizing some of the other puzzles on this list, so having this one just flow out in a few hours helped me get my writing mojo back when I needed it.
Writing a scavenger hunt for Mystery Hunt is hard. Jen McTeague, Wil Zambole, and I all collaborated on this in an effort to make something thematic to the Hunt that was fun for teams to do for us (since this felt much more in the "do some things for us" scavenger hunt genre than the "bring us a lot of items" genre), but also fun/easier for us to evaluate for teams.
I have some larger thoughts about the Ubiquitous Mystery Hunt Scavenger Hunt I'll save for another post, but I was really pleased with the positive feedback we were getting for this.
Mike Nothnagel and I have wanted to write a puzzle about WIDM for y e a r s, and I'm glad we finally got the opportunity, as well as that I got to mash it up with my love of Dutch's weird false friends, since that fed nicely into the theme of the puzzle.
I really wanted to write something with Shai Nir Hana, so when he mentioned he had just seen Edgar Wright's documentary about the band Sparks, I jokingly suggested we should write a puzzle with a bunch of Sparks audio clips where you had to determine, based on when it was released, whether Ron Mael's mustache was a pencil mustache or a toothbrush mustache and use that as Morse. That wouldn't have worked for a few reasons, but I really like the surreal photocollages he created for what we ended up with.
If this had been a normal in-person Hunt, I would have written a puzzle where the answer was something like BRING BEN SMITH ONE DOZEN COOKIES, since I've built my reputation in Hunt as being Palindrome's Cookie Guy. Obviously, this was not a normal in-person Hunt, so I channeled my love of cookies with a co-author into a logic puzzle.
I assume any of my puzzle friends that saw this one open up knew exactly who had written it.
I have wanted to write a Eurovision puzzle for Hunt for about a decade. Because it's such a rich dataset, I've also been very quiet about that. The structure of New You City is super fun, and I knew that if I wanted teams to send good pastiches, they needed to see the best, so the puzzle became a way to make sure teams watched Love Love Peace Peace before they sent us their videos.
Anyways, like I said, it's a really good dataset, so I look forward to solving many more Eurovision puzzles to come.
One of the collaborators on Palindrome I really wanted to work with was Sandy Weisz. We kicked around multiple ideas this Hunt, many of which didn't go that far, but once we needed to swap out an answer so that Book Reports could have it, this fell together really quickly and has a great performance by his daughter in the accompanying video.
What can I say, I'm apparently really good at writing puzzles for unusual prompts from teams?
Once we had the Pokémon answer in this round, I knew I wanted to work with Joe Cabrera, Palindrome's resident Pokémon expert, and then once New Pokémon Snap came out, getting an excuse to play it while working on Mystery Hunt stuff was very appealing. We finalized the idea for this while both in DC for the National Puzzlers' League convention, and then I did a bunch of data crunching afterwards.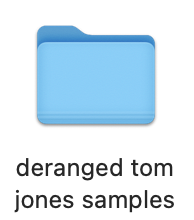 This is another one that I think people knew was one of mine if they know me at all. I helped with filling in songs for the jukebox's listing and editing together the special audio files.
I joined this one after all the main content had been written, but helped pull together all the audio, including reaching out to Will Shortz to see if he'd be interested in playing the role of himself on the audio clips. I'm a ghost in the machine on most of the audio here – I recorded all of Will's audio with me playing the contestants, then all of the contestants with me playing "Will", then editing things together.
One of my favorite episodes of Reply All is one where their Super Tech Support team works out what characters in podcast names are affecting the audio player in a listener's car. One of the fake podcasts they create is called "> = <", and features Samin Nosrat instructing one of the hosts how to make a clafouti without using any specific measurements.
That felt like a puzzle idea, and this was one of the first puzzles I pitched to our editors in chief besides the Eurovision puzzle. I decided to make a fake podcast of my own, which required writing the puzzle with my collaborator, recording the podcast (including sound effects!) together, editing all of the podcasts, and getting them set up to release over the course of 14 weeks leading up to the start of Hunt.
The podcast will still be online for a few months, but a post-Hunt version of the puzzle will have all of the audio on the page. Still, it was fun to watch the stats chart for the podcast have a dramatic increase in listenership over the course of the weekend, and we even managed to place on the Apple Podcasts chart in Malaysia for "How-To" podcasts: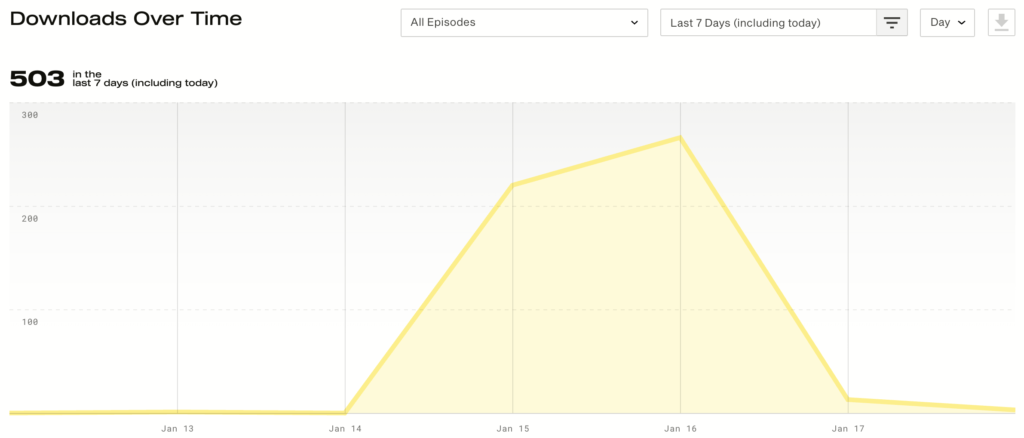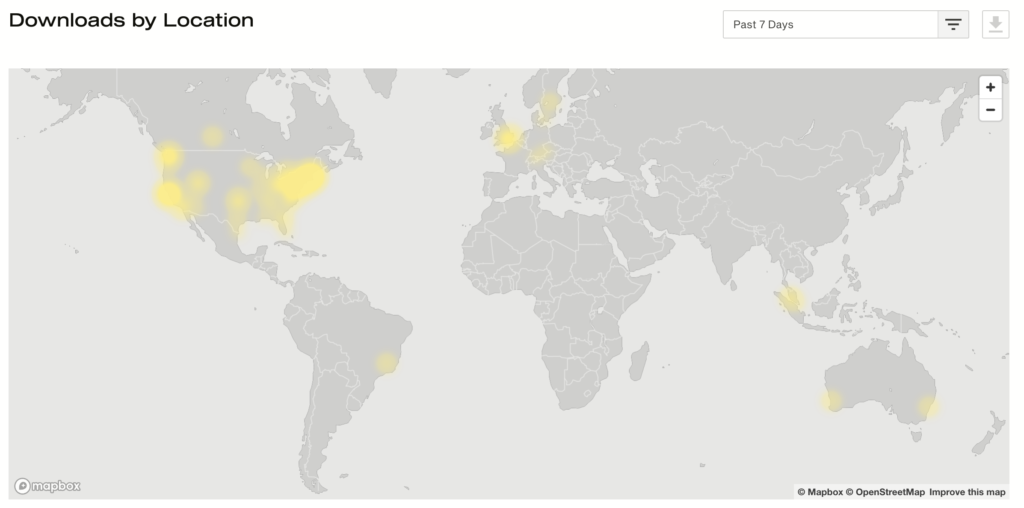 also, all of the recipes from this are real recipes, slightly modified. I am so excited to bring a Rupjmaizes Kartoujums to every party I get invited to this year now that I've learned how delicious it is and how easy it is to make (spoilers on the puzzle at that link).
At the time we requested it, this was the last answer that needed a puzzle in the Hunt. Having seen the response that our teaser puzzle was getting online, a bunch of us were joking about changing THIS IS NOT A PUZZLE to THIS IS NOW A PUZZLE. I corralled the people having that chat into a side-chat, we worked out what the actual puzzle version of that would look like, and submitted it to our editors-in-chief expecting them to turn us down.
They didn't, and I hope this provided a cleansing sorbet in the midst of some of the meatier courses in this round as a whole.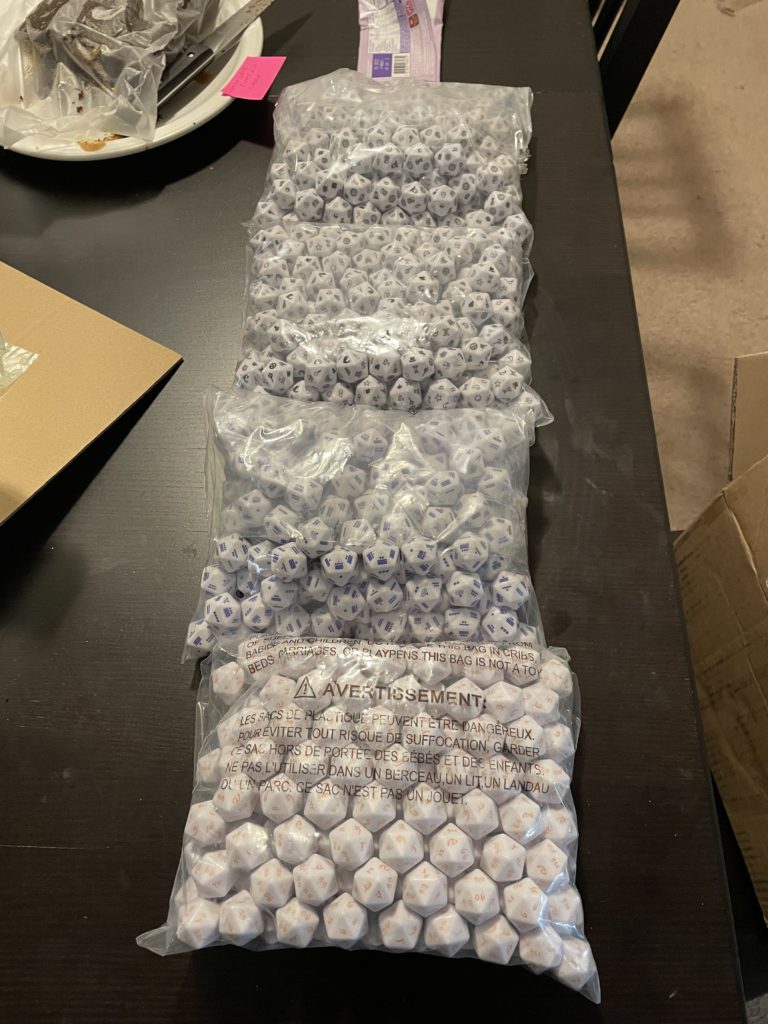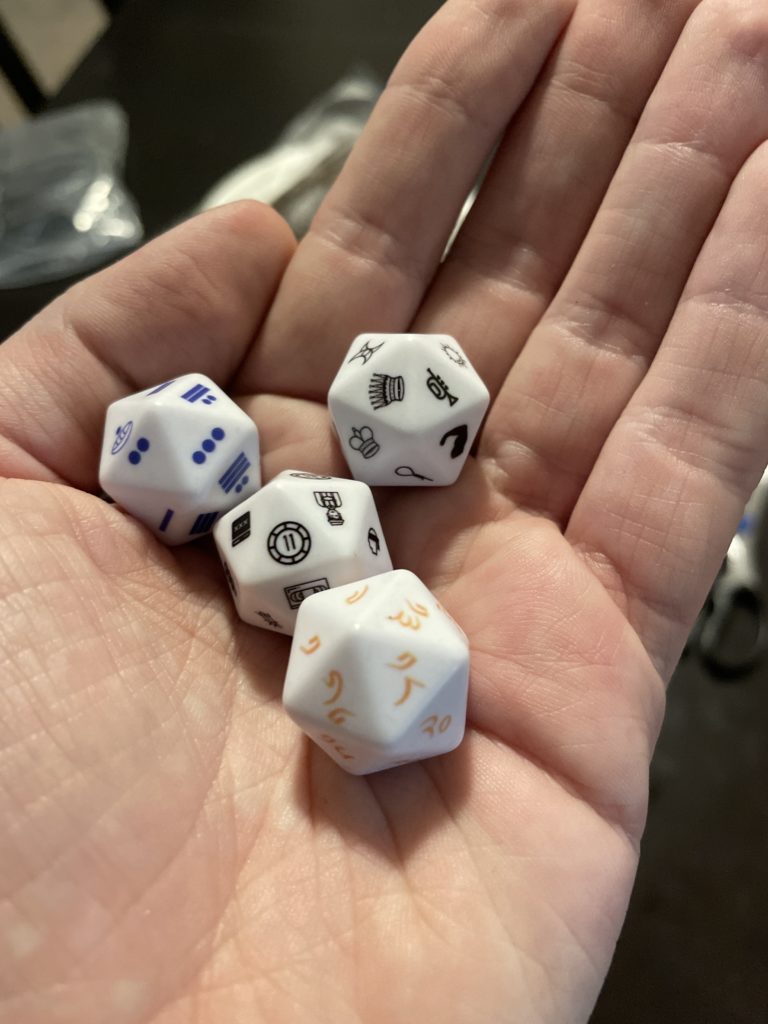 Once Gavin Edwards had the idea for this and a provisional version had been testsolved a few times, I contributed by pulling together the final art and symbols used for the dice. The Noun Project was a tremendous help in finding representations for all of these, and the final product was beautiful. The process of getting this tested in time to make a production deadline to have the dice by early December was a journey.
Justin Ladia was our fantastic Art Director for the Hunt, and I wanted to work with him on something. He had an idea to do something with pangrams, and we took that idea from its original place and managed to change every single element of it (title, framing for the clues, method of putting things together) except for the pangrams. This is a puzzle that's meant to look imposing/overwhelming but quickly fall into place, and I think we succeeded.
Wil Zambole put the idea in my head about mashing up Crow Facts from the 2014 hunt with Crow from Mystery Science Theater 3000, a show I know waaaaaay more about than I did Game of Thrones. This was a chance to salute one of my favorite MST3k bits in a puzzle-y way.
Jen McTeague and I share a love of Crow Facts (please see our authors' note on the solution), and she helped me figure out how to wrangle this into its final form, another puzzle that seems very imposing at first (especially when you hit what I described as the part where you "open a terrible door") but quickly falls into an order once you read through what's going on.
---
and that's it for what I wrote! Again, it's a lot. More soon on the puzzles I loved editing and the puzzles I loved testsolving.