We've Got Cookie Sign: Santo in the Treasure of Dracula (S13E1)
2022-03-31
MST3k is back for season 13! In the spirit of the Invention Exchange, I decided to try and come up with a cookie (or bar or small dessert) for each of this season's films. Rather than riffing on the title alone, I'm going to figure out each recipe after I've seen the episode, so that it can be based on the nature of the movie itself.
The first episode is Santo & the Treasure of Dracula, a lucha libre film with a wacky mixed-up plot that involves past-life regression, vampires, and, of course, El Santo, our luchador who's also an inventor, scientist, and international bon vivant.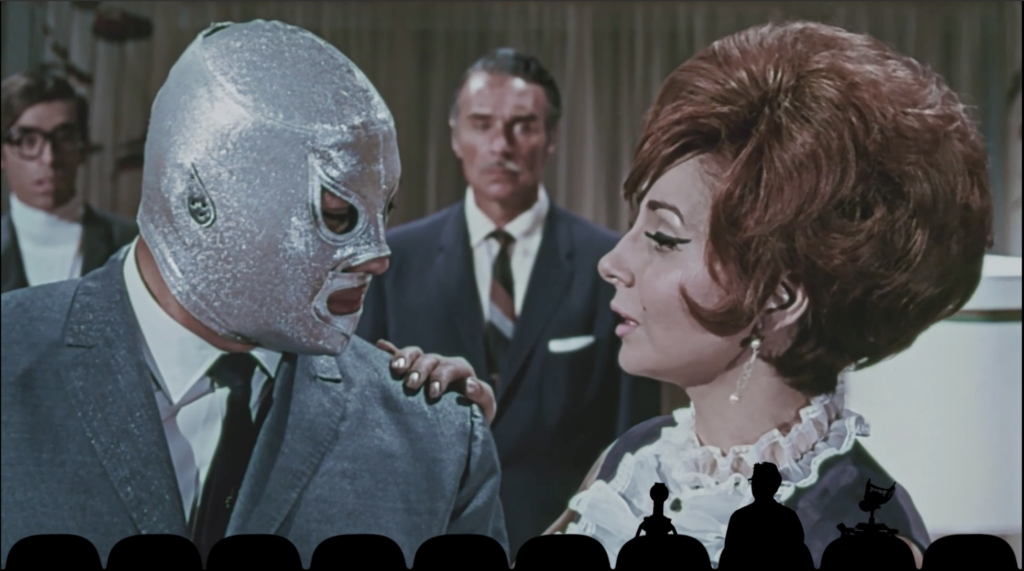 Mexican hot chocolate felt like a fun starting point for this. I love the combo of chocolate and chile, and it also ties in nicely with the movie's spicy history – in addition to the cut seen on the show, there was also the European cut that featured alternate scenes with more see-through negligees.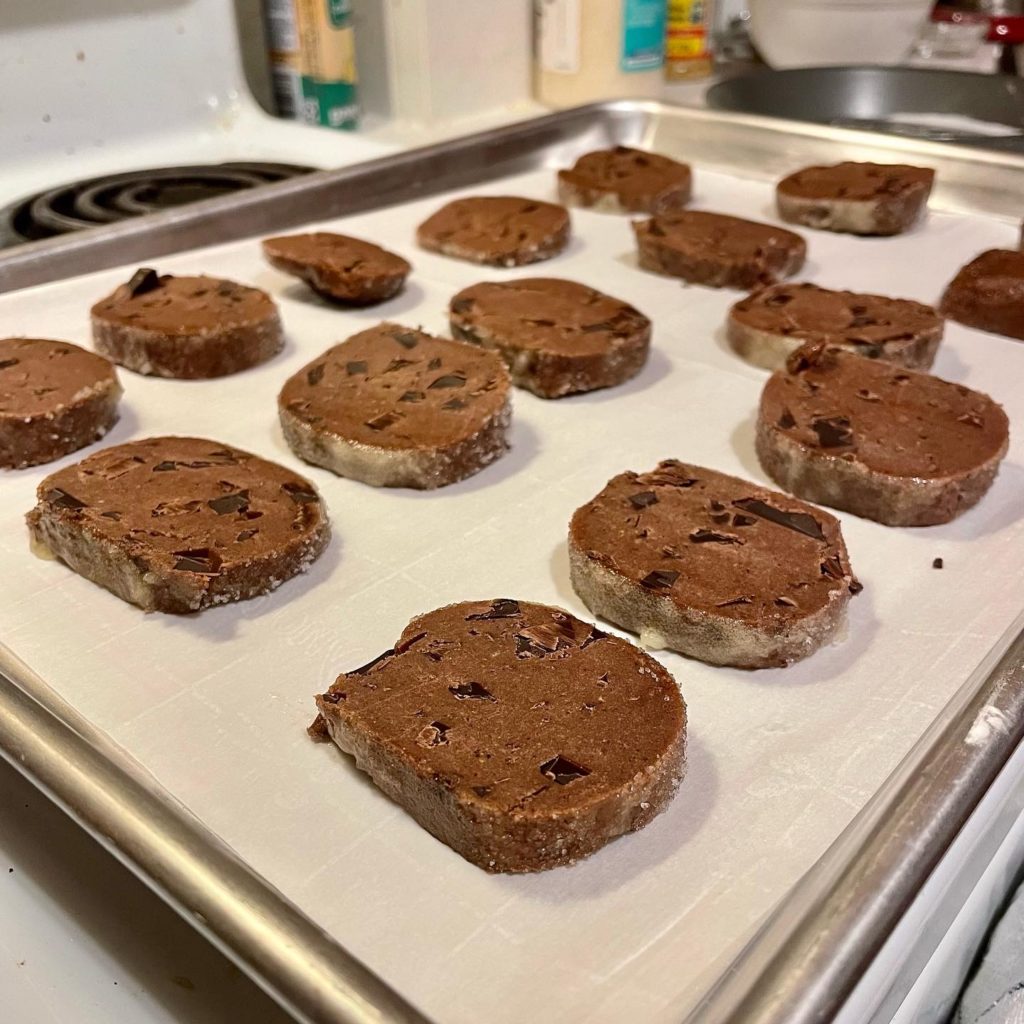 I wanted to do a shortbread cookie here, so that these could be oval luchador-mask shaped cookies with some structure, and the chopped-up chocolate kind of looks like the eye, nose, and mouth holes in a typical luchador mask.
I thought I had ancho chile powder on hand, but it was actually chipotle chile powder. That added a nice smoky edge, but you could also probably use half as much cayenne here. The only thing you don't want to use here is chili powder – that's typically a mix of spices that's not going play well with chocolate.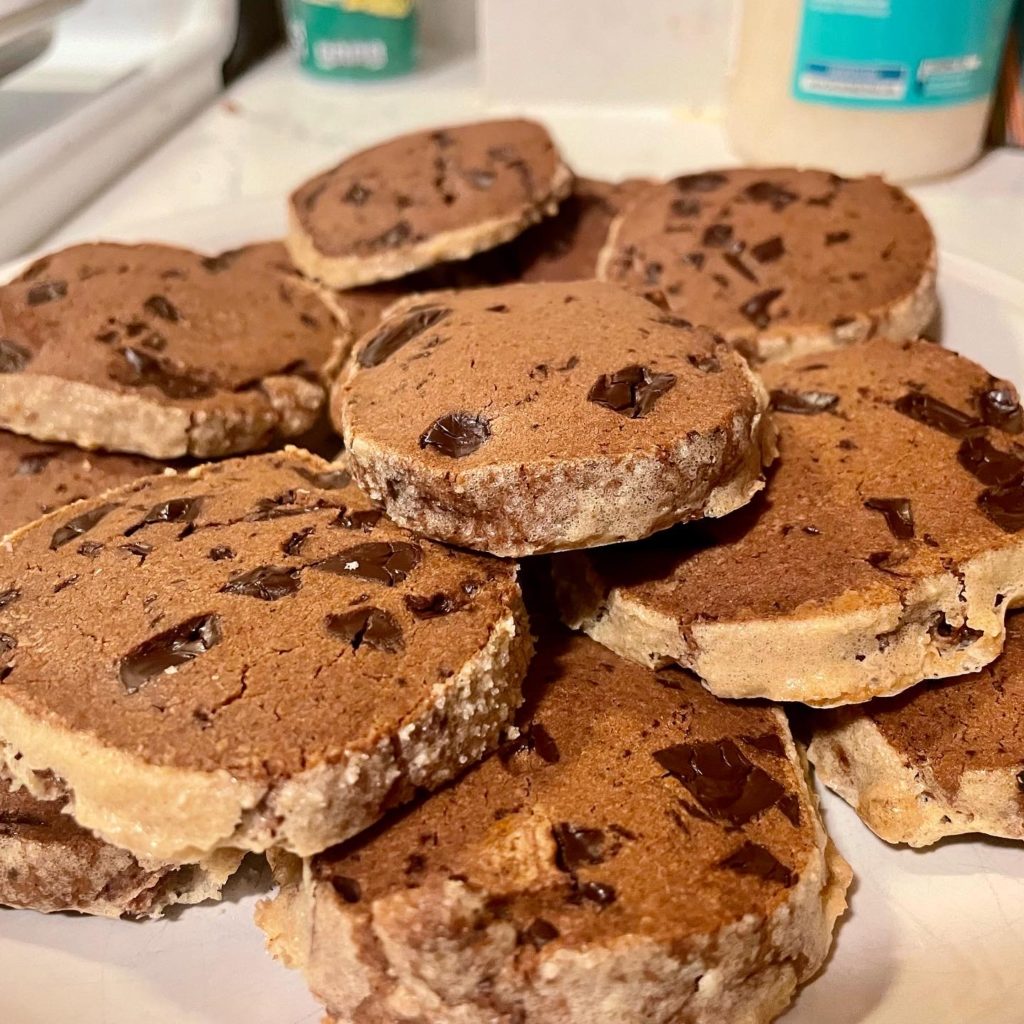 Up next: Robot Wars. Til then, enjoy!
Chocolate-Chipotle Luchador Shortbread
riffing on the Ancho & Chocolate Slice-and-Bakes in Jesse Szewczyk's Cookies: The New Classics
Ingredients
1 1/2 cups spooned and leveled all-purpose flour (192 grams)
2 Tablespoons natural unsweetened cocoa powder (14 grams)
1 teaspoon ancho or chipotle chile powder NOT chili powder – this should just be ground-up dried chiles
1/2 teaspoon ground cinnamon
1/4 teaspoon kosher salt
10 tablespoons unsalted butter, softened (142 grams)
1/2 cup confectioners' sugar (50 grams)
1 large egg yolk
1 1/2 teaspoons vanilla extract
3 ounces semi-sweet or dark chocolate, finely chopped (85 grams)
1/4 cup turbinado sugar
1 large egg
Instructions
In a large bowl, whisk together the flour, chile powder, cinnamon, and salt
In the bowl of a stand mixer fitted with the paddle attachment, combine the butter, confectioners' sugar, egg yolk, and vanilla extract. Beat on medium speed, scraping down the sides and bottom of the bowl halfway through, until smooth, 2-3 minutes. (Alternately, use a large bowl and a hand mixer)
Turn the mixer off and add the flour mixture. Mix on low speed just until a crumbly dough forms, about 1 minute. Stir in the chopped chocolate with a rubber spatula.
Transfer the dough to a large sheet of plastic wrap. Form into a 1 1/2-inch diameter log, then shape that into an oval, luchador-mask shape. Gently wrap in the plastic, twisting the ends tightly to help form a cylinder shape. Chill in the fridge for 2 hours, rotating it a few times to help it keep its shape.
Place the turbinado sugar in a large shallow bowl or plate. Crack the egg into a small bowl and stir with a fork until no streaks of yolk remain.
Position a rack in the middle of the oven and preheat to 350°F. Line a baking sheet with parchment paper or a nonstick baking mat
Unwrap the chilled dough and use a pastry brush to lightly coat the outside with the beaten egg. Roll the log in the turbinado sugar, firmly pressing the sugar into the sides of the log to help it stick. Use a sharp, thin knife to slice the log into approximately 16 1/2-inch thick slices. Arrang the slices on the baking sheet, spacing about 2 inches apart.
Bake until the tops of the cookies look matte and are very fragrant, 16-18 minutes. Let cool completely on the baking sheet. These will feel very soft when hot, but will firm up as they cool.