We've Got Cookie Sign: Robot Wars (S13E2)
2022-04-27
Another new month, another new MST3k, and another recipe to go with it!
The second episode of this season is Robot Wars, a Full Moon Entertainment special starring Barbara Crampton. It has everything you'd want: scorpion-esque robot transportation, the same set dressed as multiple different locations, and Crystal Vista, a village preserved as it was at the time of the 1993 "Great Toxic Gas Scare". It's VERY cheesy, and VERY 90s, and that's what got me to this month's cookie.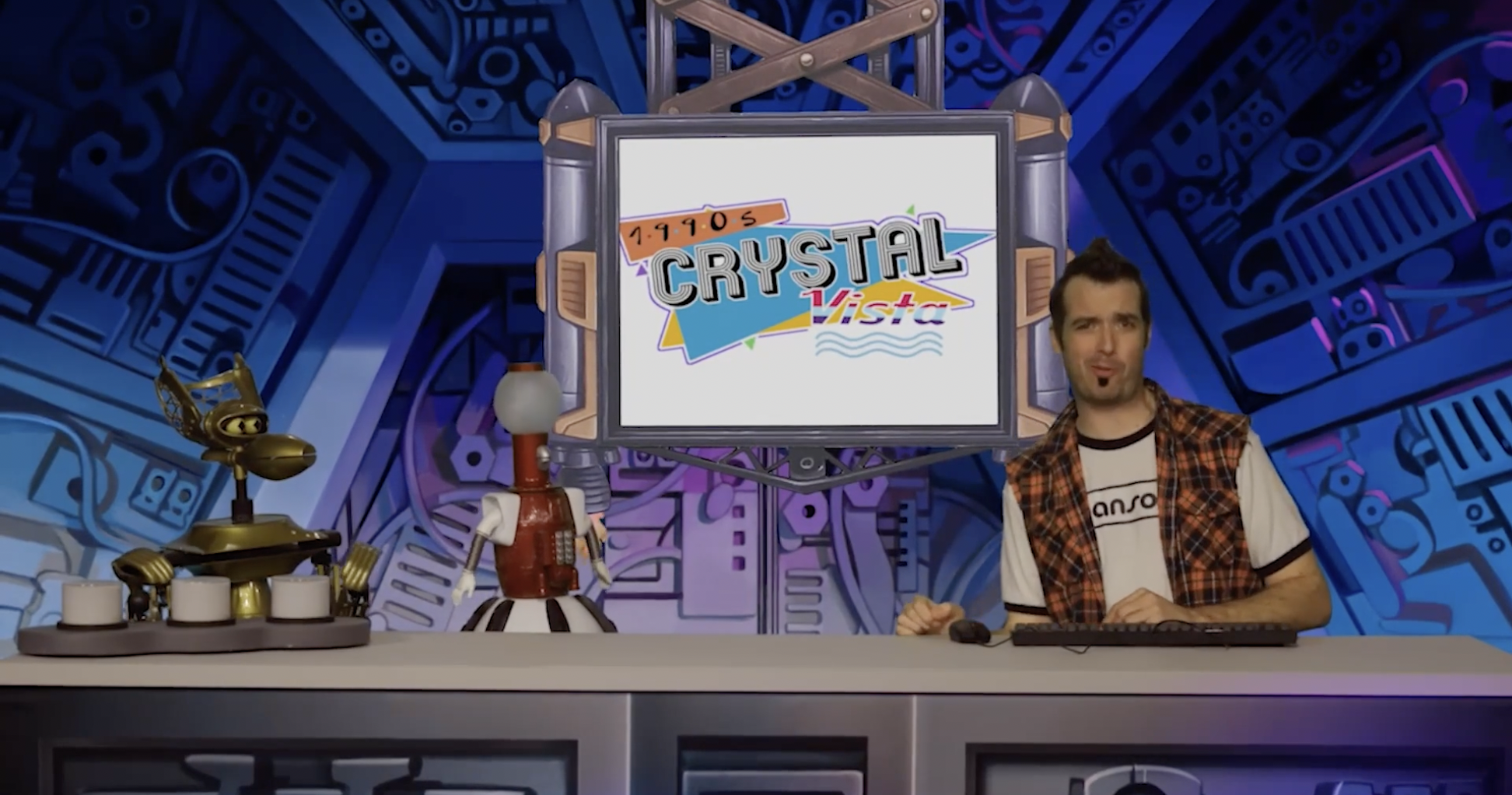 What's the most 90s cookie you can think of?
No, not SnackWells.
I refuse to reverse-engineer SnackWells on this blog.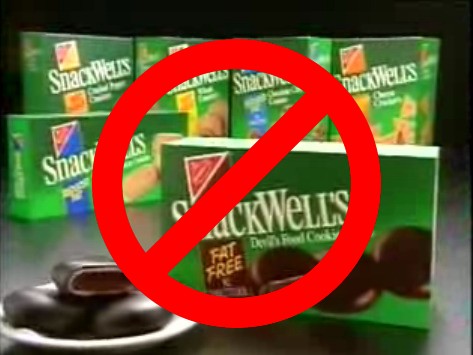 Time's up! The answer is Dunkaroos, the lunchbox snack where you essentially got to dip cookies in cake frosting: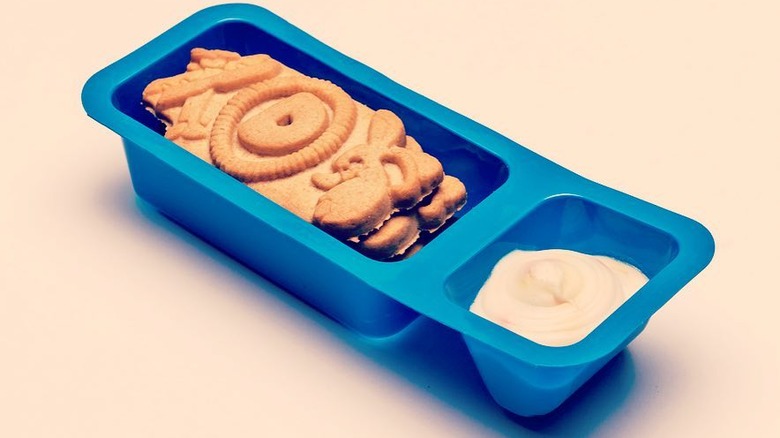 Midway through watching Robot Wars for the second time, the phrase "Savory Dunkaroos" entered my brain and then I needed to make it a reality. What would a savory dunkaroo need to have?
small graham-y or shortbread-y cookies, ideally stamped with some kind of design
a thick, frosting-y dip of some kind.
Given how truly cheesy this movie is, it made sense to make the cookies cheesy as well, so I dug up a smoked gouda cookie recipe from Dorie Greenspan, and to balance that out, I made a dip from my favorite chimichurri-esque sauce from Joshua McFadden's Six Seasons by adding some avocado and greek yogurt.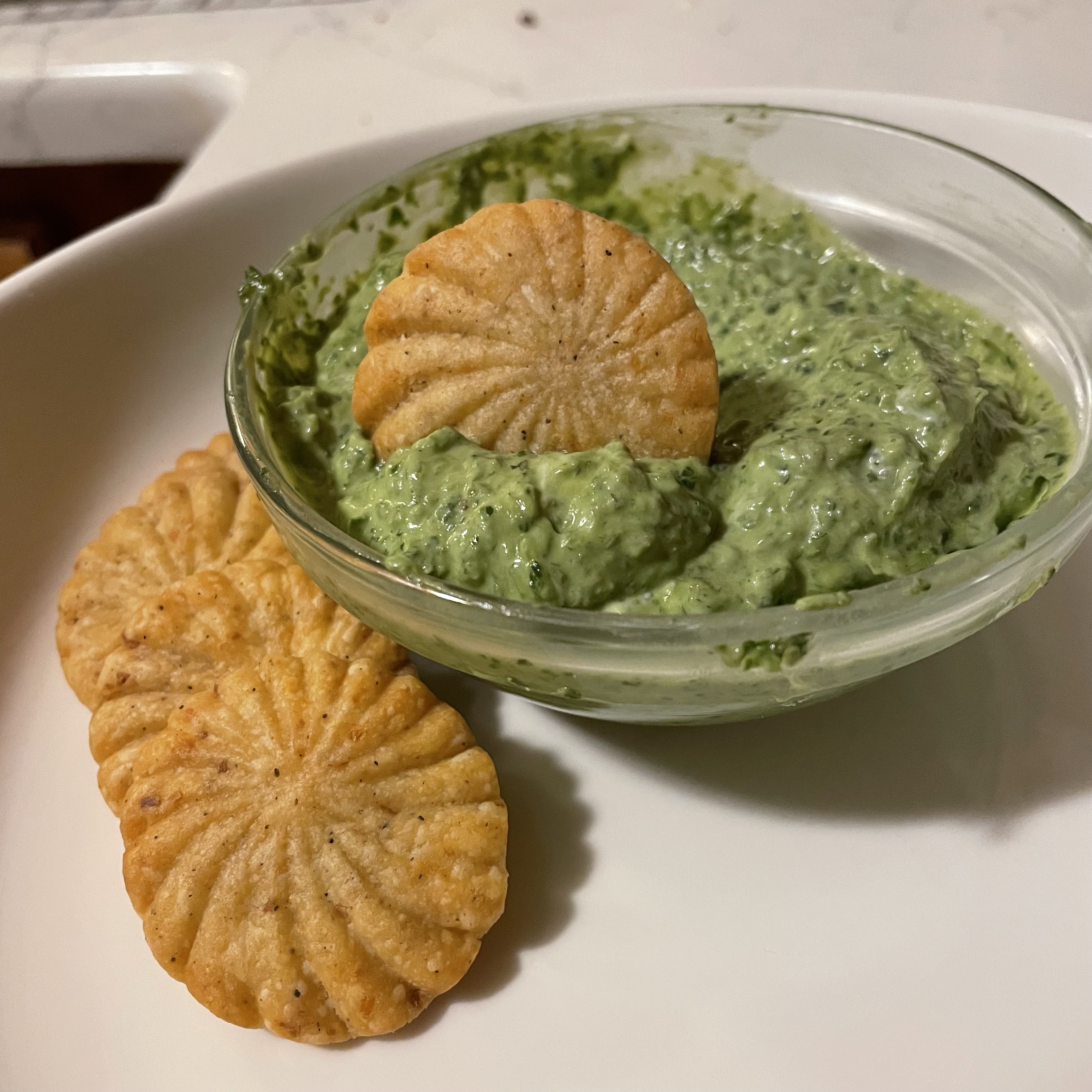 These turned out great – the cheesiness of the cookies balances perfectly with the super herby-y dip, and the orange and green color scheme is very 90s Nickelodeon's whole Memphis-y vibe.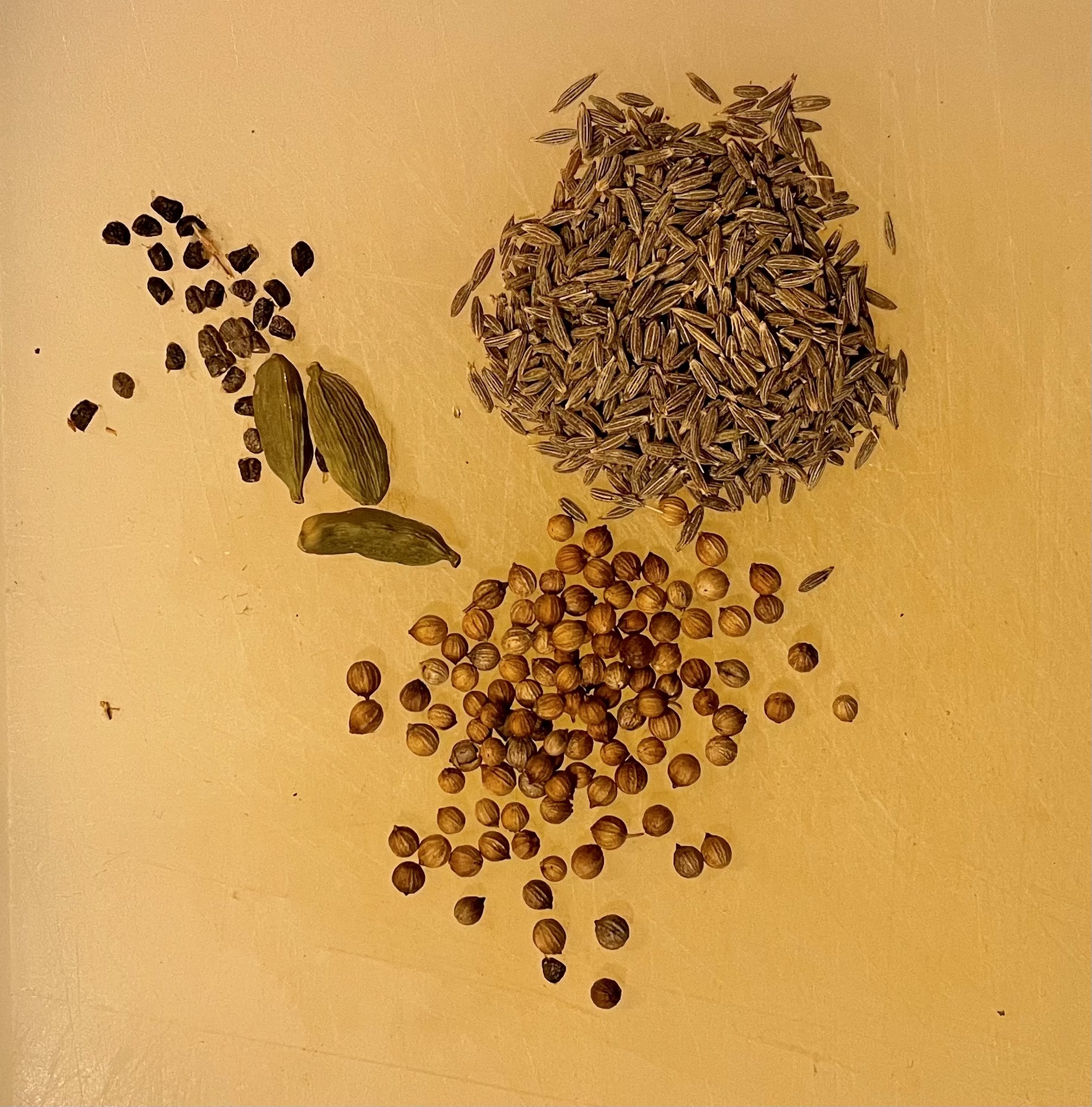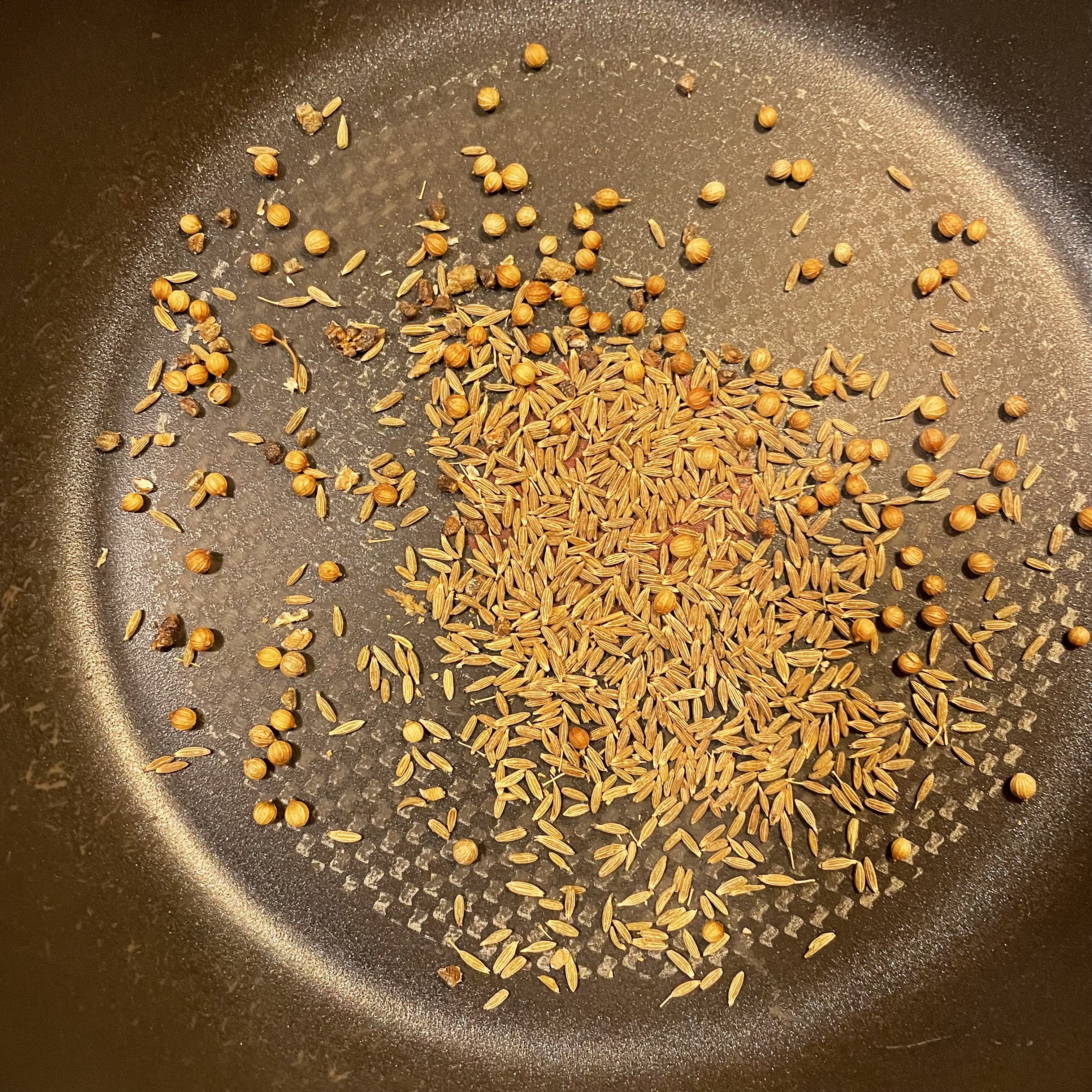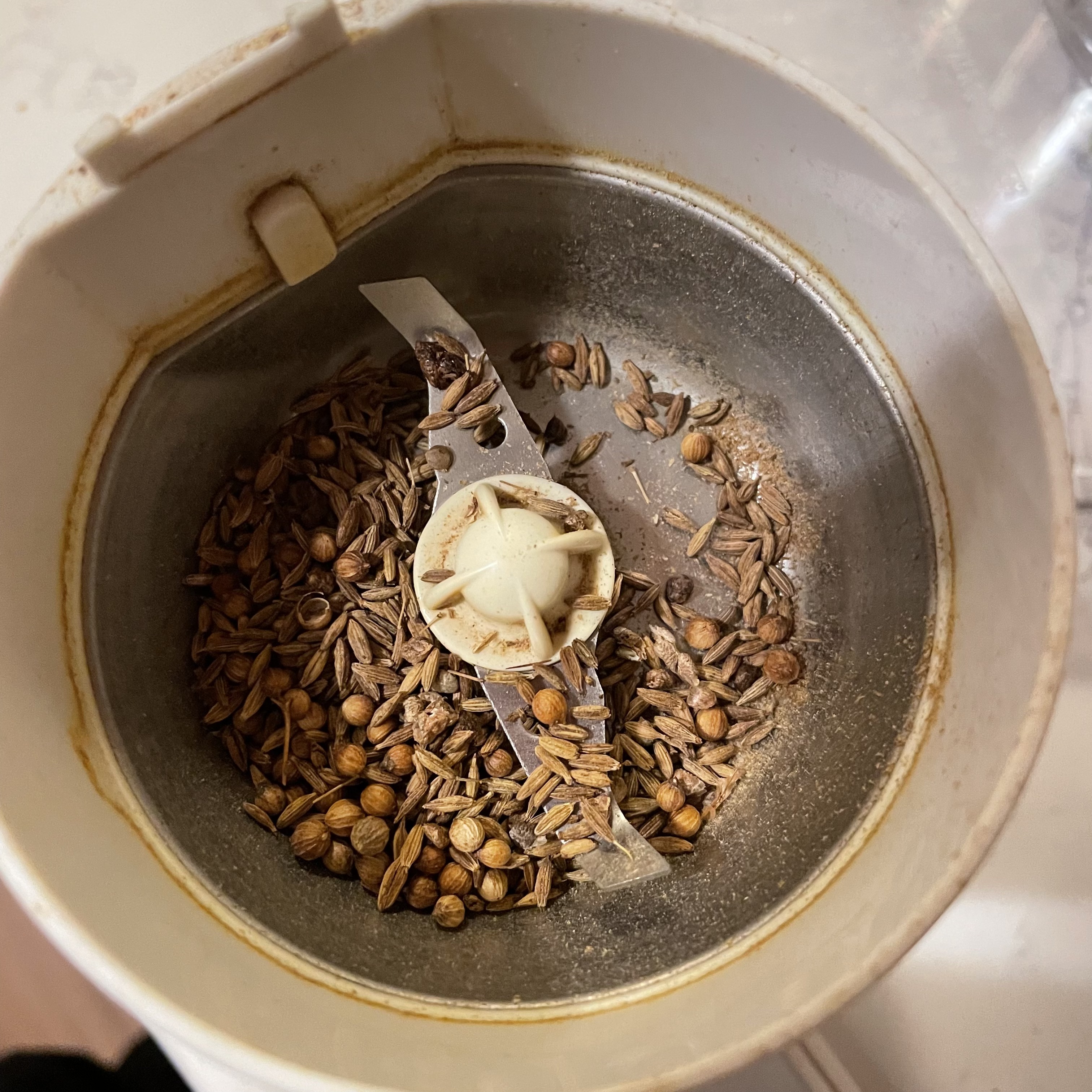 Making the dip starts with toasting and grinding some coriander, cumin, and cardamon seeds. Toasting brings out the flavors a little more, so don't skip this step. I use a cheap $10 coffee grinder from Amazon for grinding spices (and ONLY grinding spices), but you could also use a mortar and pestle here.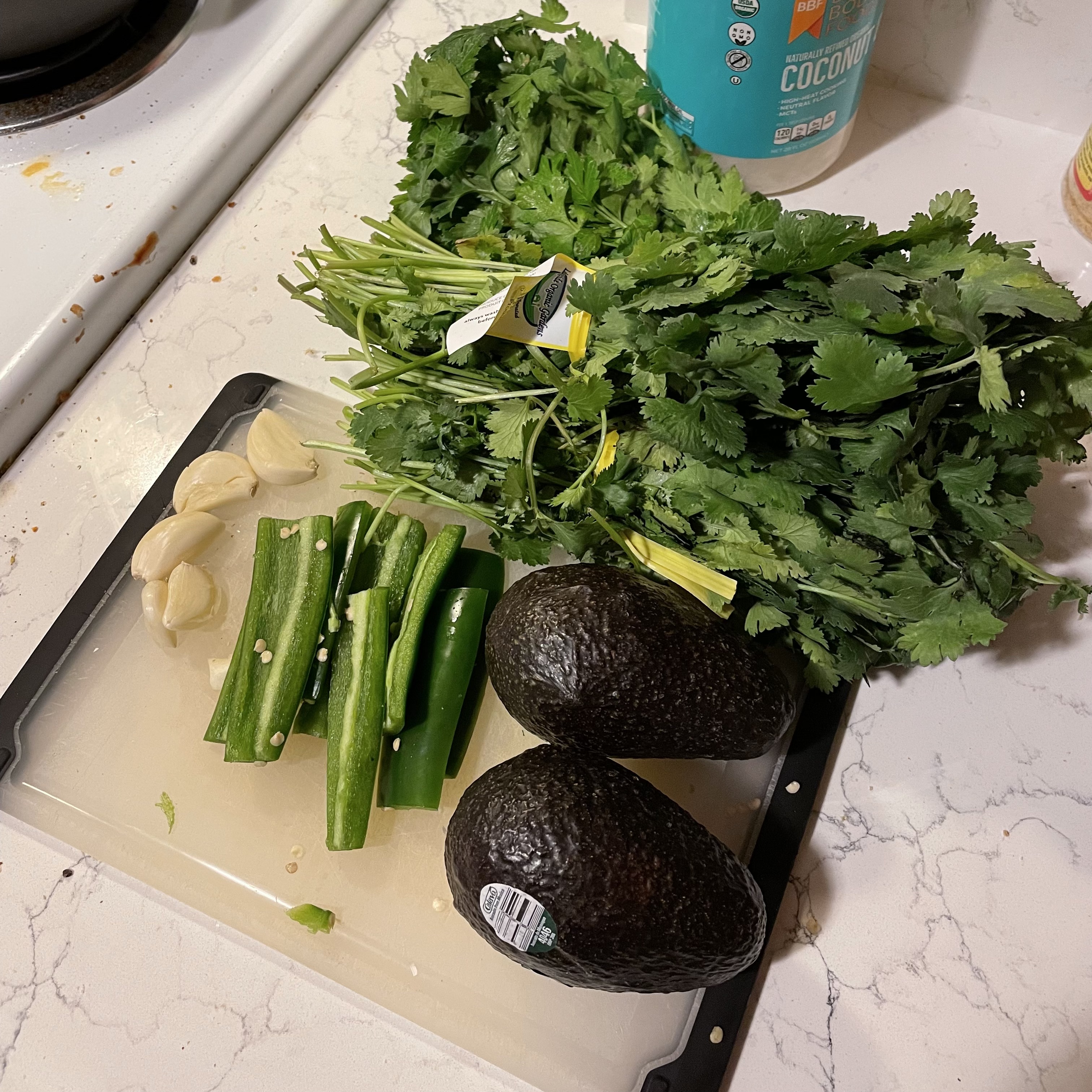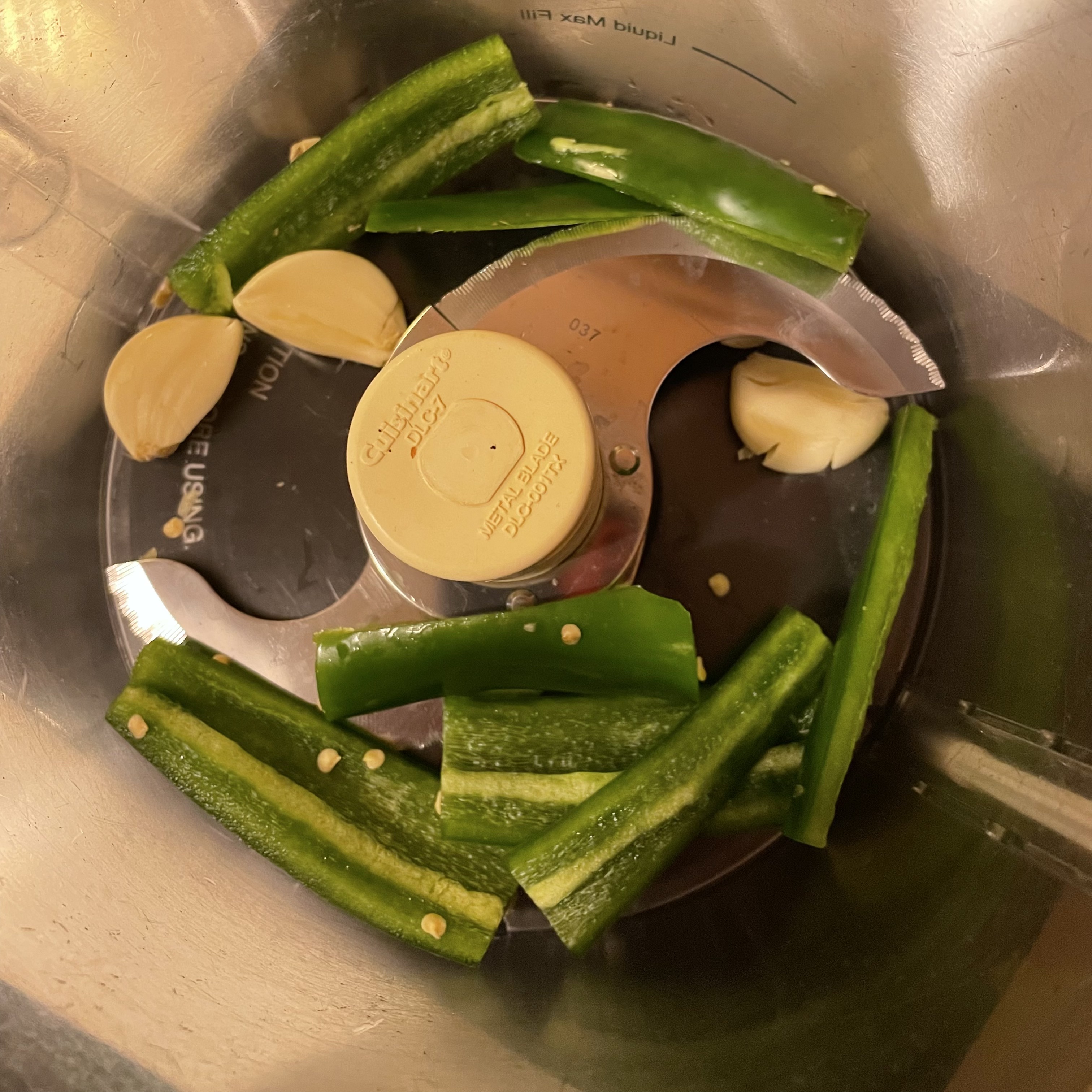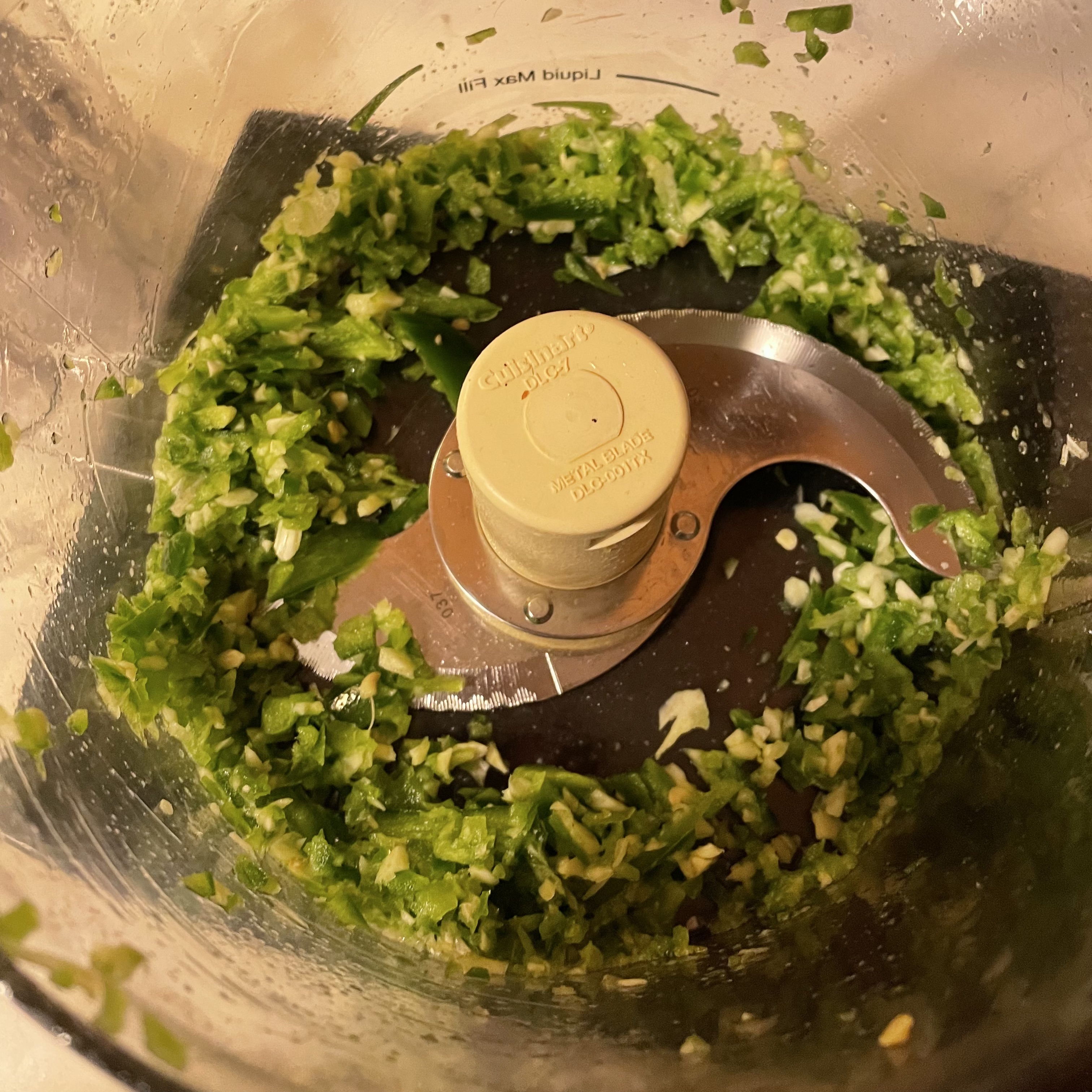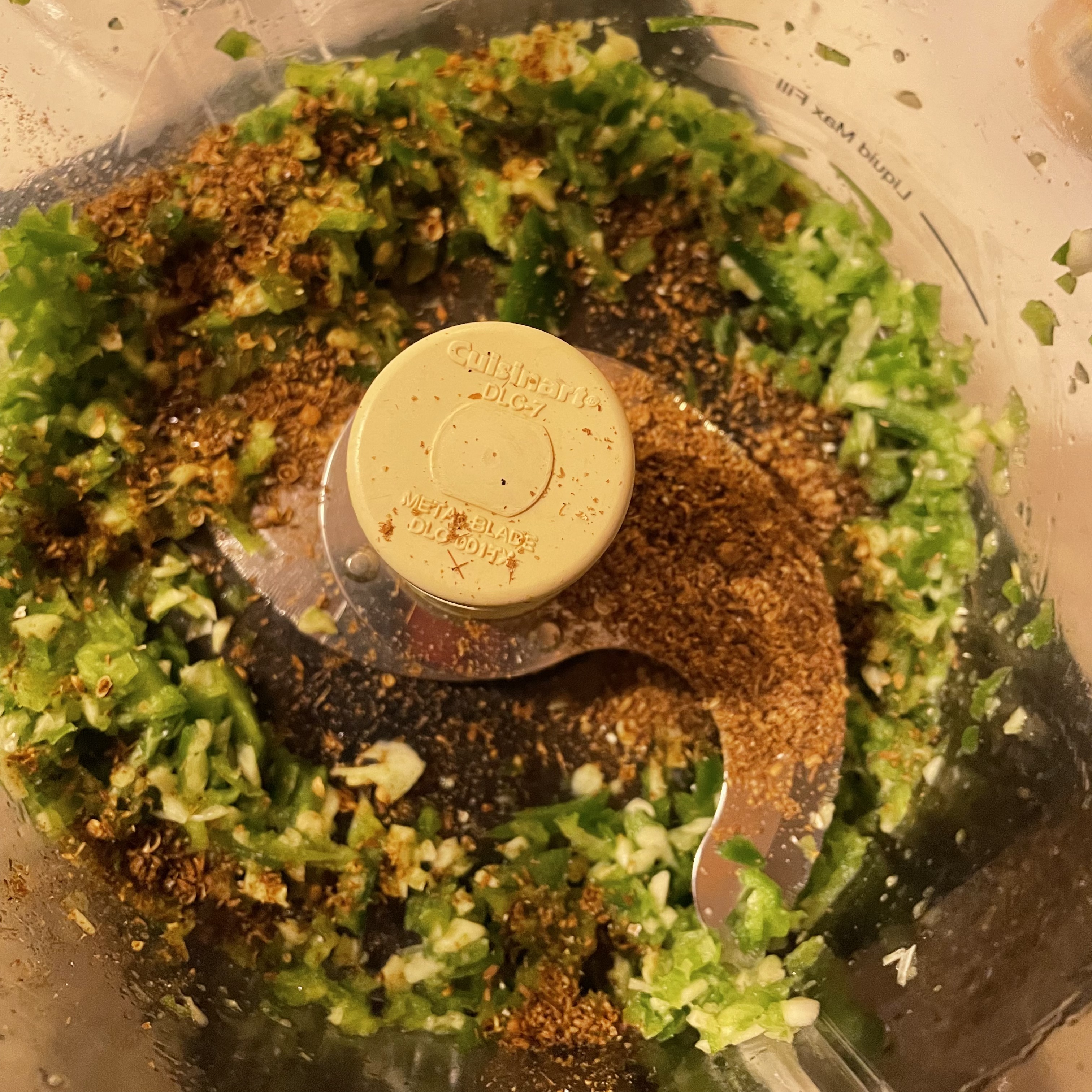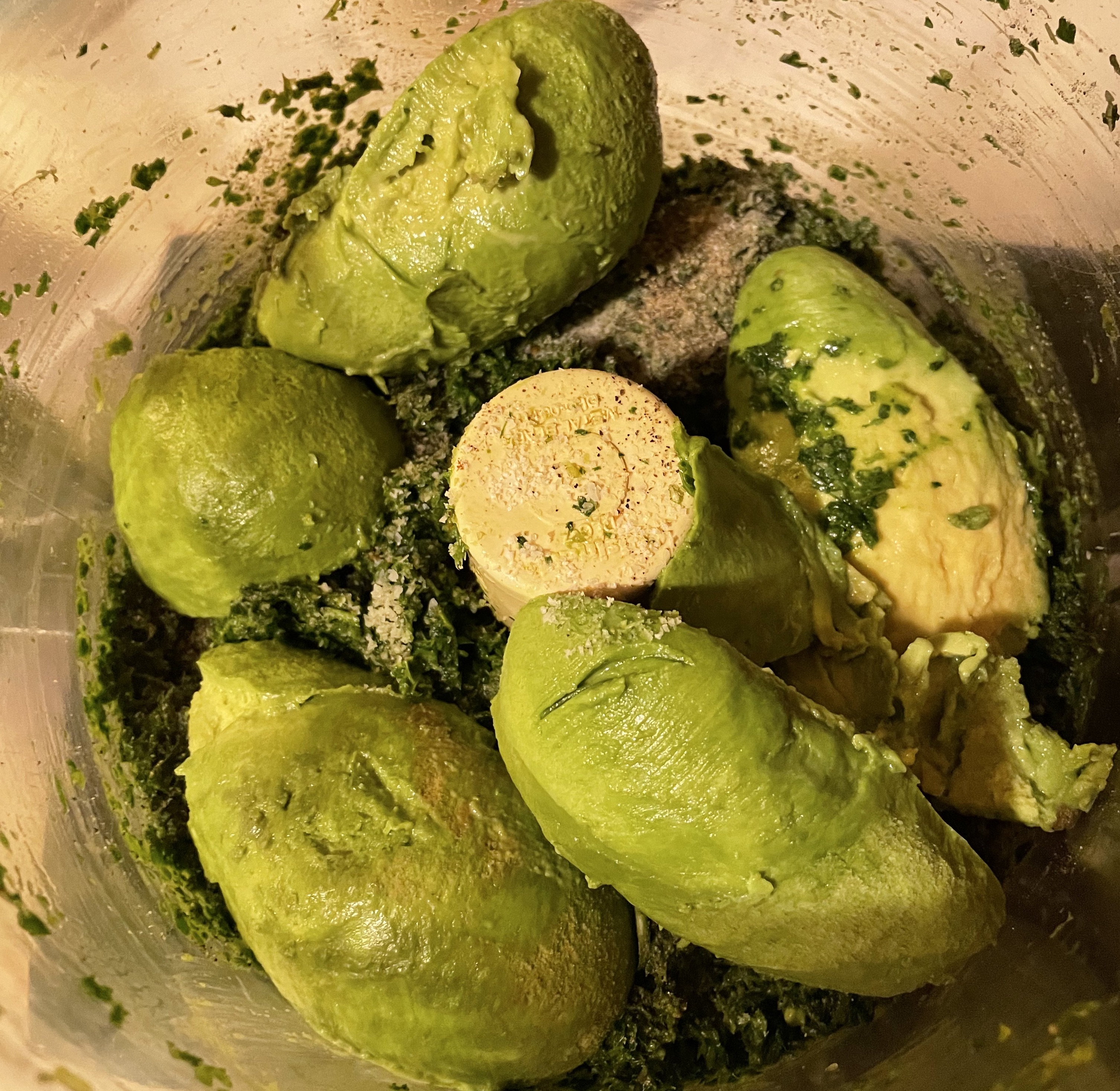 Making green dip, layer by layer. I used two small avocados here instead of one large one.
The sauce comes together in layers – first you chop the peppers and garlic, then add the cilantro and parsley and let that get all chopped up, then add the lemon and spices. This all gets finished off with olive oil, and then, since we want this to be a dip, some avocado. I later thinned this out with a few spoonfuls of greek yogurt to balance out the avocado with some extra "tang".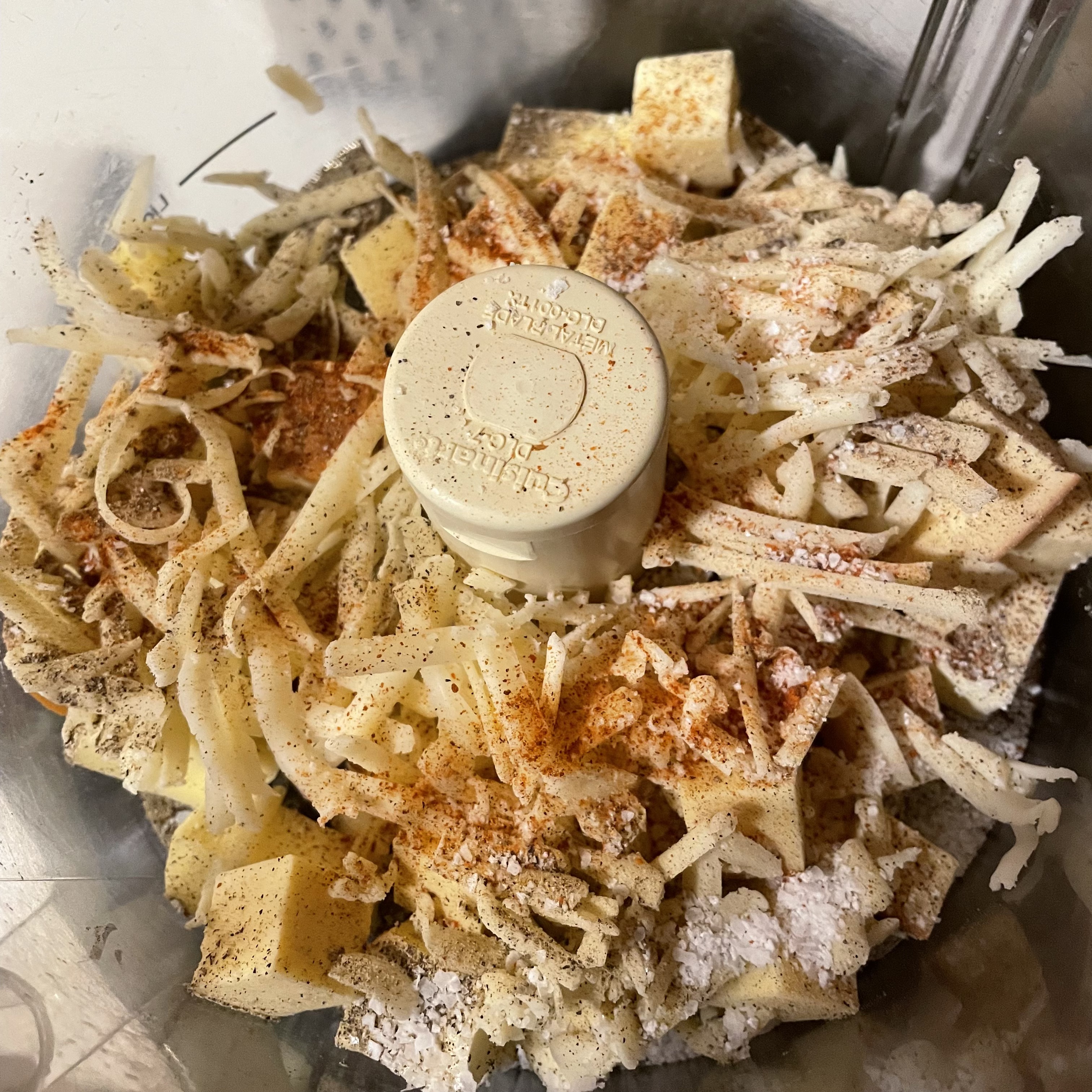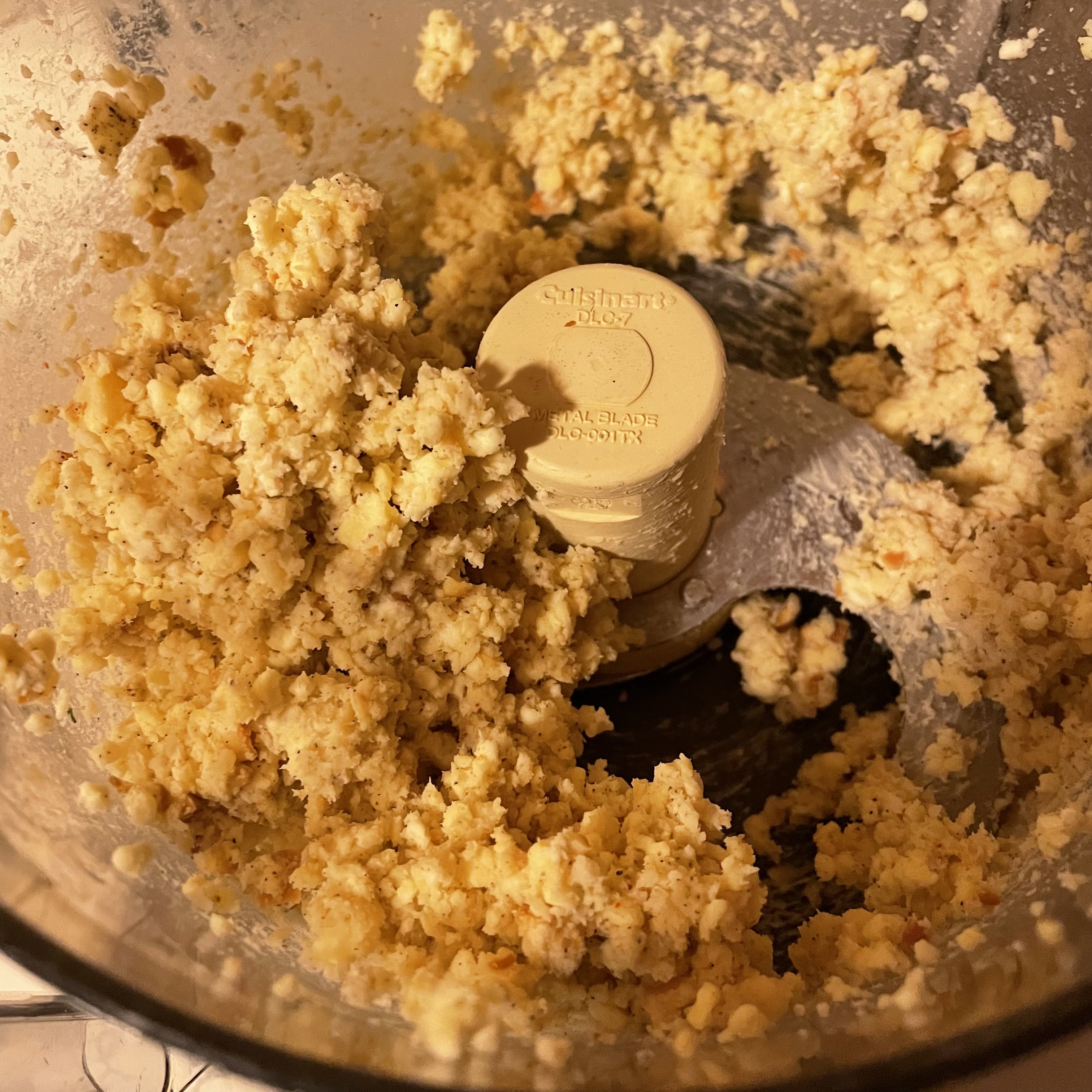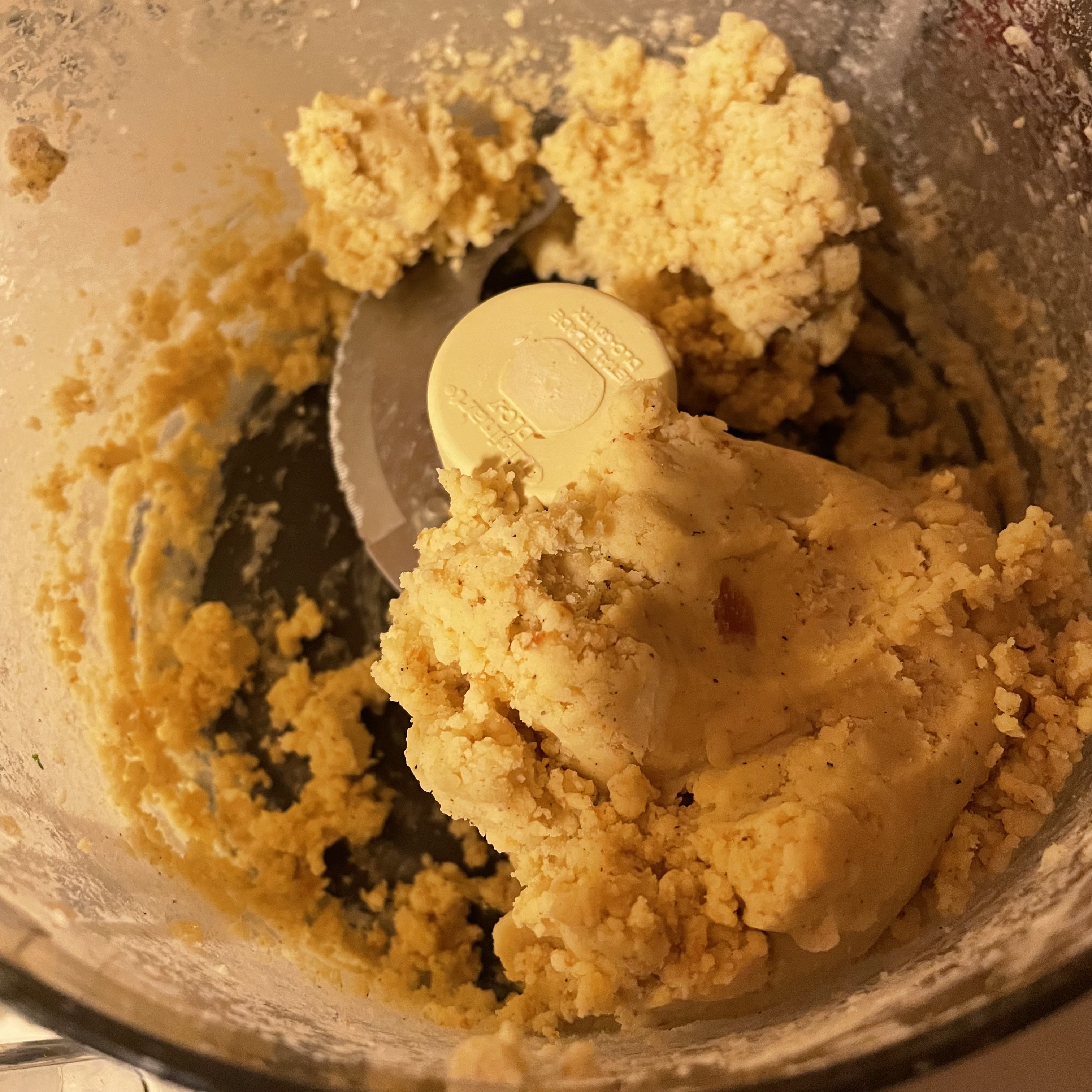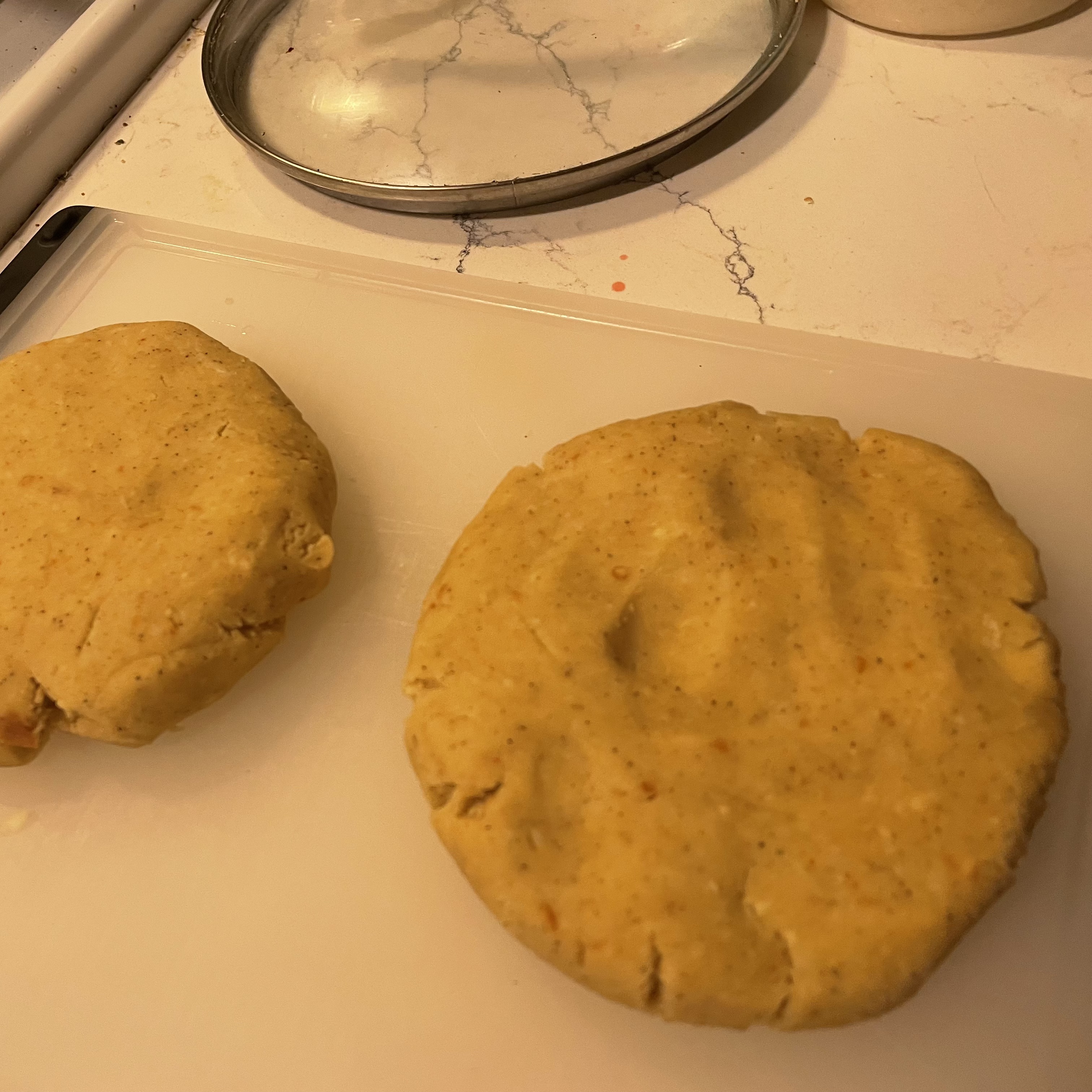 The cookie dough also comes together in the food processor. Start out with the smoked gouda (and this doesn't need to be fancy – I'm using the $3.99 grocery store special here), butter, cheddar, and cayenne, pulsing to small curds, then add the flour and keep pulsing until you get larger popcorn-y curds that start to form your dough ball.
Once that's in place, that gets split into two "patties" you can roll out to 1/4 inch thickness, place between layers of parchement, and let hang out in the fridge for 4-5 hours to firm up. You can also cheat by putting this in the freezer for one.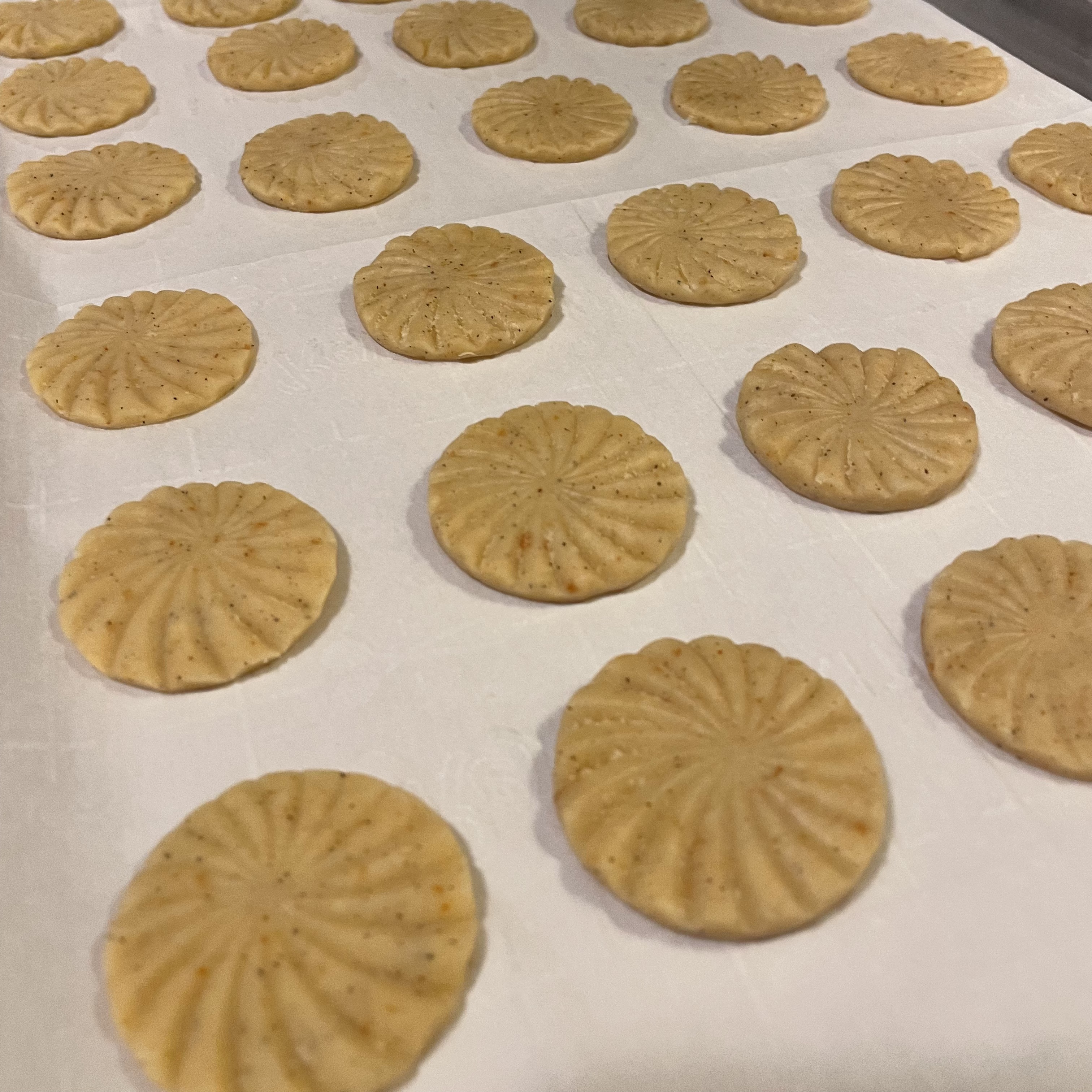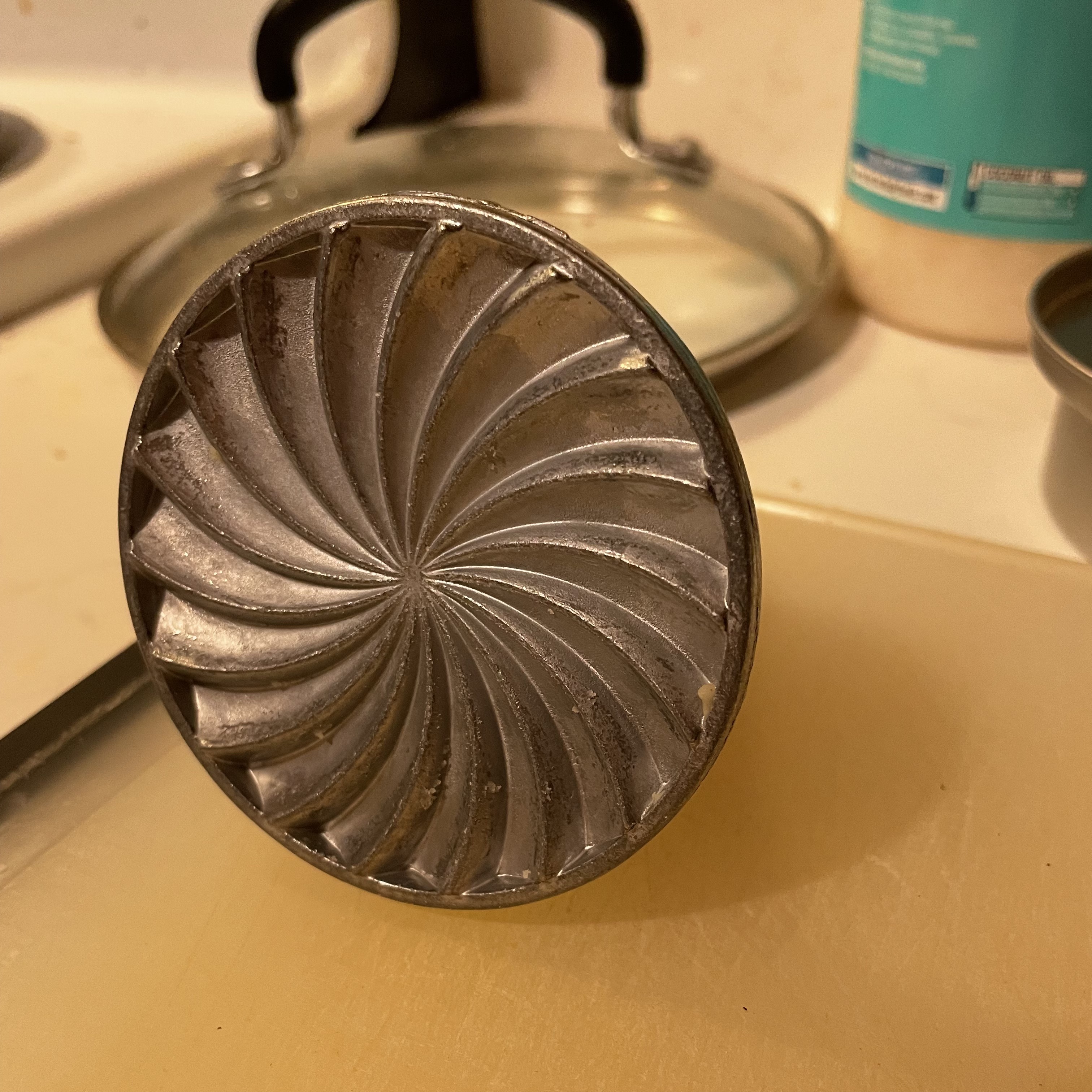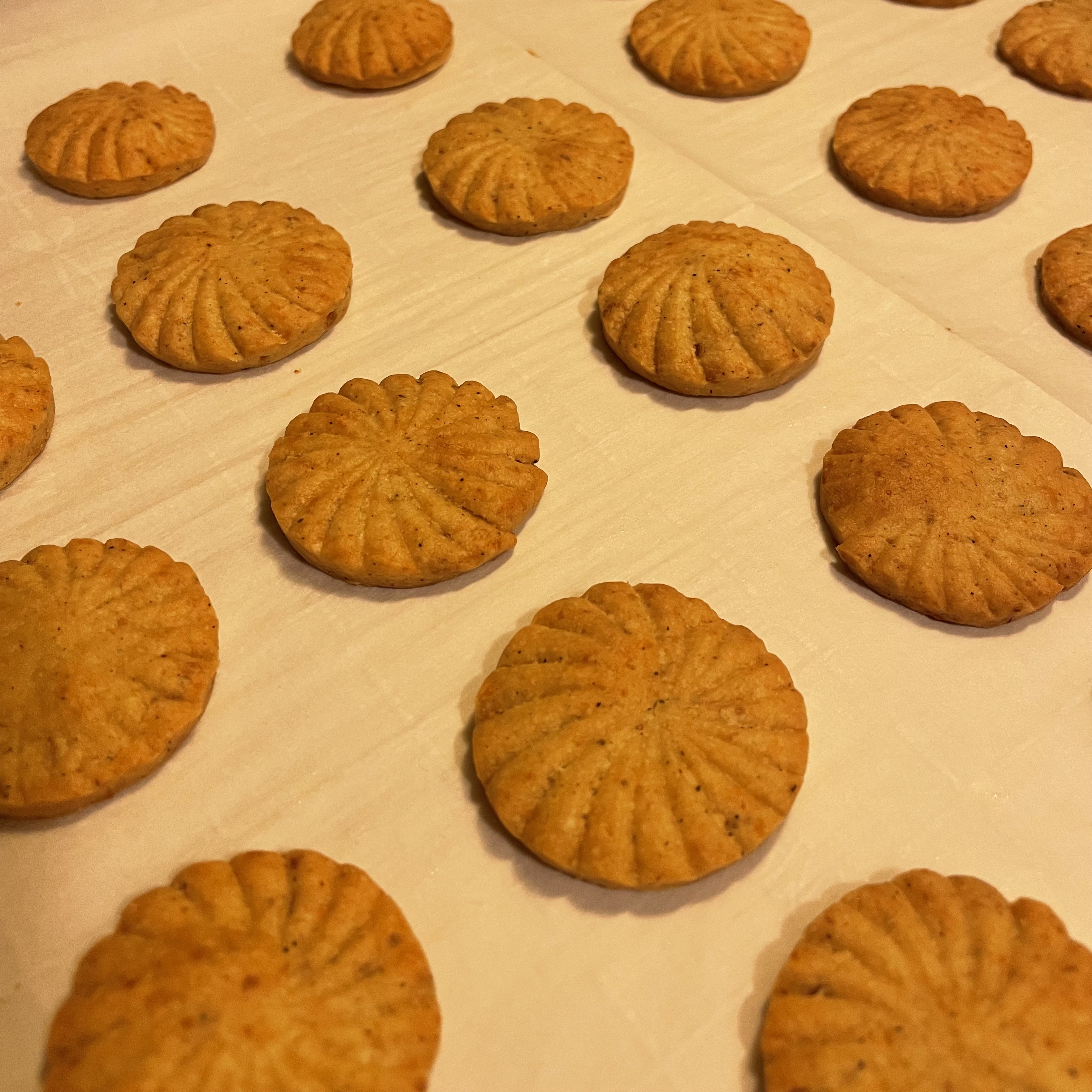 Each of the slabs then gets rolled out and cut into as many cookies as you can with a 1 1/2 inch diameter biscuit cutter. I have some cookie stamps, so I stamped each of these as well for that Dunkaroos feel. Once you've cut cookies out of each slab, knead the dough together, re-roll, and repeat the process, chilling the slab for 10 minutes as needed.
Each sheet of these bakes for 16-18 minutes and comes out slightly puffed and golden. Let them cool on the sheet for a few minutes, then finish cooling on a rack.
Et voila! A fancy savory version of the 90s classic, perfect for noshing on while you sit through that Crystal Vista Timeshare meeting.
Up next: Can't we just get Beyond Atlantis?
---
Smoky, Cheesy Cookies
Ingredients
1 stick cold butter, cut into 16 pieces (8 Tbsp)
4 ounces cold smoked Gouda, cut into tiny cubes
2 ounces sharp cheddar, shredded
3/4 tsp kosher salt
1/4 tsp ground black pepper
pinch of cayenne pepper
1 1/4 cups all-purpose flour (170 grams)
Instructions
Put the cold butter, Gouda, cheddar, salt, black pepper, and cayenne in a food processor and pulse until the butter is in bits and the mixture forms small curds. Add the flour and pulse again, in long pulses, until the dough is moist and forms larger, popcorn-like curds.
Turn the dough out and knead it gently, just until you can shape it into a ball. Divide the dough in half and pat each half into a disk.
Working with one disk at a time, roll to a thickness of 1/4 inch. Place each slab between two pieces of parchment paper and chill for 4-5 hours
When ready to bake, preheat your oven to 350 degrees F. LIne a baking sheet with parchment or a silicone baking mat.
Working with one piece of dough at a time, use a 1.5 inch-diameter cookie cutter to cut as many cookies as possible from each slab of dough and place them on the lined baking sheet.
Gather the scraps, re-roll, chill for 10 minutes, cut, and so on, until you've used all your dough.
Bake the cookies for 16 to 18 minutes, rotating the baking sheets after 9 minutes, or until they're lightly golden on top and more golden on the bottom. Let the cookies rest on the baking sheet for a couple of minutes, then transfer them to a rack and cool completely.
---
Green Dip
Ingredients
1/2 tsp coriander seeds
1 tsp cumin seeds
4 green cardamom pods' worth of cardamom seeds
2 jalapeno or serrano chiles deribbed and seeded
1-3 garlic cloves smashed and peeled
2 cups lightly-packed cilantro leaves
2 cups lightly-packed flat-leaf parsley leaves
1 tsp lemon zest
1 Tbsp lemon juice
black pepper
1/2 cup olive oil
1 large avocado
greek yogurt
Instructions
Put the coriander, cumin, and cardamom seeds into a dry skillet. Toast the spices lightly over medium heat, shaking the pan frequently, just until they become fragrant, about 4 minutes. Let these cool for a few minutes, then grind fine in a spice grinder or with a mortar and pestle.
Put the chiles and garlic in a food processor and pulse a few times until they are fairly finely chopped. Add the cilantro, parsley, the mixture from the spice grinder, ground cloves, lemon zest, lemon juice, 1 tsp kosher salt, and a few shakes of black pepper. Pulse until all is finely chopped into a rough puree.
With the motor running, drizzle in the olive oil. Stop before the sauce is completely blended smooth. add the flesh of the avocado and continue to mix until completely combined, but still textured.
Taste and adjust the seasoning with salt and pepper. Pour into a bowl and stir in a few spoonfuls of Greek yogurt.
Store in the fridge for up to a week.