We've Got Cookie Sign: The Mask 3D (S13E11)
2022-10-28
I made an unforced error in the documentation process, but the project continues on.
Alright, so here was the plan: the mask in The Mask 3D is…textural. I wanted something structural for a 3D movie, and the actual mask reminded me of rice krispie treats, so I was going to make a batch of the way I make rice krispie treats these day, try and shape them into a quick version of the mask before I pressed them into the pan, and call it a day.
And then when I actually made these for the thing I was making rice krispie treats for, I completely spaced on making a mask or documenting my process. LOL.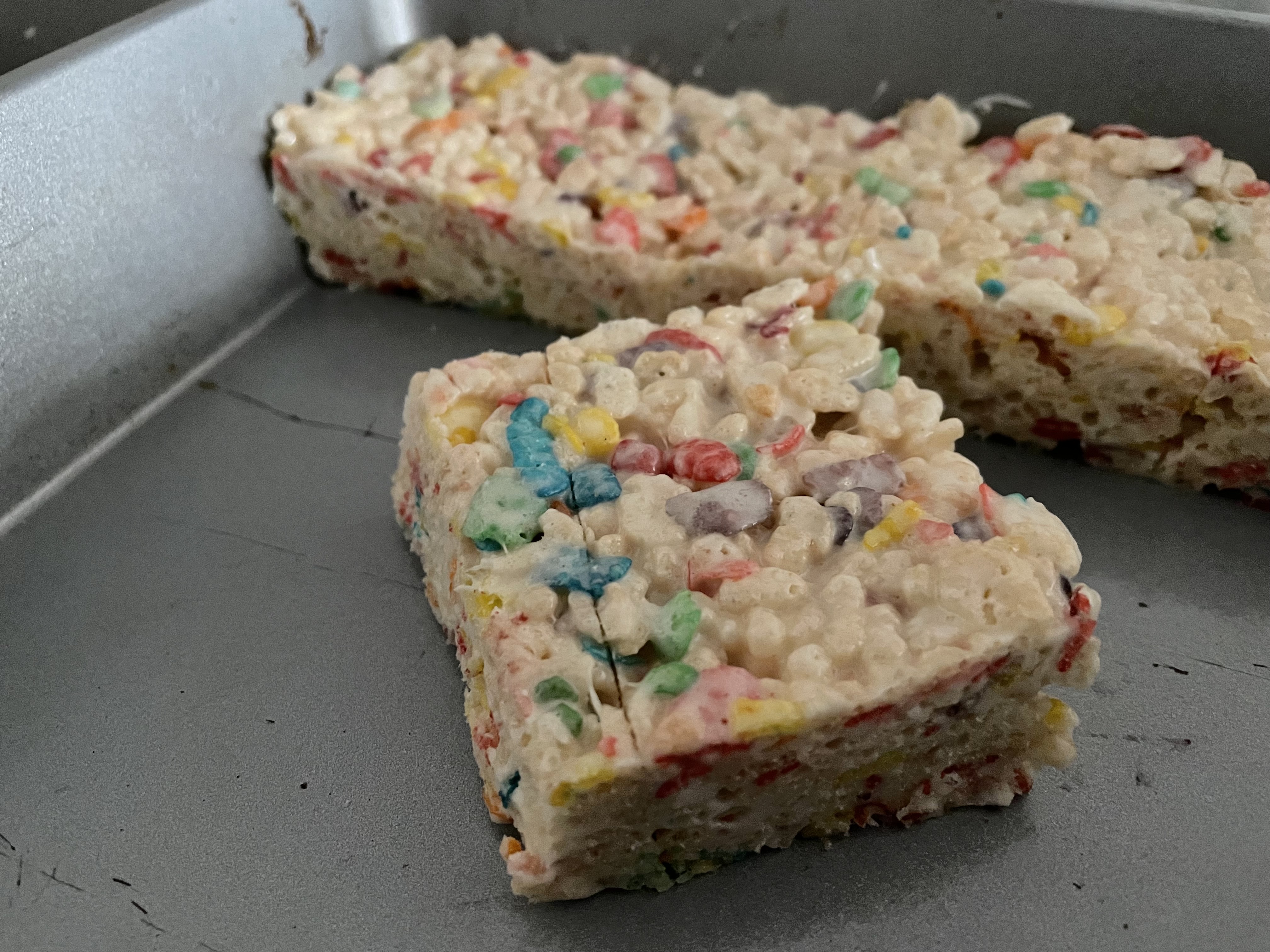 That said, I feel like everyone kind of knows how rice krispie treats are made, so in the place where I'd usually walk you through things step by step, here's the main three things that I do to make rice krispie treats even better than they already are:
Mix Up Your Cereals
Every June, the bakery whose rice krispie treat recipe I've amplified gives their bars a pride makeover by adding some Fruity Pebbles to the mix. I like them so much I've started doing that year round, at 1 part Pebbles to 2 parts Krispies.
Brown Your Butter
This is another trick from that bakery - you can deepen the flavor on your bars by browning the butter before adding your marshmallows. Plus, that way you get little brown butter speckles throughout your treats.
Add More Salt Than You Think You Need To
This one's all me, because I like mixing up sweet with other flavors like sour or bitter. I triple the salt I add to the marshmallow-butter goop the cereal gets tossed with – a full tablespoon (of Diamond Crystal kosher salt, the least salty salt you can cook with - be a little less generous with something like Morton) goes in.
And that's it! Three easy tricks you can add to the standard back-of-the-box recipe to make them even better (and mold a creepy three-dimensional mask, if that's your vibe.)
These are slightly richer than your standard rice krispie bar, so cut these into 24.
Up Next: The Bubble
---
Mask Krispie Treats (in 3-D!)
riffing on the brown-butter rice krispie treats from Flour bakery
Makes 24 bars.
Ingredients
1 cup (2 sticks) unsalted butter
1 tsp vanilla
2 10-oz bags marshmallows
1 Tablespoon kosher salt
6 cups crispy rice cereal
3 cups Fruity pebbles cereal
Instructions
Spray a 9x13-inch baking pan with cooking spray.
Add the butter to a large saucepan set over low heat. The butter will melt then begin to bubble and foam. Eventually it will start to turn brown and smell nutty - be patient and watch carefully, it can go from brown to burned quickly.
Once the butter is browned, add all of the marshmallows, the vanilla, and the salt. Stir the mixture constantly until the marshmallows are completely melted. Turn off the heat under the pan and add the cereal.
Use a rubber spatula or wooden spoon to coat the cereal evenly with the buttery, marshmallow liquid.
Spread the mixture in an even layer in the prepared baking pan. Let cool for at least an hour before cutting and serving.
You can store the treats in an airtight container at room temperature for 2 days.